If you have watched Major League Baseball in this decade, you have heard of Giancarlo Stanton and the terrible things he does to pitchers. Since the start of the decade, only three players – Jose Bautista, Nelson Cruz, and Edwin Encarnacion – have more home runs than the Marlins slugger. Recently, he has gone on absolute tear, hitting 11 home runs since August 4th, giving him 44 on the season and raising the possibility that he will reach the 60 home run mark this year.
While Stanton has turned pro pitchers into little leaguers this month, that hasn't been the only story. As Jeff Passan reports, Stanton has cleared revocable trade waivers and plenty of uncertainty has resulted because of it. Normally, one of the best players in the game clearing waivers wouldn't be much of a story because the greatest players in the league rarely get traded (How you doing, Billy Beane?). However, what makes Stanton unique is that after this season, he will still be under contract for 10 years and $295 million, until he is 37-years old. Combine that with the fact that the Marlins are in the process of being sold and the odds increase that a big money contract like his is moved before new owners take over.
Stanton should be on the wish list of every major league team. He is a superb player who, when healthy, hits home runs at a rate that has rarely been seen in baseball history. But that obviously isn't the case. Not every team can afford to take a risk on a contract as large as Stanton's (it's worth noting that he has an opt-out after the 2020 season, where he could forego the next seven years and $219 million). Teams with tenuous financial situations and low payrolls shouldn't acquire players that take up such a large percentage of their budget. The Blue Jays are in a different boat, however, and should inquire about what it will take to acquire Stanton from the Marlins. The reasons are as follows:
Stanton Fills a Need
Jose Bautista's production has declined for a few seasons now and he is currently playing at a way below average level across the board. His offense is no longer elite, meaning the Blue Jays need to find a new right fielder as soon as possible; be it for the rest of this season or for a long time starting in 2018. Stanton has been a positive fielder by DRS and UZR for the vast majority of his career, so he can play right field for the foreseeable future until his decline phase begins, whenever that may be.
Additionally, the Blue Jays are lacking the firepower that they once had in this era because of age and departures. Bautista isn't the same, Troy Tulowitzki and Russell Martin have also aged, and Edwin Encarnacion has departed. The otherworldly offense that once played in Toronto is no more and sticking a bat as powerful as Stanton's in the middle of the lineup to join Josh Donaldson and Justin Smoak is something that has to be on the mind of Ross Atkins.
Stanton is Good Value
The problem with long term contracts when signed in free agency is that they usually include only the back half of a player's career, making it much harder for the signing team to recoup value from a declining player. Stanton's contract is different because it wasn't signed as a free agent, but rather as an extension. He is only 27-years-old and should have many good years ahead of him. To confirm that his contract isn't an albatross, we can use basic projections. Borrowing basic assumptions from this Craig Edwards article from June on FanGraphs, we will assume that one WARP is worth $8.5M. The aging curve suggests we will see Stanton stay the same in his age 28-30 seasons then decline by half a win per year from age 31-37. Using that methodology, we come up with this table, given that Stanton is currently projected to finish with 7.8 WARP in 2017 according to Baseball Prospectus.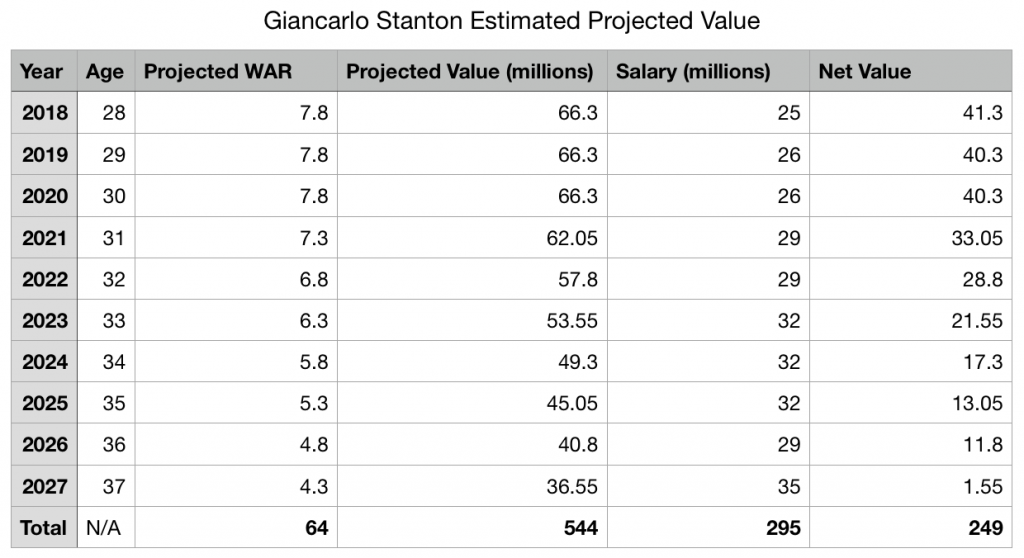 If that number of $249 million of surplus value looks too high, it's because it probably is a bit of an overestimate. Stanton is in the midst of a career year in which he has also been able to stay unusually healthy, so his WARP totals for 2017 are likely to be way higher than the subsequent years will be. However, we also didn't calculate the projected value with a rate that was adjusting for inflation, so there were some small flaws on both sides of the projections. From the PECOTA projections on BP, Stanton is projected for 41.3 WARP through 2027, which would be worth $351.05 million by those same projections, which is still good for a net value of $56.05 million.
What those projections tell us is that barring catastrophic injury, Stanton is projected to be worth his contract and then some, depending on the system used to estimate his value. The Blue Jays are a big market team and they could afford to tie up $30 million in one player, especially one as talented as Stanton, who should even out perform that contract.
Giancarlo Stanton Is a Name
Aside from being an objectively cool name, Giancarlo Stanton also has name recognition. He is a superstar. If he is traded, he will instantly inject excitement into his new fanbase. The Blue Jays will be going through a bit of an identity crisis this coming off-season when all of the new season ticket holders from the past couple of years will have to decide whether they want to continue to make their financial commitment to the team even after a disappointing season. Combine that with ticket price increases that have been announced and it is very possible that the Blue Jays will fall back to earth after being near the top of the attendance leaderboard since the trade deadline in 2015. Trading for Giancarlo Stanton would signify to Blue Jays fans that the team is still interested in competing and that those fans should renew their season tickets to get access to a team with many exciting pieces.
***
Realistically, the prospect price to acquire Giancarlo Stanton is going to be relatively high and it would probably be against the way the Blue Jays front office has operated thus far to go after him. Stanton also has a no-trade close, further complicating any trade talks that could occur this month. But there are many reasons to make a trade. He's fun, he fits in with this club, he brings good value, and he will help the team recover possible season ticket losses. If that isn't enough, watching him hit
mammoth dingers
should be.
Lead Photo: Jasen Vinlove-USA TODAY Sports