Ryan Tepera debuted with the Blue Jays on May 10, 2015 with little to no fanfare.  The bullpen was struggling through a transitional state, still reeling from the offseason departure of former closer Casey Janssen, the loss of of elite setup man Aaron Sanchez to the starting rotation, and the early season implosions of would-be stoppers Brett Cecil and Miguel Castro. It was an entirely non-descript roster move in which Chad Jenkins seemingly made his seventy-eighth trip down the QEW. While Tepera had a 0.57 ERA with Triple-A Buffalo, that he'd pitched 15.2 innings over 8 relief appearances was likely the more sought-after quality as manager John Gibbons looked to add some length and flexibility to help out his staff.
Tepera would be optioned and recalled two more times that season, and by the end of the year the right hander held a fantastic 3.27 ERA across 32 relief appearances. That mark was viewed with heavy skepticism by most: he had excellent control (1.64 BB/9), but Tepera showed little ability to strike out batters (6.00 K/9) or keep the ball in the stadium (2.18 HR/9).
His 2016 season was even more bizarre. He significantly improved his overall strikeout (8.84 K/9) and home run (0.49 HR/9) rates, while appearing to take something of a step back with his control (3.93 BB/9). Tepera allowed just six earned runs over his 20 appearances, good for a 2.95 ERA, yet despite evolving into a legitimate major league quality reliever, he was optioned and subsequently recalled seven times. Remarkably, he managed to stay on the Blue Jays roster for two-plus consecutive weeks on only two of those seven assignments: August 10th to 23rd, and September 2nd through the end of the season.
Maybe it's because we were never exposed to him long enough to get a feel for what he was doing, but at some point between the 2015 and 2016 seasons, Ryan Tepera made a conscious decision to significantly adjust his repertoire to better suit his new role. Tepera began his professional career in the rotation like most relievers, and featured a five pitch mix – all of which he threw more than eight percent of the time during his 2015 debut season. That number fell to four in 2016, with his changeup being discarded entirely. Now at the All Star break in 2017, having almost completely phased out his slider, his pitch count has settled into something of an unusual triumvirate: four seam fastball, sinker, and cutter.
In an effort to counter the limitations of having such a narrow velocity band (of roughly 88 to 98 miles per hour), Tepera has made adjustments to each of those three remaining pitches to better differentiate them at the plate. He's getting more arm-side run on his four seam and sinker while maintaining the glove-side movement on his cutter, further expanding the horizontal movement differential. Tepera has also reduced the vertical sink on the four seam and sinker, and perhaps most importantly of all, added about two inches of extra vertical drop to his cutter, expanding the vertical dimension as well. In 2017, it has the seventh most sink among relievers with 50 or more cutters thrown, and he's about a half inch behind the guy with the second-most sink. The emerging separation of the cutter from the other two fastballs can be observed on the GIF below.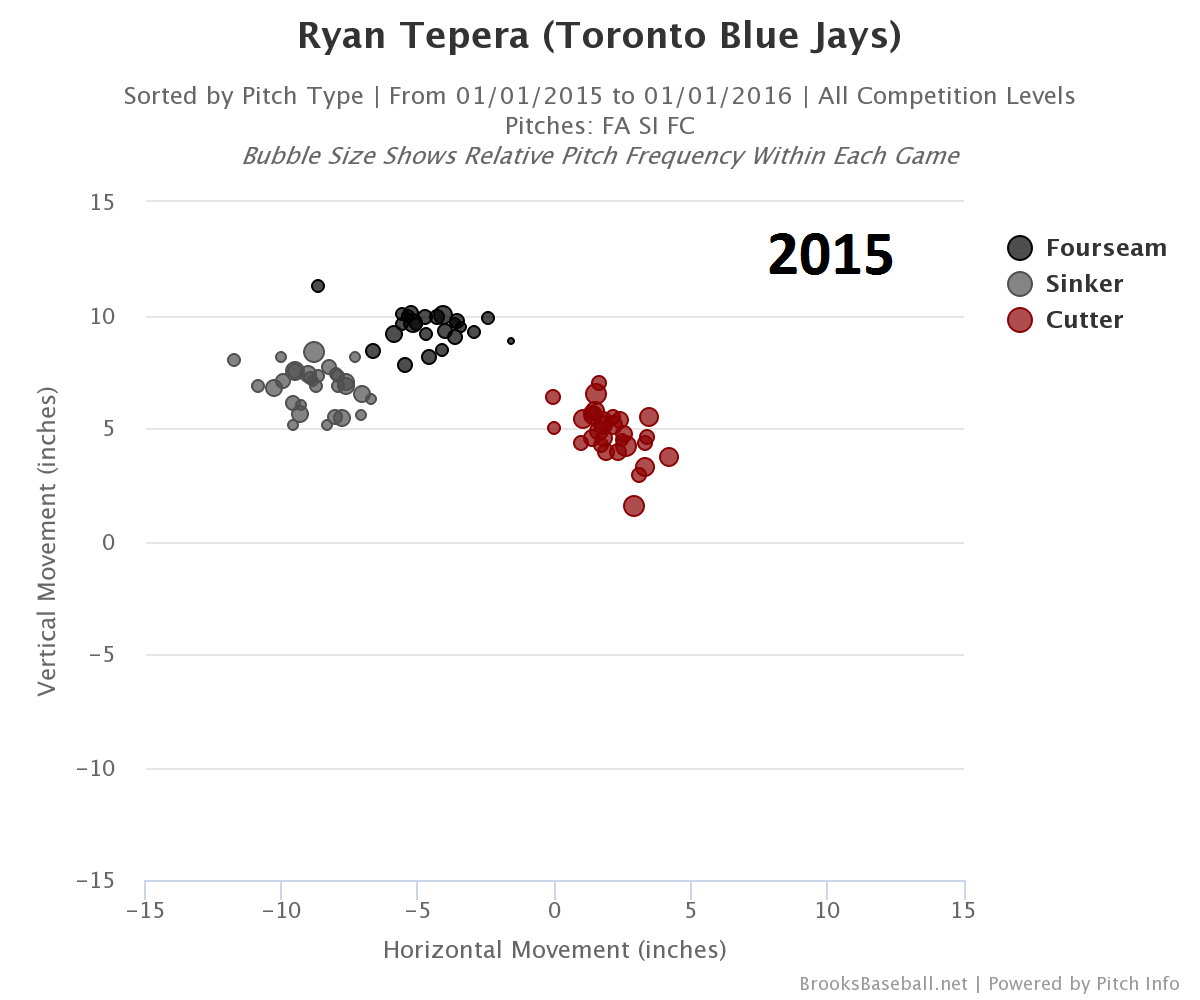 The progression Tepera has made with his cutter, developing it into a legitimate weapon, is nothing short of stunning. With some numbers from FanGraphs, as the table below demonstrates, he's throwing it more than ever but has simply decided to stop throwing it inside the strikezone. Opposing batters, meanwhile, haven't made any adaptations whatsoever. They're continuing to swing at practically the same rate as before, but are making less contact while chasing worse pitches. The whiff per swing metrics are among left- and right-handed relievers who threw 50 or more cutters in the given year, using the Baseball Prospectus Leaderboard.

After it was nothing short of terrible in 2015, Tepera has thrown one of the best cutters in baseball over the past year and a half. The one reliever with a better whiff rate in 2016 was Enny Romero (45.10 percent), while in 2017, it's Dominic Leone (45.31 percent), George Kontos (39.02 percent), Sam Dyson (39.02 percent), and Roberto Osuna (37.84 percent). You have to wonder if the Blue Jays are on to something with these fastball/slider relievers quietly becoming fastball/cutter relievers, but that's a story deserving of its own spotlight another day.
It's maybe time to reconsider the idea that, in moving from a walk rate of 4.7 percent in 2015 to 9.4 and 10.3 percent in 2016 and 2017, respectively, Ryan Tepera actually lost his control or command. The cutter has been his most used pitch in both of the last two seasons, and as the table clearly revealed, he has intentionally chosen to stop throwing it for strikes. The trickledown effect, of course, would be extra walks as not everyone is going to chase. The GIF below shows his Baseball Savant-generated heat maps for his cutter over the three seasons. The heat map includes both right- and left-handed batters. Against the former, the focal point has moved from middle-away, to low-and-away, to down-and-away off the plate altogether. Against lefties, Tepera is pounding his cutter down-and-inside more than ever.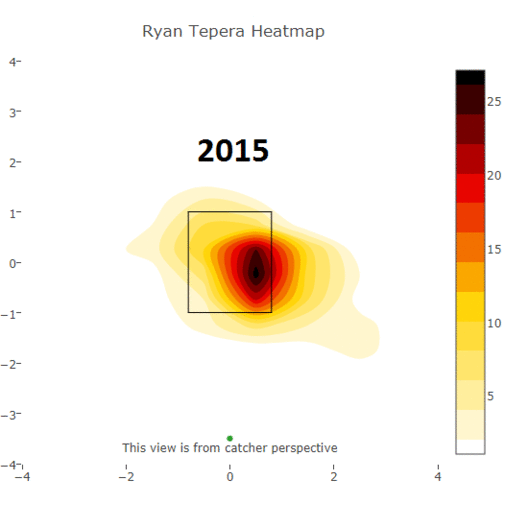 It's been a bit of a strange ride for the bullpen this season. Roberto Osuna has been his usual damn fine self, but Jason Grilli imploded and now finds himself playing for the Triple-A Texas Rangers. Joe Smith has been far better than even the most optimistic of us could have predicted, but his free agent comrade J.P. Howell was a disaster and a half over his nine innings of work before a case of left-arm shittiness forced him to the disabled list. These factors, along with Joe Biagini's trip to the rotation in Aaron Sanchez and J.A. Happ's absences, have given guys like Ryan Tepera, Danny Barnes, and Dominic Leone opportunities they likely wouldn't have received otherwise. They've each capitalized, and if Tepera can continue getting batters to chase his cutter in a way that has since left Kenley Jansen in the dust, he might keep seeing these high leverage appearances even after Smith returns in the coming days.
Lead Photo: Dan Hamilton-USA TODAY Sports