Despite the presumed potency of their lineup, the Blue Jays have exasperated plenty of people this season. Whether it's real or imagined, there's a general and dispiriting lack of surprise out there when they fail to cash in runs in big situations. Lately, there's been some silly discussion about a perceived need to "manufacture" runs borne of frustration as the Jays continue their Sisyphean endeavors to simply get to the .500 mark. There's nothing wrong with moving runners over and picking up RBI groundouts every now and then – it's preferable to not getting any runs at all. It's just that picking up runners with those sorts of tactics tends to fly in the face of what much of this roster excels at. Regardless of how those runners are stranded, Toronto hasn't had the best luck when it comes to balls finding holes in the defense.
Over the past three seasons the Jays have seen a downward trend in their BABIP, from .298 in 2015 to .289 last year to .278 this season, that helpfully coincided with some tremendous starting pitching. Now that the staff is showing some vulnerability it is becoming increasingly distressing to watch a once-explosive offense slide back towards the realm of the mortals. There are plenty of caveats surrounding BABIP, particularly for a homer-heavy group like Toronto's, but it's worth digging into some batted ball profiles to see how, if at all, the batters have changed over the past three years.
But before we do that, there is a pair of simple explanations that can help tackle some of what we're seeing. First things first, simple regression. Though the team hasn't posted an otherworldly BABIP over the three seasons we're looking at, individuals certainly have. When they fall back to earth off their outlier seasons it makes the whole look at lot less impressive. Conversely, there are a few players on this year's squad that have had some very poor luck, Devon Travis and Luke Maile chief among them. Secondly, some of the drop is simply due to an increase in the number of at bats from inferior hitters. We can best explain that as the difference between the 2016 Jays, who had half a year of good Michael Saunders, and the 2017 Jays, who have had to deal with Chris Coghlan and Ezequiel Carrera. Or how the 2015 team got to use 2015 Chris Colabello and the 2016 team got to use Chris Collabello from the rest of his career (well, for ten games).
Hit 'em hard
While some of their struggles with the bat are just plain old dumb luck (or in the case of Ryan Goins, convenient genius luck with runners on), some of the Jays have had a pretty hard time getting the barrel on the ball.
That sounds anecdotal, but the fine people at MLB have been tracking Barrels: well-hit balls with an estimated BA/SLG of .500/1.500. That data has only been made available going back to 2015, so that's what we'll look at here.
The left half of the chart below shows Barrels per Batted Ball Events (hits, outs, errors) while the right half shows Barrels per Plate Appearance among players who have been Blue Jays for all three seasons (with the caveat that Troy Tulowitzki's 2015 is split between Toronto and Colorado).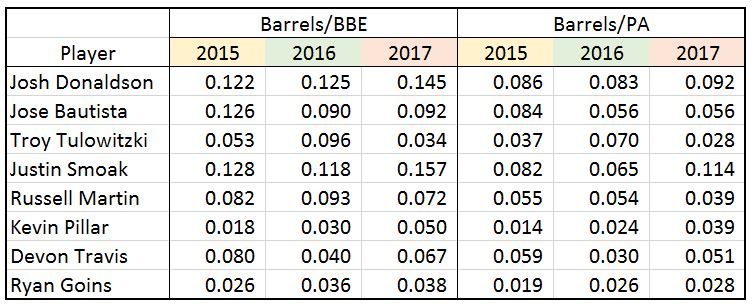 From this we can see a few things pretty clearly. Josh Donaldson usually leads the way, Justin Smoak has been mashing all year, Kevin Pillar really does make better contact these days, and it's been rough sledding for Troy Tulowitzki.
Tulowitzki has collected just four Barrels throughout the season, leaving him tied for 280th in all of MLB among players who have collected at least 30 BBE. Whether it's injury related or the beginnings of serious decline, there aren't many signs of optimism for Tulo in the Statcast data.
On the positive side, Donaldson is a great, if improbable, barometer – each of his numbers in that chart represents a top-25 mark across all of baseball. Seeing guys like Bautista and Smoak sitting in his neighborhood a few times is great, but most teams don't have that luxury. It's all well and good but Barrels remains a fairly untested metric, so let's look at some other information.
Below we'll take a look at the three year runs of several current Jays in terms of the percentage of batted balls hit 95 MPH or higher.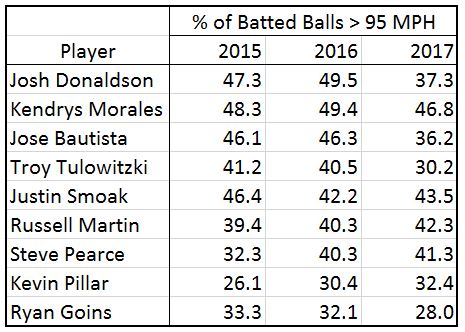 Again, Donaldson rocks despite a swoon this year. Kendrys Morales is also a champion of the field with two top-10 showings before this year's dip. It's been a rough season for both Bautista and Tulowitzki in this regard, so there are two alleged big boppers who are making more soft contact than you'd hope for. That also bears out in other forms, as Bautista has seen his percentage of hard hit balls decline from 41.4 percent in 2016 to just 30.8 percent this year. Tulowitzki has similarly seen his percentage of softly hit balls spike from 15.4 percent to 25 percent this season.
But back to the chart – there are a few of these players performing at three-year lows, even if in the case of Morales he's still one of the best in the league. So many key players hitting the ball with less authority could go a ways towards explaining some of the decline in team BABIP, as softly hit balls are more likely to be turned into outs. Pearce and Martin are probably due for some better days ahead, and it's fair to wonder how Martin's early struggles have affected these numbers. The same goes for Donaldson's DL stint, and if he starts working his way back to the numbers we're accustomed to there should be plenty of rain this summer.
From the Barrels, we can see that a few three-year Jays have seen less success in squaring up the ball. That might help explain some of the team's decreasing luck over that span, though it doesn't account for new additions to the team. It does point to a general decline from three pillars of the offense though and that will be tough to overcome regardless of how good any new players have or have not been. As for the second metric, we can see that a few Jays aren't doing as well as we've come to expect. Among the players expected to receive major at bats going forward, it's safe to say they aren't hitting the ball as hard as they're capable of.
Hit 'em high
"If you see me hit a groundball, even if it's a hit, I can tell you: It was an accident."
Josh Donaldson has a very clear stance on ground balls, and it's definitely the right approach for a guy like him. It's good to hit the ball very, very hard and it's even better to hit it very, very hard in the air. While it might be a bit of a stretch to call that philosophy contagious, let's take a look at how the rest of the Jays may or may not have excelled at getting the ball in the air.
The chart below shows the difference between each player's 2017 percentages and their career numbers in the field. For example, Donaldson has hit a ground ball 42.2 percent of the time this season compared to 42.8 percent for his career, so he's shown with a change of minus six percentage points in the table. In this instance, we'd like to see a negative change in groundballs and a positive change in line drives and flyballs.
There's nothing inherently wrong with a decreased fly ball percentage so long as it comes with an increase in line drives. What we don't want to see is a spike in ground balls. I've also included infield fly balls because they're basically the worst thing you can do besides strike out, and while they're included as part of overall flyball count it might help us see a concerted effort to get the ball in the air.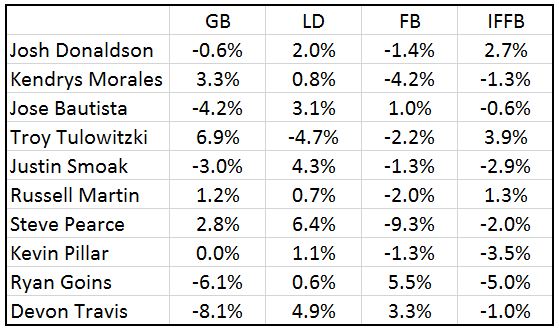 On the whole, it looks like most of these players have done a nice job avoiding ground balls. The issue stems from the fact that the two who've made the biggest gains (Goins and Travis) aren't the pure power hitters who'd benefit from that type of surge. That's particularly true for Goins, who isn't connecting on line drives at all. Again, Travis and Pearce have been pretty unlucky not to have better success this year considering all the line drives.
As for the negatives, Tulowitzki again sticks out like a sore thumb. His batted ball profile is basically a worst case scenario. Morales has also had a disappointing spike in groundballs and even though he's hitting them very hard (his exit velocity on grounders is 13th in MLB), he's either hitting them into the shift or is just far too slow to make close plays out of them.
This version of the Jays will probably always have a middling or worse BABIP – but it's okay!
Let's take all that and reiterate some generally accepted truths about what can help influence BABIP. First, balls that get hit hard are more likely to result in hits than balls that aren't. Second, flyballs are much more likely to be turned into outs than ground balls. Third, and this is much less an accepted truth than a simple fact, home runs don't factor into BABIP calculations.
Hitting balls hard is good, and there are a few Jays who really excel at that. As a whole, the team has done a decent job keeping the ball off the ground (though not necessarily moreso than the rest of the league, and that's worth investigating as well). When players who hit the ball hard hit it in the air, you'll get home runs. Those are, in fact, very good and definitely not "rally killers" no matter what anyone says.
Of course, that means BABIP will be on the lower side. That makes sense, and it's sort of the inherent risk you run when you try to sock dingers whenever possible. It's a very good strategy, to be clear, but it also means that you'll run into frustrating moments that are results of process rather than dumb luck. Again, it's not that the Blue Jays haven't had their run of poor fortune – a league-worst .275 BABIP in June (so far) can certainly attest to rotten bounces.
The general idea of hitting balls hard and in the air is a good one. The problem lies in the fact that so far the team is seeing that approach executed by players who aren't real power threats and a few of those who you'd expect to deliver results with this philosophy have seen their batted ball profiles go upside down.
Players aren't making as much hard contact, and for the most part the ones who are aren't the typical mashers. With the exceptions of Justin Smoak and Kevin Pillar, most of the players who are hitting balls harder are hitting them on the ground. It's no surprise to see a such a mediocre BABIP when the team has seen a spike in hard grounders and weak flyballs.
The Blue Jays will start to see some hits drop in, hopefully with runners on. The Blue Jays will cash in some leadoff doubles, manufactured or otherwise, I swear. Keep trying to hit 'em hard, and keep trying to hit 'em high. For a handful of players on the roster, it's a great plan. Until they follow through, however, expect some untimely struggles.
Lead Photo © Nick Turchiaro-USA TODAY Sports