How might it feel to be one of Ray Searage's 'projects'? On the one hand you're no longer mediocre, and that means money—a lot of money—for you. On the other hand, even though you're the one dominating, most of the credit is going to Searage. All day long it's Searage this, Searage that.
As one of Searage's 'projects', J.A. Happ undoubtedly owes a lot of his success to the Pirates' pitching coach for revamping his fastball. Our own Joshua Howsam wrote about that last season. But this season, Happ has been experimenting with a new weapon that nobody else can take credit for.
Happ has thrown 111 change ups so far this season with an average velocity 86.4 MPH. That's a full three ticks harder than he threw his change last season, and way above his career average of 82.8 MPH. Digging into the distribution of that sample, the velocity bump can be attributed to both a higher floor and a higher ceiling.

He's also upped his usage rate, selecting the pitch a career-high 17.3 percent of the time. He's never exceeded a 10 percent usage rate over a whole season, and is already close to eclipsing his total change up count from last year (194).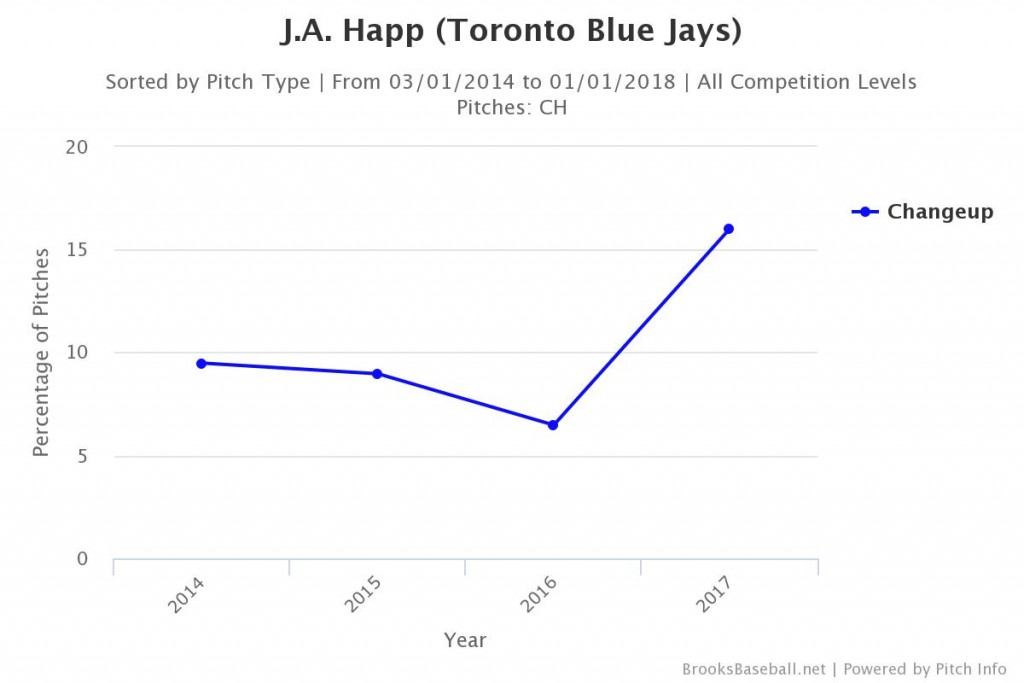 The results have been dramatic. The hard change has limited batters to a .459 OPS. To put that in context, of all the pitchers who have thrown over 100 change ups this season, Happ's .459 OPS is the 7th-lowest mark, behind guys like Stephen Strasburg and Carlos Carrasco.
When he throws the hard change, he's getting a strike 67 percent of the time due to a career-best 45 percent chase rate and a career-best 17 percent swinging strike rate. To put that in context, of all the pitchers who have thrown over 100 change ups this season, only Johnny Cueto has a higher chase rate.
It also doesn't hurt that it looks filthy.
This all sounds great, but you're probably asking the same question I did right about now. Isn't the whole point of an off-speed pitch to look the same but have a significant difference in velocity from the fastball? Isn't that what makes Marco Estrada so successful? Happ's career fastball-change up velocity differential is around 8.0 MPH. The lowest it's ever been is 7.1 MPH in 2015. Right now it's at 6.2 MPH.
So what's going on here? Since we can't just ask J.A. Happ for the answer, let's turn to the next best thing – Houston Astros ace Lance McCullers. You could call McCullers the poster-child of the hard change movement; his career average velocity sits at 89 MPH. He once dialed it up to 96.3 MPH, which is objectively unfair.
Fangraphs' David Laurila interviewed him last June and asked him about blurring the line between a change and a two-seam fastball.
"The old school thinking of a changeup is that it has to be 8-10 mph off the fastball, and it needs to look like a fastball. That's the goal. Make it look like a fastball, but slower.

"The new-day-and-age changeup is more, 'Throw with aggression; make it spin and kind of fall off the table.' It's not a pitch to get people off your fastball anymore. It's a pitch to try to dominate left-handed hitters with, and to dominate guys who have a tough time with sinkers."

According to McCullers, unless you can replicate your four-seam mechanics flawlessly, hitters are discerning enough to tee off the change no matter what the velocity differential is.
"It's not about slower pitches. There are plenty of hitters who can adjust to speed differential if they can tell it's coming. If you're one of those special guys, like Mike Morin for the Angels, who can have the same arm action and throw a 70-mph changeup, or a Scott Kazmir… more power to you. But I'm not that guy. My changeup is at its best when I rear back and throw it, and let the action dictate how the batter reacts."

The change has traditionally been a strategy pitch; something to throw in the middle of an at-bat once you've got the batter sitting fastball. For McCullers—and other hard change guys like Felix Hernandez, Zack Greinke, Danny Salazar, and now Happ—the change can be a finishing pitch.
"If it's a punch-out situation, I'm going to throw it harder. I'm going to throw it 89-91, sometimes 92. The best changeup I threw all of last year was to Melky Cabrera and it was 94. It had the best movement, the best off-the-table kind of tailing action, and I got a great swing and miss on it."
I went out and found a clip of that 94 MPH change to whiff Cabrera. You tell me if this is a strikeout pitch or not.
Lance McCullers, 94mph Changeup (from June 2015). pic.twitter.com/btRecWSoeT

— Rob Friedman (@PitchingNinja) June 9, 2017
Happ's been lights out over his last two starts, and the hard change is a big reason why. He doesn't have McCullers' freakish genetics, but even at 86 MPH his change up has been near un-hittable.
Lead Photo: Kim Klement-USA TODAY Sports