The Blue Jays selected seven players on day two of the draft, with all seven taken from the college level. Here's a look at the picks made in rounds six through ten.
Round 6, Pick #189
Brock Lundquist, OF, Long Beach State (video)
6'0 205lbs DOB: 01/23/1996
The Blue Jays took Brock Lundquist 189th overall, the same slot in which Gord Ash drafted Casey Blake 21 years ago. Lundquist was previously drafted by the Oakland A's in the 37th round out of high school in 2014.  Lundquist was Baseball America's 391st ranked prospect, and wrote this about his abilities:
"…Lundquist is physically well-put together and has raw power in his 6-foot, 210-pound frame, but has struggled to get to it consistently in games. He served as Beach's leadoff hitter rather than hitting in the middle of the order for much of the season, highlighting that inability. Lundquist has a good bat path and good bat speed, but his pitch recognition is below-average and he can get out on his front side. He is an average runner with an average arm and projects as a fringe-average to average defender in left field, with just enough arm to handle right."
The junior  hit .277/.388/.429 with four home runs and 10 stolen bases for the Dirtbags this season while sporting an 80-grade mustache.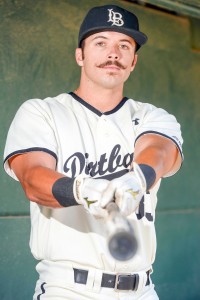 Round 7, Pick #219
Colton Laws, RHP, UNC Charlotte (video)
6'7 215lbs DOB: 12/20/1995
The 6'7 right-hander towered over the competition this year, showing a massive improvement over his 2016 campaign. Laws started 15 games, threw 96.1 innings, and managed to strike out 94 hitters while only walking 13, a 7.23 K/BB ratio. Due in no small part to a 27.1 scoreless innings streak early in the year, Laws ranked 17th of all Division I draft-eligible pitchers in park-adjusted ERA this season.
Laws was ranked 376th by Baseball America:
"Laws was closing the season with a flourish, with 14 strikeouts in his final start in the Conference USA tournament. He's a redshirt sophomore who attended East Carolina in fall 2014 but transferred after a coaching change. He's athletic enough to have been a star basketball player in high school, scoring more than 1,200 points. Statistically, he dominated in 2017, ranking 16th nationally in ERA (1.87) and in the top 25 with 1.21 walks per nine innings. He's similar to Mariners farmhand Max Povse as a rangy 6-foot-8 starter who pounds the strike zone, getting ground balls and swings and misses with an 88-92 mph fastball that can touch higher. His slider and changeup have made progress in 2017, and while neither grades as above-average presently, he keeps both pitches down."
Round 8, Pick #249
Kacy Clemens, 1B, Texas
6'2 195lbs DOB: 07/27/1994
In drafting Kacy Clemens, the Blue Jays continued their quest to field a team of the kids of former major league all-stars. While The Rocket's son used to be a pitcher like his father, arm troubles have caused him to switch to first base full-time. Starring at Texas with his brother, Kody, he has taken this switch to the other side of the ball in stride, hitting .305/.414/.532 with 12 home runs. There isn't much in the way of scouting reports for Clemens as a hitter, given his recent transition to first base. Nonetheless, his great stats and some impressive web gems on defense make this pick a rather intriguing one, as Clemens has the potential to succeed as a late-blooming first baseman.
Kacy Clemens is going to take plus (maybe ++) 1B defense, great makeup, and an intriguing bat with some pop into pro ball. #HookEm #BlueJays

— Dustin McComas (@DMcComasOB) June 13, 2017
Round 9, Pick #279
Zach Logue, LHP, Kentucky (video)
6'0 165lbs DOB: 04/23/1996
Zach Logue has flipped back and forth between the bullpen and the rotation over his career at Kentucky, pitching to mixed results along the way. After earning a 2.68 ERA in 2016 splitting time as a reliever and a starter, he pitched to a 4.84 ERA this season primarily pitching out of the rotation. These numbers might not tell the whole story, however – Logue posted a nice ratio of 88 strikeouts to 25 walks on the season, and a couple of draft experts praised the Blue Jays for the pick:
Logue a nice get by Blue Jays solid lefty, guy I hoped to catch this year and strong get by Blue Jays especially in 9th

— jeff ellis (@jeffMLBdraft) June 13, 2017
I don't think I've even moderately disliked a single Blue Jays pick this year. Loving all of it. Just took Zach Logue in the 9th.

— Justin Perline (@jperline) June 13, 2017
Here is a scouting report from Baseball America, who ranked Logue 258th overall: "After an apprenticeship in Kentucky's bullpen, Logue became a reliable starter as a junior, posting a 7-5, 4.84 year, showing the ability to generate strikeouts with his slider, but also showing a propensity to give up hard contact when he caught too much of the plate. Scouts see him moving back to the bullpen as a pro, a role they saw him excel in last summer in the Cape Cod League. Logue's 87-90 mph fastball and fringe-average slider both might play up more in short stints as a matchup lefty."
Round 10, Pick #309
Justin Dillon, RHP, Cal State Sacramento
6'3 220lbs DOB: 09/05/1993
Dillon made headlines throwing Cal State Sacramento's first ever no-hitter in early 2017. This start was the highlight of an all-around solid season for the 23 year old, who pitched to an ERA of 3.36 in 19 games with 108 strikeouts and 26 walks. He was previously drafted out of high school in 2012 by the Colorado Rockies in the 39th round.
Good 10th rnd pick by Toronto in Sac St RHP Justin Dillon. Big frame, decent arsenal. Innings eater.

— Bill Mitchell (@billazbbphotog) June 13, 2017
And with that, the Blue Jays have finished their their selections on day two of the draft. Rounds 11-40 will continue tomorrow.
Lead Photo © Butch Dill-USA TODAY Sports