It probably wouldn't be an overstatement to say that Jason Grilli's 2017 so far has been an unmitigated disaster. The once-reliable reliever has been anything but, posting a 7.71 ERA and having allowed five home runs in just 14 1/3 innings (a whopping 3.2 HR/9). That home run rate is by no means historic, but only 75 pitchers in the history of baseball have given up long balls at a greater rate while throwing that many innings. His strikeout rate has also fallen dramatically from 32.3 percent last year (and 32.1 percent in 2015) to 25 percent this year. While that is still above average, it is a large step backwards. Grilli is also walking a career high 13.2 percent, but that's just a hair off his 12.8 percent rate from last year and thus is functionally the same in the smaller sample size.
So the question becomes, what's wrong with Grilli?
When it comes to stuff, there doesn't seem to be much of a change from last year:


As you can see, both the average and peak velocity (bottom charts) are almost identical – and the movement on his pitches is also very similar (top charts). The slider seems to be going down a bit more and sliding a tiny bit less, but at half an inch for each, that is well within the margin of error and could even be entirely due to the switch to Trackman data collection system.
So clearly the issue isn't the stuff.
The biggest problems have occurred on Grilli's slider. While the pitch is essentially the same, hitters are making way more contact this year. Last year, batters only hit the ball 57 percent of the time when they swung at Grilli's slider. This year that number is 76.9 percent. That's a very significant change. The issue, as it is in real estate, has been location, location, location. It probably isn't a surprise to anybody who has been watching, but Grilli's slider location has been horrible: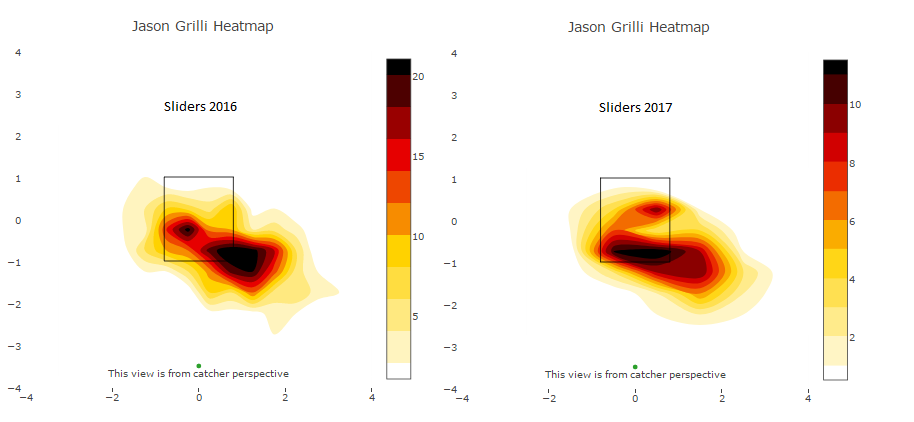 A big part of Grilli's trouble this year has been finishing hitters off once he gets them to two strikes. In fact, his 4.65 pitchers per plate appearance is tied for third worst in baseball among pitchers who have thrown at least 150 total pitches. Among those that have thrown 300, he moves to second worst. A big part of that is that he simply can't seem to bury that slider down and away (or down and in to lefties), instead leaving it in the strike zone. It goes without saying, but it's a heck of a lot easier to make contact when a pitch is over the plate.
Unfortunately, Grilli's command issues aren't limited to the slider: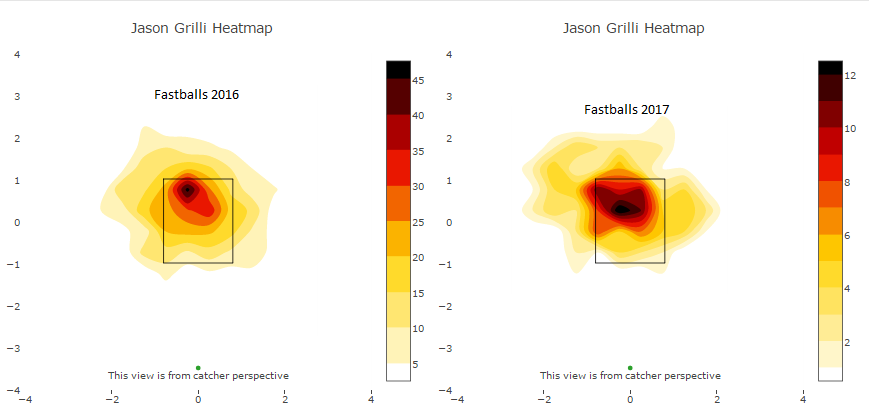 Look at how clustered those fastballs were in 2016. Part of that is obviously partially due to the larger sample (which makes the most thrown locations stand out more), but it was also just an example of much better command. Grilli loves pitching up in the zone with his fastball. Last year, he was getting it there. This year, not so much. It's a lot easier to get people to swing and miss (28.7 percent of swings) when the ball is at the letters than when it is belt high (20 percent of swings) like it is this year. The pitch has also moved more towards the middle, which obviously also makes it more hittable.
When you you look at the two pitch grids together, however, you see the bigger problem emerge. Whereas last year Grilli was throwing up and to the arm side with his fastball and then off the plate down to his glove side with the slider, this year hitters are seeing two pitches that are coming in much tighter zones. With the fastball over the middle and the slider over the plate, hitters don't have to cover nearly as large an area, which is leading to tremendous early season success against the grizzled veteran.
There is a little bit of good news. While the slider location was great for the entirety of 2016, this is what Grilli's fastball location looked like before coming to the Blue Jays: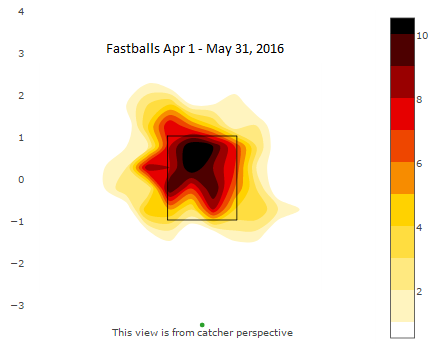 As you can see, he was having all kinds of trouble with the heater in the early going in 2016 as well. So there at least is some level of hope that he can recover it.
That said, without the better location on the slider, Grilli still probably won't be worth using in high leverage spots. He either needs to locate better or Grilli may find himself getting fired instead of fired up.
Lead Photo © Noah K. Murray-USA TODAY Sports