Written by Andrew Munn, Matt Gwin, and Mike Passador
An Orioles Pitching Staff in Shambles
The Blue Jays enter the weekend losers of their last series, seeming to have lost some of the momentum that they gained winning eight of the previous ten. What made this past series all the more frustrating is that it came against the Atlanta Braves, a team who is currently in a rebuilding phase. The Orioles can sympathize with this frustration, given that they have now lost six of their last seven, including a sweep last weekend at the hands of the runt of the AL litter, the Kansas City Royals.
Baltimore's struggles over the past week cannot be attributed to the whole club. The hitters have continued to perform in typical Oriole fashion, slashing .284/.376/.504 during the stretch. The reason for the team's struggles falls squarely in the hands of the pitching – specifically the rotation, who have pitched to a 7.01 ERA over their cold stretch. The Orioles starters this weekend will be Chris Tillman, Kevin Gausman, and Wade Miley, with Gausman and Miley having been two of the main perpetrators of the rotation's lousy performance.
This lack of success for the Orioles' pitching staff has led to the getting knocked out of games early. Over their 1-6 stretch, Orioles starters have averaged only five innings per start. This has required the Orioles bullpen to eat a lot innings over the last week, a bullpen that is already dealing with the loss of Zach Britton to a forearm strain.
Toronto has an opportunity to add on to Baltimore's pitching woes this weekend. While normally the thought of Baltimore going to their bullpen is a scary one, the absence of Zach Britton combined with their recent increased workload are good omens for a Toronto team who has hit nearly as well as the Orioles (.271/.341/.489) over the last week. If the Blue Jays can continue the trend and get to Baltimore's starters early, there could be some mashing happening in Baltimore.
Players That Will Coming Back from Injury…Maybe 
The Blue Jays miraculously thumped Atlanta Thursday night with just three Opening Day starters in the lineup. Recent callup Darrell Ceciliani batted cleanup and April-signee Chris Coghlan hit fifth. The team's second backup catcher of the year hit eighth. And because nothing good can ever last, Ceciliani partially dislocated his shoulder while socking a dinger. So although the team will be shorthanded for Friday's opening tilt with him out and Kevin Pillar suspended, some help appears to be on the way.
Earlier this week John Gibbons got everyone fired up when he speculated that Josh Donaldson and Troy Tulowitzki could return around the team's trip to Atlanta but had to walk back those comments after he "jumped the gun" on their respective recoveries. Given the state of the lineup, it's hard to blame him. 
While Donaldson won't be back this weekend, it looks like Tulowitzki could make an appearance at Camden Yards. Rainy conditions pushed back the start of his rehab stint on Saturday, and with Dunedin off Sunday it meant that Tulowitzki didn't return to action until Monday. He went 1-for-3 in that game and played shortstop before going 0-for-2 with a walk as the DH on Tuesday. He got a day off on Wednesday and went 1-for-3 last night while playing the field, furthering speculation that he'll be back sooner rather than later. He could be in line for one or two more rehab games but could just as easily return to the big club for the series opener. Either way, it wouldn't be surprising to see a regular face back at shortstop in Baltimore. 
Elsewhere, Russell Martin went on the 10-day DL on May 8th with a left shoulder problem. While he didn't come off the DL when first eligible on Thursday, he was able to catch side sessions from Aaron Sanchez and Francisco Liriano on Wednesday and Thursday, respectively. With him unlikely to need a rehab assignment, Martin's return could come sooner rather than later. 
Beyond the obvious benefits of having really good baseball players available, this should ease some of the burden on Toronto's thin bench. They had been rolling with nine relievers and just two bench bats until Pillar's suspension spurred an 8-3 split, so a return to health would give the team much more flexibility in terms of late game substitutions. Exactly who sees the door is yet to be determined, but beyond Mike Ohlman and Dwight Smith the team's affinity for collecting middle-infield types points to a pitcher drawing the short straw.
Regardless, the Blue Jays are mercifully inching their way back to full health.
Lefty Power Will Thrive in Baltimore 
When people usually think of left handers hitting home runs in the American league, they think of Yankee Stadium and the infamous short porch. However, Camden Yards is surprisingly lefty power heavy. Per FanGraphs' park factors, left handed hitters at both Yankee Stadium and Camden Yards have a 15% higher chance of hitting a homerun than they would at a neutral stadium. When you look at the an overlay of the park, it really makes sense.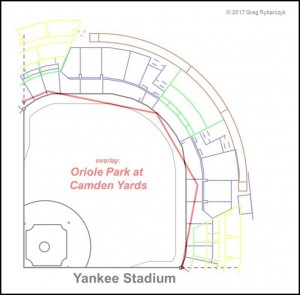 Image via ESPN Home Run Tracker
At Camden Yards the right field corner is 318 feet from home plate, compared to 314 to the short porch at Yankee Stadium.
While the Blue Jays don't have any truly powerful left handed hitters, they do of course have two powerful switch hitters in Justin Smoak and Kendrys Morales. Fortunately, both Smoak and Morales have shown quite a bit more power from the left side. In his career, Smoak has hit home runs in 4 percent of his plate appearance from the left side compared to 3.3 percent from the right side. Morales' difference is even more pronounced with home runs in 4.4 percent of his plate appearances from the left and 3.1 percent as a right hander.
On top of all that, the Blue Jays will be facing three right handed starters this weekend in Chris Tillman, Kevin Gausman, and Ubaldo Jimenez. For a Toronto team that, as mentioned above, will still be missing its big guns on Friday, they'll need to take advantage of any edge that they can get.
Lead Photo: © Nick Turchiaro-USA TODAY Sports