I recently had the privilege of attending the Sacramento River Cats' 7-6 come from behind walk-off victory over the Las Vegas 51s. Since their inception in 2000, the River Cats, and their ballpark Raley Field, have been one of MiLB's crown jewels. Their organization is revered and imitated by many. As of last year, Forbes ranked them as MiLB's Most Valuable Team.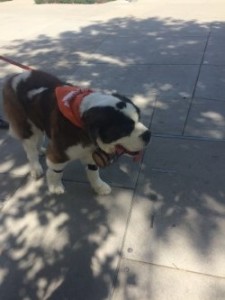 From the first helpful, smiling parking attendant, to the many dogs in the stadium that day for Bark in the Park: this was a terrific sun-soaked afternoon. See Wally on the right with San Francisco his Giants bandana AND wrist bands
The River Cats have led MiLB in attendance nine (!) times, including their first eight years of existence and again in 2015. This includes 2002, wherein they had a higher average attendance than both the  Marlins and Expos while falling just shy of the Rays.
Raley Field was also built without public dollars, so Sacramentans didn't have to fund it with their own tax dollars. Not using taxpayer's money to build a stadium isn't just a breath of fresh air, it's a gust of wind that smells like freshly baked cookies.
The team has been affiliated with two highly regarded MLB clubs, the Oakland A's previously and the San Francisco Giants more recently. The current affiliation is important not just because the MLB club is only 90 minutes away, but it allows the Giants to cleverly expand their fan base into a large city. It also never hurts to have presence in the state capital. From the look of all the Giants gear, the affiliation seems to work for both parties: Raley Field is Giants country
The team also has a Blue Jays connection: they were formerly the AAA Vancouver Canadians, who moved to Sacramento following their 1999 championship season. Weeks after that move, a Single-A team wisely upgraded their market and brought their team to Vancouver from Medford, Oregon. As of the 2011 season, after a long stint as the A's affiliate (coincidentally), that franchise from Medford, currently the Vancouver Canadians, has been the Jays' Single A Short-Season affiliate.
The Promotions
With all the attendance records, it is clear this front office is doing things right. A big reason for their success is likely due to how great the experience is for fans. Their current promotional schedule indicates that 82% of their games are astoundingly sponsored. For comparison's sake, approximately 42% of the Blue Jays' home games are sponsored for 2017.
Included amongst the River Cats' promotions are classics such as fireworks, bobbleheads and giveaways plus themed days with something for everyone. They've got Sunday Funday for Kids, pre-game wine tastings for adults, and Baseball Bingo every Monday home game. Right Field also features a kids play area with games, aptly named 'Down on The Farm'. 
The Food
A large component of any ballpark experience is its food and beverages as most all fans are looking to indulge on their night out. As such a seamless food and beverage experience will lead to happy fans and larger team profits. For the River Cats, this means calling on baseball hall of famer (and face puncher) Nolan Ryan.
This season, Raley Field went through a massive upgrade and partnered with a concession team owned by Ryan that replaced the traditional concession stands with 'storefront' restaurants.
Both minor league  teams I ran also outsourced their concessions to a third party. The third party would run the entire operation including hiring and scheduling staff, offering food, and running a shipshape operation. The third party would then pay us a royalty percentage from revenue.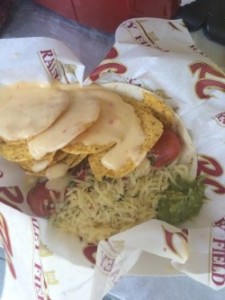 The mentality was that our job was to sell tickets, which had its own set of challenges. So you're better off leaving the food and beverage to the pros. When fans know that great food is quickly accessible, they'll eat lunch or dinner at the ballpark and also get that second beer or hot dog during the game, which ultimately benefits the team's bottom line.
It's also extremely challenging to provide great food and great service at the ballpark. There's an industry expression: fans might wait in line once, but they won't wait in line twice. Essentially, a fan shouldn't have to wait in two lines to get everything they need. With a crowd of 9,000, the River Cats had core food items at all locations, and expedited orders very quickly, so fans were able to get to their seat. I chose Oso's Mexican Cantina for an excellent quesadilla hot dog.
The Sponsorships
Make no mistake, the 82% sponsored game nights don't just provide entertainment for fans, it's essentially companies paying the team for the privilege of being associated with it, and for presenting the game. A strong sponsorship is the result of many factors, like providing high value, strong presence, and delivering unique activation.
For example, Sacramento's billboard sponsors have other activations throughout the stadium and with the team, further enriching their relationship. Aesthetically, the billboards aren't on top of each other like in other venues, so each one has prominence.
They also have a few long standing community initiative. Break a Bat, Plant a Tree shows their commitment to the environment. Through the initiative staff and volunteers plant a tree for each bat that breaks in game. Wellness Wednesdays is their exercise encouragement program. It's not only impressive in its objectives, but also operationally as it's VERY difficult to have a side event before a well attended home game.
The Group Options
Groups are excellent for a team; instead of just one fan buying one ticket, one fan books 20 or more for their birthday or company. Also, group tickets are predominantly sold in the off-season or in advance of a game, insulating the team with ticket sales and revenue.
Corporate hospitality also comes in here and is vital for a team, with companies using tickets and suites as key business tools to entertain staff, clients and their families. Particularly in cities and towns without any other major sports options, the minor league baseball team may be the hottest sporting ticket in town.
This is why new stadiums feature many unique and high-end group areas; businesses like it and teams make a lot of money off of it.
The Experience
There are so many different facets that help can an MiLB team thrive, no matter their market. The Sacramento River Cats excel at all of them, creating an enjoyable experience and valuable community treasure. As we noted, plenty of other teams model themselves after Sacramento, and it doesn't look like it'll stop any time soon.
Lead Photo: Mark James Miller via Wikipedia Commons and Licensed by Creative Commons