Written by Greg Wisniewski, Joshua Howsam, and Matt Gwin
Who Should You Dread? Judge.
For years and years, the Yankees have been old. Their very best players have flown in on private jets and signed big money contracts after at least six years in the big leagues. One has to travel back in time to the end of the last century to find a Yankee rookie crop worth talking about, but last year Gary Sanchez was the talk of baseball. He cranked out twenty homers in around a third of a season's worth of plate appearances, which certainly raised everyone's eyebrows. With Sanchez injured to start 2017, all eyes have instead turned to Aaron Judge as he attempts to channel the magic of Monument Park. He has shone bright in that spotlight. Behold, Aaron Judge, AL home run leader.
The first thing you might notice when beholding him is how MUCH of Aaron Judge there is to be beheld. He is a giant 6'7″ and 282 pounds, (if the Yankees media guide is to be believed). Just a few days clear of his 25th birthday, Judge has already crushed 10 home runs. That's in about one sixth of a season's worth of plate appearances – if you know what I'm getting at. One of those home runs also broke the record for hardest hit in the Statcast era.
Aaron Judge just hit the hardest HR in the @Statcast era at 119.4 mph, breaking Giancarlo Stanton's record of 119.2 mph.

— Bryan Hoch (@BryanHoch) April 29, 2017
Yes, he out-Stantoned Giancarlo Stanton. Judge also sits tied for the MLB lead in Barrels, a measure of high powered contact, with 13. He's struck out in 26% of this PAs, but also walked in 11.9%. In the minor leagues he averaged 27 doubles and 20 homers as he raced through five levels in two years, then he hit another 20 between his time in AAA and the majors last year. There are a lot of signs that you, the Blue Jays fans of this world (and the Orioles, and Rays, and Red Sox fans), will come to know when Judge-ment has been passed on your pitcher's errant hanging slider or centre-cut fastball. He's on a hot streak right now, so take this series in for an opportunity to decide what you really don't like about seeing him on the field. This way you can say you got in on the ground floor when the hate elevator really takes off.
And as a final weird addendum, those of you who might blame Mark Shapiro for… everything can blame him for Judge being a Yankee. Aaron Judge was selected with the 32nd pick in the 2013 Amateur Draft using a compensation pick for losing Nick Swisher to free agency. Swisher signed with the Indians, a deal that would have been approved by President Mark Shapiro.
YanKs Bullpen
It's no secret that the Yankees have a tough back end of their bullpen. With the duo of Dellin Betances and Aroldis Chapman, most games are pretty much over if the Yankees carry a lead into the 8th. What's lost is just how devastating the group can be as a whole.
With the surge in power across baseball and the hitter-friendly nature of Yankee Stadium, Brian Cashman seems to have decided the best way to fight back is to make sure nobody ever hits the ball at all. To that end, he has built a relief corps that gets strikeouts in serious bunches.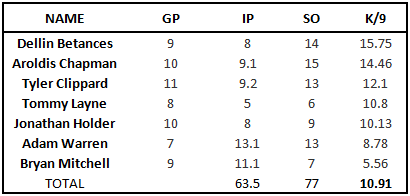 As a whole, the Yankees' bullpen has the third highest strikeout rate in the American League (and fourth in baseball) at 28 percent, behind the surprising White Sox (31 percent) and the Houston Astros (30 percent). As you can see from the chart above, the top three relievers in the New York 'pen all average over 12 K/9. In fact, every reliever in that group of seven strikes out hitters at an above-average rate except for Bryan Mitchell. And with Mitchell currently sporting a 6.35 ERA, don't expect to be seeing him in anything resembling a high leverage situation unless a game goes into extra innings. Chasen Shreve wasn't included on the list above due to having made only three appearances, but he fits right in if he's active. The slinging lefty owns a career K/9 of 9.6.
Unfortunately, this is pretty much a match made in Hell for Toronto. As a club, the Jays' hitters have the third highest strikeout rate in the AL (23.1 percent), trailing only the Athletics (24.4 percent) and the Rays (25.9 percent). That's not exactly the company you want to be keeping when talking about offence.
What this most likely means is that when they get into those late innings, the Blue Jays' thus far non-existent power (fifth fewest HR in baseball as a team) is going to have to start showing up. It's going to be very tough to string hits together against that relief corps, so they're going to need some extra-base hits to survive.
The Yanks Dig the Slider
A well thrown slider is one of the toughest pitches to hit in baseball. It's the achilles heal to some of the game's best hitters and the arrow upon which some pitchers' entire careers depend. While many hitters struggle with the slider, however, the Blue Jays are particularly poor. And while many pitchers can throw the slider well, the Yankees staff throws it a lot and they're particularly good at it.
By FanGraphs' pitch value metric, the Blue Jays rank last in the league against the slider with the Phillies being a distant second. This stems from slider issues with a few mainstays in the Blue Jays' lineup. The most famous example is Justin Smoak, who notoriously struggles with off speed stuff. In his career, Smoak  has whiffed on 39 percent of the sliders he's faced, which is 13 percentage points above league average. However, there are other Jays hitters with slider holes in their swings. Notably, Russell Martin and Kevin Pillar have struggled with the pitch over the last few seasons, each posting well above average whiff rates on the pitch.
Meanwhile, thus far this season 24.4% of all pitches thrown by the Yankees staff have been sliders. That mark is the highest such percentage in baseball and is more than three percent clear of the next most slider happy team. There's also a reason why they keep throwing it: it's been their most valuable pitch by far. By FanGraph's pitch value metric, Yankees pitchers' sliders have been the second most valuable pitch in baseball, second only to Red Sox pitchers' fastballs.
Among the three Yankees starters that the Jays are set to face, two of the trio—Sabathia and Severino—use the slider as their primary out pitch. Tanaka will be the third Yankees starter, and the only reason that it's not his out pitch too is that he's got an even nastier splitter. Both C.C. Sabathia and Luis Severino have gotten opposing hitters to whiff on more than 40 percent of their sliders this year. They're joined by fellow Yankees starters Michael Pineda and Jordan Montgomery in the 40 percent plus club, but the Jays will fortunately miss that pair. Look for the Yankees to rev up the sliders against the Jays and to create a few disappointing late game at bats while striking out Smoak.
Lead Photo © Noah K. Murray-USA TODAY Sports