Every week in this space, we're going to be running down the "Pitcher of the Week" for the Toronto Blue Jays. This won't always be the best pitcher, but it will always be someone who did something notable that we can break down further. Using information from games through Friday (Saturday-Friday), we will try to show you something interesting each and every week. 
Despite some injuries and some struggles, the Jays' pitching in 2017 has had many several sterling performances. This week had no shortage of candidates to highlight: Marco Estrada and Francisco Liriano put up zeroes in their outings and Danny Barnes had three scoreless outings after being called up. But we're going to highlight the workhorse of the Blue Jays' bullpen: Joe Biagini. He had five outings in a busy week with zero earned runs, lowering his already excellent ERA to a much nicer 0.69.
Coming into the season, there were no shortage of questions surrounding the former Rule 5 draft pick. Would he continue being effective in his second season? Would the Jays convert him to a starter? Would he supplant Grilli as a setup man, or perhaps be used as a long man, in preparation for a future conversion? While some of those questions remain, one certainty is that Biagini's effectiveness has dismissed a lot of the worry surrounding his performance. With a bullpen that's had it's share of turmoil, Biagini has been a rock of stability, someone John Gibbons has had no hesitation calling upon when the situation called for it.
Let's take a look at a recent time Biagini bailed the Jays out of a tight spot, in Friday's game against the Angels. It wasn't pretty, but he notched the save, battling through a few tough at-bats to get there.
It's the 13th inning. Jose Bautista had hit his first home run of the season in the top half, off old friend Jesse Chavez, giving the Jays a three-run lead. With Roberto Osuna unavailable, Gibbons' first call to close the game out is Aaron Loup. A couple of errors and a walk loaded the bases, and had Jays fans (the seven or so that were still awake for a west coast, extra inning game) gripping their armrests a little tighter. Gibbons ambles out, and Joe Biagini comes in. The bases are loaded, nobody is out, and Mike Trout- merely the best player in existence- is lurking two batters away.
The first victim is Cliff Pennington, another familiar face to Jays fans. He, like Chavez in the top half of the inning, does his old squad a solid, striking out on four pitches. Biagini is now a double-play away from getting out of the inning without any damage, and avoiding the Angels' best hitter.
Kole Calhoun would have none of that, however.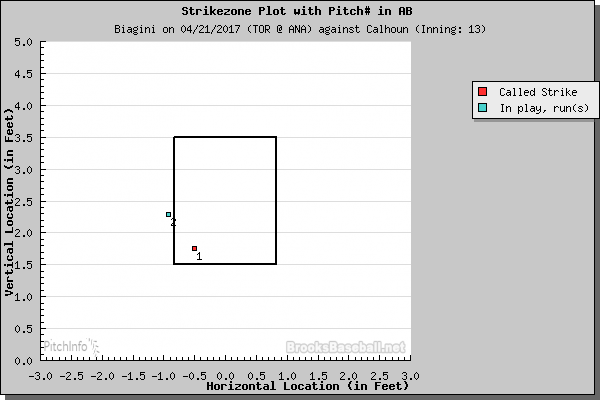 It's hard to blame Biagini for this. A cutter down and away, followed by a 95 mph fastball in a nice spot off the plate away that Calhoun drives it into left field and scoring a run. Tip your cap, and move on.
Now, it's Trout, with the tying run but two bases away. Biagini's painted himself into a bit of a corner. So what does he do?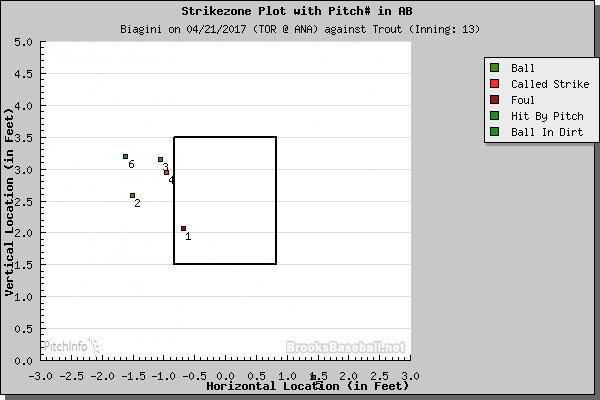 Biagini is smart in his approach to Trout. There's nothing to hit here after a first pitch fastball on the inside part of the plate, throwing three more fastballs to get it to 2-2, getting a call on the close fourth pitch. The fifth pitch (right at the 1.5 on the graph) is a curveball in the dirt, trying to get Trout to chase. Biagini, correctly, wants none of the Angels' biggest threat, but has now run the count to 3-2.
Hitting Trout with a cutter probably wasn't the ideal outcome for this, but continued with the strategy of giving Trout nothing to hit. It pulled the Angels within one, adding another unearned run to Aaron Loup's ledger. Biagini still needs two more outs, and don't worry, it's only one of the best hitters of this generation coming up, Albert Pujols.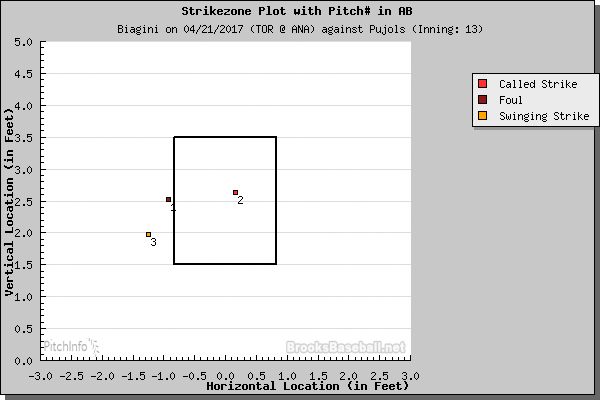 If Jays fans were uneasy after the Trout at-bat, they were probably feeling better after this three-pitch strikeout. A fastball just off the plate inside, a curveball on the plate, and a 96 mph fastball well in, off the plate that Pujols swings at and misses for strike three. Straight gas from Biagini, just blowing him away.
But there's one more to go, and this one one just might have been Biagini's best work of the night.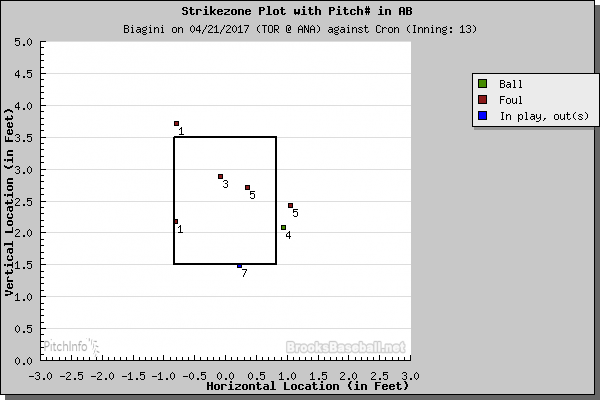 Biagini keeps the heat coming to start out against Cron, throwing three fastballs, and getting Cron down 0-2 quickly. A curveball misses outside for the fourth, but it's in a good spot- just off the plate, trying to get Cron to chase. The Angels first baseman fouls off the next two, leaving the count at 1-2 before the seventh pitch. Biagini, for the first time in his outing, busts out a changeup, just below the zone, that gets Cron to fly out to centre field, ending the threat and the game.
This wasn't Biagini's best outing of the week, with him hitting a batter, occasionally missing his spots, and having two runs score on his watch (that weren't charged to anyone because of errors). That Gibbons called on him here speaks to the trust that the young pitcher has earned from his skipper, a trust he rewarded by closing out the victory.
Biagini has been a horse so far this year: he's already pitched in 10 of 16 games, throwing 13 innings, a pace that would be unheard of in today's era of bullpen specialization and shorter relief outings. With some of the struggles the Jays have had, Biagini has been a reliable contributor and has a bright future with the Jays in whatever role they want to put him in.
Lead Photo © Dan Hamilton-USA TODAY Sports