Written by Elie Waitzer, Joshua Howsam, and Richard Lee-Sam
Who Is Brian Johnson?
The Jays may have caught a small break in this series, and his name is Brian Johnson. With Eduardo Rodriguez on paternity leave, Farrell has tabbed Johnson, currently with Triple-A Pawtucket, to start the opening game against Marcus Stroman. Since there's no way you've heard of Brian Johnson unless you're a Sox fan doing some counter-espionage, here's a quick rundown. He's big 26-year-old lefty with a fastball that sits at around 91-93 mph and an above average changeup and curve.
He was a first-round draft pick and was a top-100 prospect according to Baseball Prospectus as recently as 2015, but had to leave baseball last season to deal with anxiety and off-field issues and has fallen off the radar a bit. However, he seems to have put those issues behind him with a solid start this year in Triple-A Pawtucket, pitching to a 1.69 ERA to go with 15 strikeouts over two starts. That said, he got hit hard in his only Major League start back in 2015 against a weak Houston lineup. His main issue seems to be throwing strikes consistently, and taking balls may be the one thing the Jays hitters still know how to do, so patience will be key to chasing him early.
On the Blue Jays side, the appearance of a lefty must make them smile a bit, as the righties they've faced have absolutely carved them up with sliders away and fastballs in. One of Toronto's wins was against lefty Blake Snell (thank you Kendrys Morales) and while they didn't exactly dominate Wade Miley, they did score three runs in six innings. By 2017 standards that's a miracle.
Starters Going Deep
On the pitching side of the things, the shallow Blue Jays rotation finds itself down two men with the DL stints of Aaron Sanchez (blisters) and J.A. Happ (elbow discomfort). Neither of those pitchers is scheduled to throw in this series, but with a three-game set to follow, it's going to be important that Liriano and Estrada go deep in games to give the bullpen as much rest as possible.
With Liriano this can be of particular concern. While he made it 6 2/3 innings in his last outing against Baltimore, he failed to make it out of the first inning against Tampa in his first start. The notoriously wild lefty gets a lot of strikeouts, and issues his share of walks, both of which drive up pitch counts and force early exits. This is part of the reason that Liriano hasn't reached 190 innings in a season since 2010 (which was his career high 191 2/3), and is threatening to break Clarence Mitchell's record for most career starts for a pitcher who has never reached 200 innings in a single season (he's 19 starts away).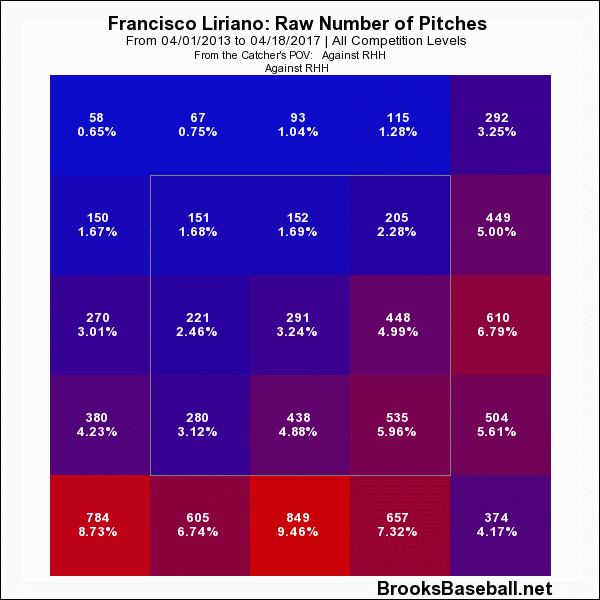 For the last few years (his successful ones), Liriano has had a pretty clear plan of attack vs RHB (see above). With the Red Sox likely to stack the lineup with righties, it'll be important to see how Liriano is commanding the fastball low and away, and the slider low and in. If he's struggling to hit those spots, he could be in for a long night.
Estrada's issue is much simpler. He merely needs to keep his changeup down. He has pitched well in two of his three starts, but ran into trouble in Tampa when he began missing spots. He uses the top of the zone well with his fastball, but the change needs to stay down. Here are the home runs hit in that game, all on changeups (via Statcast):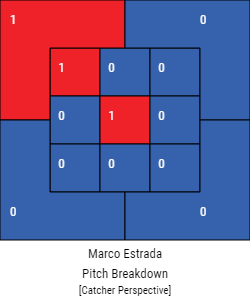 As long as Estrada is keeping the changeup down, and Liriano is throwing strikes, the Jays should be able to weather the storm in Los Angeles. If not, this losing streak could get a lot worse before it gets better.
Can the Jays Solve Chris Sale
On Thursday, the Blue Jays get their first look of what should be many at Chris Sale in a Red Sox uniform. Considering the Toronto struggles scoring runs, facing one of the five best pitchers in baseball is about as daunting a task as they could ask for. To make matters worse, the lefty has absolutely destroyed the Blue Jays, surrendering just seven earned runs over 32 innings since the 2014 season. It doesn't help that he's also at the absolute top of his game. Sale has 29 strikeouts in just 21 2/3 innings pitched, and that's a bad formula against a Blue Jays lineup which has the third highest strikeout rate in the American League (23.6 percent).
Despite all those matchups over the past few years, it's interesting that only newcomers Steve Pearce and Kendrys Morales have more than 10 PAs against the ace. Pearce has the most success, with a slash line vs Sale of .333/.385/.417 with three singles and a double in 13 PAs. Morales has had the normal struggles against the ace, hitting just .200/.231/.480 over 26 plate appearances, but he does have two home runs, which is of some comfort.
However, Morales got a lot of looks at Sale in 2016 when they both played in the AL Central and he really didn't do much against him. In 17 plate appearances, he had an unsightly OPS of .489 to go with eight strikeouts and one walk.
Something to look at though – aside from the obvious risk of a 15 strikeout game – is Sale's ground ball rate to start the season, which has dropped significantly from 41.2 percent career to 33.3 percent to start the year.  His hard hit rate and fly ball rate have also both gone up by 6.6% and 6.1%. Obviously it's only been three starts and the Red Sox shouldn't read too much into it yet, but if the Blue Jays put the ball in play against Sale, which is easier said than done, they could see success with the tiny confines of the Rogers Centre.
Or maybe not. Maybe Sale and Estrada both induce fly balls all night long and hitters on both sides pull out their hair for three hours straight.
Lead photo: © Winslow Townson-USA TODAY Sports