Let's get a few things straight. Starting the season at 1-6 really sucks. However, the Blue Jays will also be perfectly fine in 2017, and one week's worth of games holds no predictive value. But damn the start to this season has been frustrating. Everything that could have gone wrong has, which looks even worse when it's the exact same issues year over year.
This Blue Jays team is remarkably unchanged from the version that we saw on Opening Day one year ago. Among the 14 spots in the starting lineup and rotation, there have been just three changes: Kendrys Morales has replaced Edwin Encarnacion, Francisco Liriano pitches instead of R.A. Dickey, and Michael Saunders has shrunk a few inches while simultaneously either being a little pudgier or becoming a lot more Venezuelan. Oh sorry, that's Steve Pearce and Ezequiel Carrera.
As such, not only have the flaws of certain Jays players been exposed early on, but those flaws could have been predicted or addressed, in some cases. In other cases it's just a player who, while good, is not perfect, and their imperfections have shone through.
The Imperfect and Unaddressable
Marco Estrada's Changeup Digs the Long Ball
In most cases, Marco Estrada uses his tightly spun changeup to dazzle hitters into hitting perfectly placed in field pop ups. That's a large part of what's made him so incredibly effective over the last two seasons. However, on Sunday April 9th against the Rays, that was not at all the case. Estrada lasted five innings in that start, but was peppered by Rays hitters for three home runs on the night.
The first home run was hit by the Rays' Corey Dickerson in the bottom of the third. The changeup was up and in, but Dickerson got just enough of it to dink the ball over the short wall in the left field corner at Tropicana field. You can cut Marco Estrada some slack on this one. Per ESPN's Home Run Tracker, it had a true distance of just 326 feet and wouldn't have been a home run in any other park in the majors.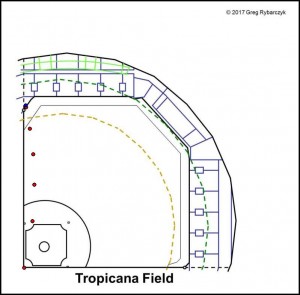 The Path of Dickerson's HR via ESPN's Home Run Tracker
Unfortunately the homer troubles didn't end there. After a Kevin Kiermaier triple and a Brad Miller walk, Steven Souza Jr. hit his own homer to left field, once again off of a changeup that Estrada left up and over the plate. A weak ground ball to first base got Marco Estrada out of the inning, but there was still more to come. In the bottom of the fourth, after going down 0-2, Jesus Sucre hit a home run off of, you guessed it, an Estrada changeup.
Estrada's hasn't always struggled with home runs off his changeup, but his propensity to give up home runs in general is the worst part of his game. His 1.18 HR/9 ranked 29th worst among qualified pitchers in 2016. Yet Marco Estrada's changeup is his bread and butter pitch. Because it's so good and because this is only a single start, it's really not worth worrying about, but it's certainly frustrating.
Josh Donaldson's Achilles Heel
Josh Donaldson is a notoriously robust baseball player and he's played in more than 155 games in each of the last four seasons. However, the viking-esuqe star has a Greek flaw, but it's in his calf rather than his heel. On Sunday, Donaldson pulled up after running out a ground ball. Donaldson had to be removed from the game and missed the Blue Jays' home opener (save for a 9th inning pinch hitting appearance) as a result of what the team is calling a calf injury. This isn't the first time that he's had calf issues either. In the Blue Jays first series at Tropicana Field in 2016, Josh Donaldson limped his way to first base, which also resulted in his being pulled from the game and getting diagnosed with a calf injury. The best predictor of a lack of injuries in the future is a lack of injuries in the past. Donaldson shouldn't have too many nagging issues going forward, but it sure sucks when there's even a chance of losing the player who's posted more value than the rest of your lineup combined.
The Imperfect and Clearly Addressable
Ryan Goins' Existence on the Blue Jays Active Roster
For some reason, Ryan Goins is still here. Personally, I have nothing against Ryan Goins, but I've yet to see any strong argument for his continued presence in Toronto. Following the team's choice of Goins over Melvin Upton Jr., Gideon Turk wrote that it was Goins' flexibility and fit for the team's present roster construction that forced the Blue Jays hand. While that answer makes sense in a vacuum, no roster needs two no-hit middle infielders on the bench, especially not when one of the two is MLB's worst hitter. In some ways, the Blue Jays have proved that as Goins and Barney have split playing time, neither having being used in the same game. Even in the Blue Jays home opener, a game in which Ryan Goins started at 3B, the team found no need to use the second middle infielder on the bench. Instead, all we saw were three paltry plate appearances and one miraculous walk. Had there not been two middle infielders on the bench, someone palatable could have pinch hit for one of the Jays' light hitters. There's no need for both players. Now only if the Blue Jays would see it.
The Belief that Justin Smoak Starting at 1B is Ok
In spite of his once immaculate prospect status, Justin Smoak has not been a great major league player. In fact very few first basemen have been as bad as Justin Smoak has, while getting as much major league playing time. That trend hasn't changed much in 2017, as he has only continued to strike out at what seem to be the Blue Jays most opportune run scoring moments. Additionally, his hitting performance is not the only issue with his starting at 1B. He has also forced Steve Pearce in to the confines of left field. Steve Pearce is a versatile player, but he's by no means an ideal defensive left fielder and he's shown that so far this season. The only reason he continues to be forced out there is Justin Smoak's presence at first base and on the Blue Jays payroll.
Some have continued to argue that the Blue Jays must have some advanced metric that tells them Smoak's true first base defense is not only better than the publicly available defensive metrics say, but good enough to offset his being one of MLB's worst hitting first basemen. Given that no other team has recently employed or even attempted to employ a defense first starting 1B, I find that hard to believe. With Pearce's versatility, Jose Bautista's previous first base experience, and Melvin Upton's ability to play all three outfield positions, the Blue Jays had a chance to fix first base. Yet, once again, they squandered it, and they've been rewarded with strikeout after strikeout ever since.
The Future
As was noted earlier in this piece, everything that could have gone wrong for the Blue Jays, has gone wrong for the Blue Jays. There's no greater evidence of that than their current 1-6 record; the team's worst ever start to a season. But it will get better and it'd be nearly impossible for it not to. That doesn't make any of the team's current problems, addressable or otherwise, any less frustrating. If one were to see any of the aforementioned issues once it'd be unfortunate. To see the same issues crop with the same players a year later is even worse. However, it's also incredibly easy to see the negatives when the team has only won one game. Once the Blue Jays start dominating again, the addressable woes will be forgotten. That's the Blue Jays team we need and the Blue Jays team that we deserve. Until then, the barrage of critical tweets are a little more appropriate.
Lead Photo: © Kim Klement-USA TODAY Sports