Written by Mike Sonne, Nick Dika, Joshua Howsam and Ewan Ross
We're back with a second look at "Stuff" ratings and scouting reports for the most well-known fictional pitchers! In this version, we're looking at the pitchers whose stuff rating would have missed out on the top 10 for the big leagues last year (Zack Greinke came in 10th at 1.43). That may seem like a high standard, but come on, we're dealing with scripted pitchers. These people are supposed to be awesome.
And if you missed it, be sure to check out the fictional pitchers with the nastiest stuff, with reports on people like Sidd Finch, Henry Rowengartner, Nuke Laloosh, and more!
Once again, HOW WE DID THIS: We examined average fastball velocities as reported in various movies or TV Shows and compared them against known MLB movement and change of speed values. If it looked like someone threw a fast breaking ball, we chose the 75th percentile breaking ball speed. If they didn't have much break on a pitch, we chose the 25th percentile pitch movement. We added all these things together to get a Stuff metric for some of your favourite fictitious pitchers.

And so we pick things up with the pitchers that didn't quite make the cut (and one who definitely should have)!
8. Roy Hobbs (The Natural)

STUFF rating: 1.42 Hobbs is more athlete than pitcher. While he does own a big fastball, his time away from the game after getting gutshot by Harriet Bird stunted the development of his secondary offerings and limited his innings against good competition. This is reflected in his good – but not elite – Stuff metric grades. Much like innings limits, sport scientists have debated whether or not getting shot hinders a player's development. While further evidence is needed, anecdotally, the case of Roy Hobbs suggests there may be a correlation between bullet wounds and reduced athletic performance.
– Nick Dika
9. Ryan Dunne (Summer Catch)

STUFF rating: 1.14 Dunne came out of nowhere in the Cape Cod League finale, suddenly sitting at 92-93 and touching 96 mph with his fastball and featuring a swing and miss changeup (which the announcers oddly call a breaking ball). It's amazing how a man who looks like he has never picked up a baseball in his life could throw that hard, but maybe there were really strong winds that day or something? Who knows. Either way, Dunne breaks every baseball code imaginable by walking off the mound in the ninth inning of a no-hitter (we call this the anti-Chapel, as you'll see below).
Not only does he force the team's closer (who was just sleeping) to come into the game with no warmup pitches, he runs off to catch a girl he has known for six weeks (Jessica Biel) when all he had to do was finish the game and then call her. This calls into question not only how serious Dunne really is about baseball, but also just how intelligent he really is. Combined with those mechanics, there's a lot to worry about, despite the good "stuff."
– Joshua Howsam 10. Billy Chapel (For Love of the Game)

STUFF rating: 0.30 While he was once one of the best pitchers in the game, one who "won all the awards there is to win", by the time Chapel takes the mound for his final outing against the Yankees he is a shell of his former self. He still possesses a nice 12-6 curveball and some solid run on his twoseam fastball, but his velocity is down (estimated at approximately 89 mph) and he checks in with a mediocre "stuff" rating of 0.30. However, using great command and an off-the-charts makeup that includes a superpower to eliminate all unwanted noise (which is somehow not the only superpower mentioned in this piece), Chapel is able to use that aching, old arm one more time, to push the sun back up in the sky and give us one more day of summer.
Chapel mixes and matches pitches throughout, fighting through some arm pain to throw the first perfect game of his life. One has to question his requirement that he pitch to John C. Reilly, but there's no logic among baseball players when it comes to superstitions – and it clearly worked out alright. Not only does Chapel end his career with a perfecto and foil the Giants' attempts to acquire him by retiring, he gets through the game so quickly that he is still able to make it to the airport in time to reunite with Kelly Preston. That's a man who knows how to get things done.
– Joshua Howsam 11. Ginny Baker (Pitch)

STUFF rating: -1.49 Ginny Baker, the first female pitcher in the MLB, is a departure from many other MLB movie characters. She doesn't have an elite fastball velocity but instead relies heavily on the tunneling concepts written about at Baseball Prospectus. It looks like she throws three variations of a fastball – her screwball, a twoseam, and a cutter – which explains a lot of her groundball outs. What's difficult to factor into her Stuff metric is the fact that she's pitching to Zack Morris, who is capable of freezing time. Theoretically, he could make that 84-87 mph fastball look like 108 if he wanted to just by dialing up some magic Bayside spell on that giant cellphone of his. Of all the fictional pitchers, I'd say Ginny has the best shot at longevity as her repertoire is built to work deep into games and mitigate fatigue.
– Mike Sonne 12. Chet Steadman (Rookie of the Year)

STUFF rating: -1.62 While "the Rocket" (not Clemens) may have once been a big time pitcher, it's clearly time he was decommissioned. Thanks to an ailing shoulder, Steadman has no velocity on his fastball and isn't even willing to throw a breaking ball most of the time. This leads to the worst "stuff" rating on this list among pitchers old enough to see a PG-13 film. He guts it out for a few innings in a postseason game, but eventually succumbs to his injury.
Unfortunately Steadman grades out with 30 command (look how badly he missed his spot with that "fastball") and 20 baseball IQ; in the final play of his career, he fields a comebacker with two outs and his first instinct is to try to throw home for some reason – despite no force play – instead of just underhanding the ball to first base. Luckily, to complete one of the all around dumbest baseball plays of all-time, the baserunner didn't break from third on contact with two outs, only choosing to run once it became clear that Steadman couldn't throw. This allows Steadman to get away with once again not simply underhanding the ball 15 feet, as he dives for the out at the plate. This isn't the guy you want mentoring a young Henry Rowengartner, so it's best that he rides off into the sunset (…which he did with Henry's mother. That's not good for the kid).
– Joshua Howsam
13. Miles Pennfield II (Hardball)

STUFF rating: -11.25 (because, you know, he's 10) Miles Pennfield II is the young ace of the Kekambas, the little league team based out of the ABLA housing project on Chicago's South Side. The 10-year-old doesn't currently grade out particularly well via the stuff metric, as he is too young to throw breaking pitches – but he does project as a potential number one starter down the road. Pennfield II has plenty or room to grow into his frame and adds mass, so he should be able to sit 94-95 and touch 96-97 at his peak. Scouts also rave about his off-field makeup and intangibles, as he pitched through the death of his fallen teammate and dear friend Jarius "G-Baby" Evans. Unlike the other minor on the list (Henry Rowengartner), Pennfield II incorporates dancing to his favorite song "Big Poppa" into an easy, smooth delivery. By not pitching at max effort, Pennfield should be able to stay atop a big league rotation for years to come.
– Nick Dika So there you have it! The definitive Stuff rankings for fictional pitchers. You'll never have to fight with your friend over which of Rick Vaughn or Henry Rowengartner had better stuff or whether Chet Steadman and Billy Chapel could hack it in today's MLB. We've got all the answers right here!
BONUS!

Steve Nebraska (The Scout)
STUFF Rating: 4.94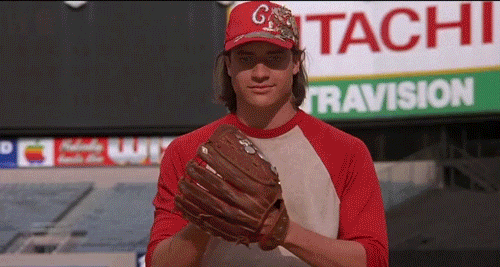 Steve Nebraska was left off the nastiest pitcher list, which was a glaring omission on our part. The Brendan Fraser lookalike actually has the best "Stuff" on this list among pitchers who made it to the "major leagues." The only person who finished with a higher rating at all was the mercurial Sidd Finch, who disappeared from the public eye a mere week after popping onto the scene on April 1, 1985, never reaching The Show (in his original iteration).
It's hard to believe that someone as good on both sides of the ball as Nebraska could be toiling away, unnoticed in Mexico (where they oddly play the US National Anthem), but there he was. When he finally makes it stateside, Nebraska blows away Keith Hernandez in a tryout with his big time fastball (estimated at averaging 106 mph). Nebraska tops out at 109 in front of the scouts, which is only three mph faster than Aroldis Chapman has thrown, but his fastball sends the catcher flying. That suggests that not only does Nebraska throw record-breaking fastballs, they're clearly also very heavy. If anybody was ever actually able to make contact, he'd probably generate a lot of groundballs.
Despite some concerns over his mental health, which lead to the hurler standing on top of the stadium right before his major league debut, Nebraska is a top shelf arm. He begins his career with a start in Game 1 of the World Series against the St Louis Cardinals and rewards that odd, somehow contractually-obligated faith with the greatest pitched game in the history of baseball. Armed with his all-World heater and 80 grade command and control, not only does Nebraska throw the second perfect game in World Series play (move over, Don Larsen!), but he manages to strike out all 27 hitters on the minimum 81 pitches. He even caps things off in style, hitting 112 mph on his final pitch of the game and once again knocking over his catcher (as well as the umpire).
Two other things stand out from this film:
– Play-by-play man Bob Costas somehow waits until the 79th consecutive strike before saying that "it looks like [Nebraska] might be able deliver on his promise." Really, Bob? Way to go out on a limb there. Sure, this guy has been doing something completely unprecedented over eight innings now, but I'm just not quite certain yet.
– Ozzie Smith, he of 28 career home runs across 2573 games, somehow has five postseason home runs entering World Series Game 1. This came out in 1994, pre-dating the Division Series, so that means "The Wizard" hit five bombs in the NLCS alone. Honestly, in a film that features a literally unhittable pitcher who hits home runs every time he bats, I think Ozzie's power surge might be the most unbelievable thing of all.
Still, apologies for being left off and kudos are in order for Mr. Nebraska. Congratulations on being the greatest pitcher in fake MLB history, for at least one game. Lead Photo © Peter G. Aiken-USA TODAY Sports