Last Canada Day, John Gibbons was ejected for arguing a called strike with home plate umpire Vic Carapazza. It was his sixth ejection of the season, which wouldn't be all that remarkable except for the fact that the season wasn't even halfway over.
John Gibbons has been ejected once every 13 games this season for Blue Jays. Six in 79 games managed. He missed 3 games due to suspension.

— Jordan Bastian (@MLBastian) July 1, 2016
That furious pace put him on track to break Bobby Cox's single-season franchise record of 11 ejections, set in 2001. But after racking up three ejections over an eight-day period in May, Gibby simmered down and ended the season with eight total ejections from eight different umpires. That mark still led the Majors by a comfortable margin – only Pirates manager Clint Hurdle came close.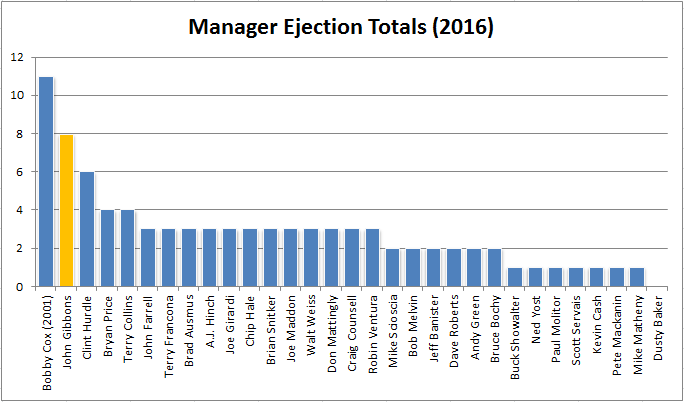 Still, it was a truly awe-inspiring season, and even more so if you consider the instant replay era in which Gibbons accomplished the feat. Back when Cox was racking up his 161 career ejections, a manager was expected to go crazy over a close call at first. Now managers wait for the replay review and hold their tongues if they were wrong. (Although I'm sure Bobby Cox would have personally gone to New York and burned the Replay Operations Center to the ground before he let a damned video camera prove him wrong.)
With no safe/out calls to object to, Gibbons got tossed four times for arguing balls and strikes, once for arguing a checked swing, once for defending Bautista after The Punch, once for defending Donaldson after he got beaned, and once for – swear to God and Bobby Cox – arguing a replay ruling. In fact, in the short history of instant replay, Gibbons has already been tossed four times for arguing replay rulings, making him baseball's all-time leader in that regard.
I'm not saying Cox pumped up his record with cheap ejections – he was a certified raving lunatic who was ejected 52 times for arguing balls and strikes and was once ejected for "protesting attempt to speed up game." But just like we have stats like ERA- and wRC+ to compare performances across time periods, we should acknowledge that Gibbons faced a much steeper climb in his pursuit of 11 ejections.
Another way to compare the two and put them in historical context is to look at how often they were ejected. With the help of David Vincent at Retrosheet, I searched for the all-time leaders by games per ejection, setting the minimum at 1,000 games managed to filter out the no-name skippers.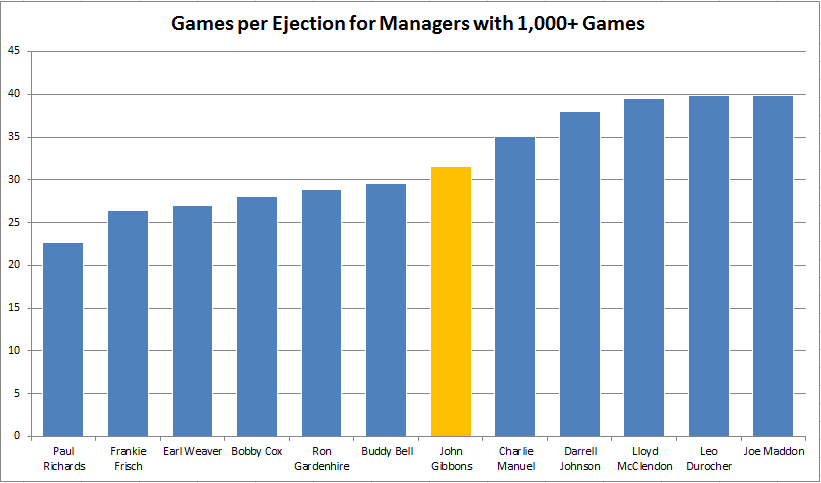 First of all, I have never heard of Paul Richards, but I am incredibly afraid of him and do not want him near my children. Second, Gibbons' mark of 31.5 games per ejection means that he's gotten tossed with the same frequency that Melvin Upton Jr. has hit home runs over his career. That pace works out to over five ejections per season and puts Gibbons firmly in the highest tier of the most ballistic managers of all-time.
While Gibbons has a reputation of being one of the more easygoing managers in the league, when he runs off his San Antonio mouth it usually leads to spectacular fireworks. Just ask Shea Hillenbrand, or Ted Lilly, or Dave Bush. My theory is that his laid back image is a facade. His dugout demeanour is often so placid it borders on drunkenness, but what looks like a stupor is really Gibbons recharging his batteries for his next explosion. Like a cheetah on the Serengeti. Measuring a manager's impact is an unscientific pursuit, but this most recent Blue Jays core has undoubtedly taken their cues from Gibbons and let his quietly burning fire shape their identity as a team.
It's improbable that any manager will ever come close to unseating Cox as the baseball's ejection king, but Gibbons is quietly working on his own unbreakable record. According to Vincent, he's already the Blue Jays franchise leader in ejections despite having managed 473 fewer games than Cito Gaston. That gap essentially amounts to a three-season ejection-accumulation cushion for Gaston, and yet looking at the leaderboard, it's not even close.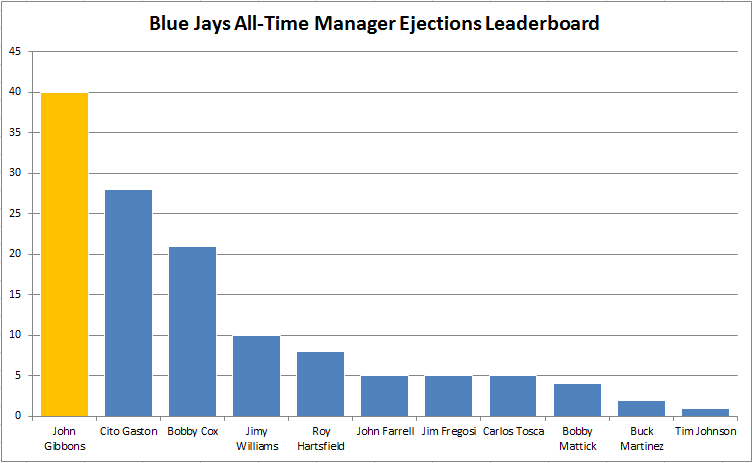 Gibbons is currently in the last year of his contract, and barring an epic collapse he should be in line for a nice extension once the front office sorts out its more pressing concerns. This extension opens the door for a fun hypothetical: what would it take for John Gibbons to become the most memorable manager in Blue Jays history? Note that there's a big difference between memorable and legendary. Unless Gibbons can lead Toronto to back-to-back-to-back World Series victories, he's not surpassing Gaston as the most legendary. But most memorable, that's a completely different story. Being memorable is more about longevity – the guy whose name comes up at the top of all the franchise leaderboards. Joe Carter is the most legendary Blue Jay, but you'd probably pick Roy Halladay or Carlos Delgado as the most memorable.
So, let's assume that Gibbons signs a three year extension, that he doesn't get fired at any point (big assumption), and that he doesn't get suspended at any point (bigger assumption). Now let's assume that over the course of those three years, he manages to win an average of 84 games a season (this one isn't so far fetched – he's won an average of 84 games per season for his career). If all those assumptions held true, by the end of 2019 Gibbons would be the franchise leader in wins (896), games managed (1,744), and ejections (presumably innumerable).
Of course any number of factors could derail this timeline. Toronto is likely headed for some kind of rebuild soon, and Gibbons has fallen prey to the hot seat before. He may never win a World Series or get into the Hall of Fame, but he's still got a real shot at being remembered by Blue Jays fans for generations to come.
Thanks to David Vincent at Retrosheet for his invaluable research assistance. 
Lead Photo: © Matt Marton-USA TODAY Sports