Late last week, Gideon Turk wondered what would happen if Kevin Pillar were more like Vladimir Guerrero. The seemingly ridiculous question was actually anything but, predicated on the idea that Guerrero was unnaturally good at getting hits when he made contact on balls out of the zone, whereas most of Pillar's such contact turns into outs. It was mostly a hypothetical thought experiment (though an interesting one) looking at how Pillar's numbers would be changed, but nothing more.
As it turns out, there is an adjustment that could actually improve his hard contact both in and out of the zone, while also raising his walk rate: standing closer to the plate.
Pillar always sets up roughly in the middle of the box. From watching him over the years I've begun to notice he has pretty unusual plate coverage. I believed his batters box placement is at least partially to blame, so I decided to test it as best I could.
Take this swing on opening day against Dana Eveland:
Or this one against the Angels' Daniel Wright:
Do you notice how in both of those gifs, Pillar falls towards the first base side after fouling off mediocre fastballs on the outer third of the plate (especially the Wright gif)? His balance is thrown off by the nature of the twist in his swing, but also with the fact that he is reaching down and away and can't quite get there.
Now take a look at this one, against the Orioles' Vance Worley:
That pitch is in off the plate and Pillar hammers it to left field for a home run. After he finishes his swing, he is able to hold his balance before starting his run towards first base, which differs from the uncontrolled fall in the previous two swings.
Obviously those are very specific examples, but they were included so that you have a visual representation of what I am about to show you statistically.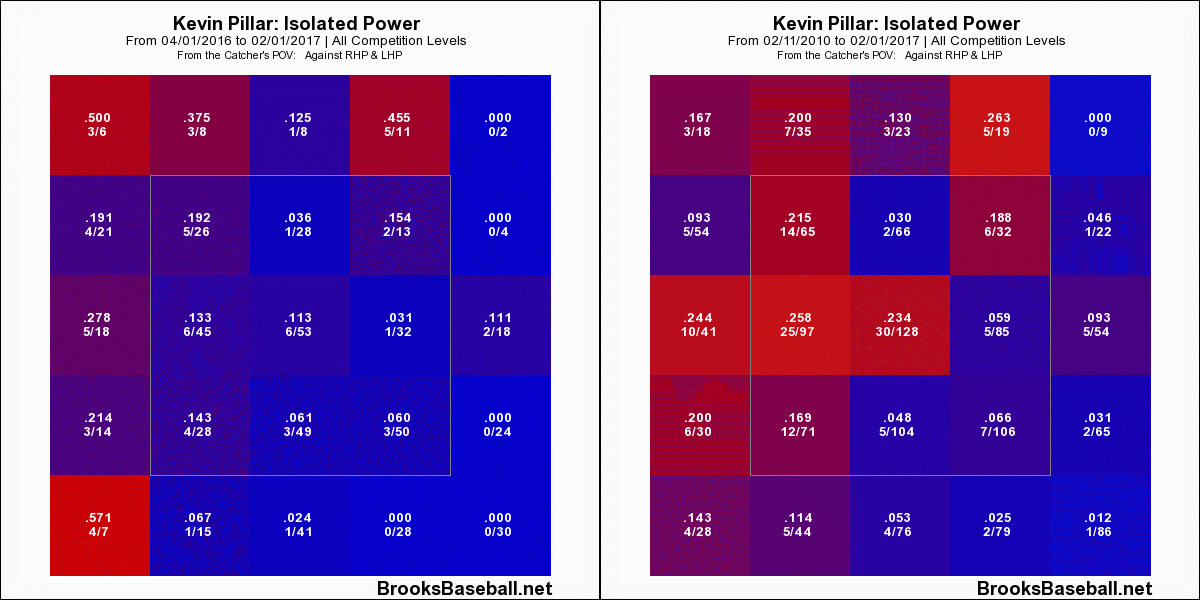 The charts above show Pillar's Isolated Power rates for both 2016 (left) and his career (right) by location (from the catcher's point of view). Last year, Pillar hit for more power in every single spot inside off the plate than he did on the outer third of the strike zone. Even for his career, the only area where he is better on the plate is in the upper outside corner. If a player has plate coverage issues, it would make sense that he would still be able to drive the ball up high, as that's where his arms are going straight and he can get the most reach.
This shows up with exit velocities as well (via Statcast):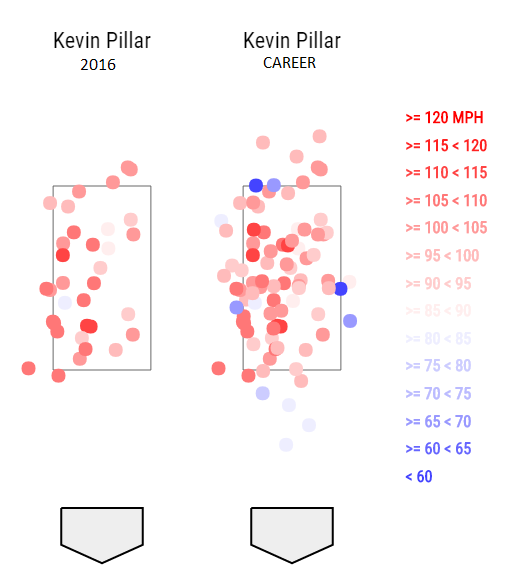 The image above shows all extra-base hits for Pillar last season and in his career, broken down by exit velocity. As you can see, all the dark red dots are on the inner half.
With this information, it's very clear that Pillar hits for much more power on pitches off the plate inside than he does on the outside edge. Now, this is somewhat logical; most hitters have much more power to their pull side than to the opposite field. As such, we need to look at overall contact as well.
Here are Kevin Pillar's swinging strike rates by pitch location for both 2016 (left) and his entire career (right), again taken from the catcher's perspective.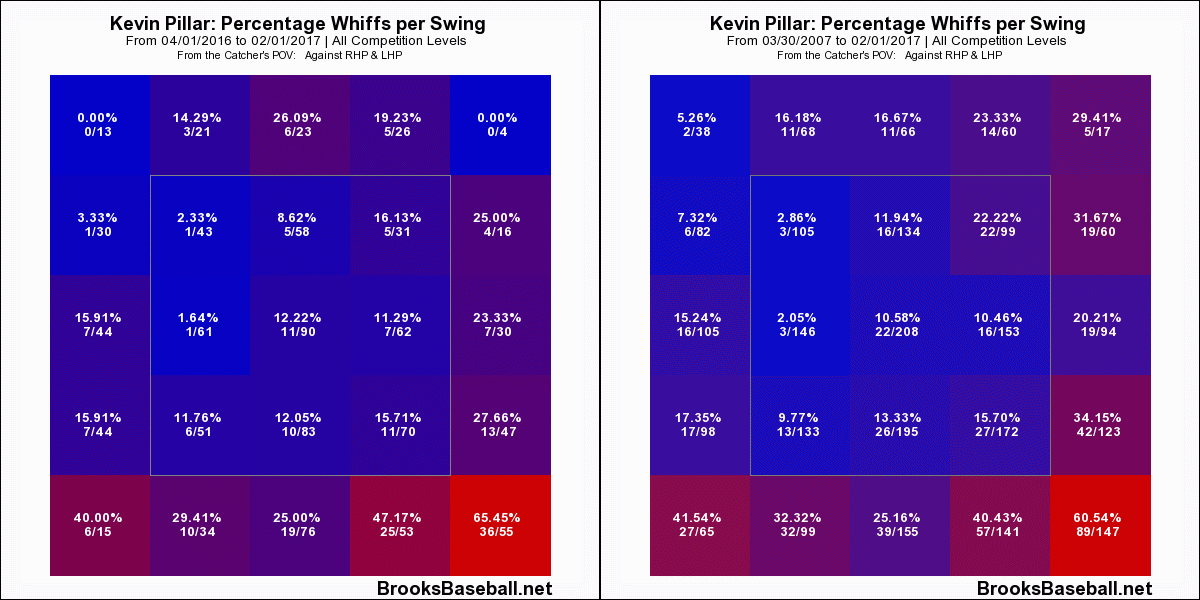 Those are broken down into specific locations and using swing and miss rates, but thankfully they give us the raw data so we can get nice totals and represent them as the cleaner contact rates:

As you can see, both last year and for his entire career, Kevin Pillar has done a better job making contact on pitches in off the plate than those that would be called strikes on the outer third. The power is one thing, but that difference in contact is reasonably staggering. He is clearly a much better hitter on inside pitches than on those that are actually in the zone on the outer edge.
This gets back to the issue of standing closer to the plate. Imagine how good Pillar's numbers would look if you could slide each of those boxes (on both the ISO and contact grids) half a spot to the right. All of a sudden, Pillar is driving the ball on the outer third. Heck, he'd even be making better contact on pitches off the plate away.
That covers the plate coverage issue, but as I mentioned up at the top, this could also raise Pillar's walk rate. That may sound a bit silly, as moving in the box doesn't change a player's desire to swing, but it will change what pitches he's able to swing at.
Take a look at this pitch from Sonny Gray on July 16.
Pillar tries to check his swing, but he goes around for a strike. The video makes it look bad, but the camera angle can fool you. We better check where it was actually located: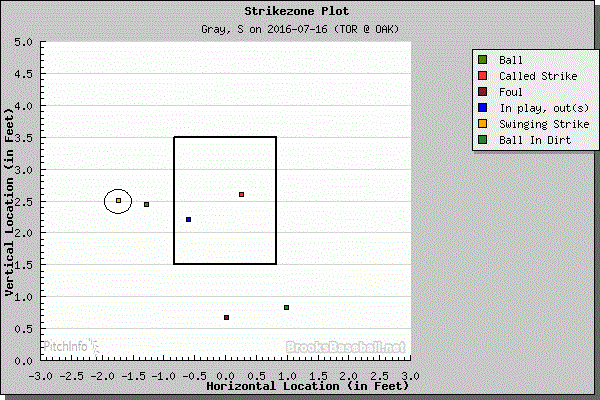 Ok, that's even worse. That pitch is over a foot inside. Moving closer to the plate would mean that pitches like that simply can't be swung at. Pillar would either be diving out of the way or wearing it on his hip. That's how the walk (and HBP) rate goes up on pitches on the inside.
The obvious corollary to that is that Pillar is going to swing at more pitches off the plate, and while Pillar has always been more likely to chase inside than outside (below), you are adding some swings that were in the zone before.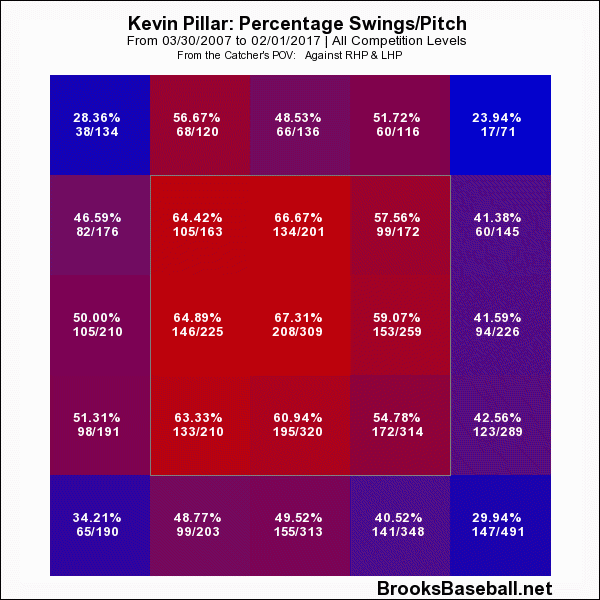 If everything above moves a half grid to the right, you're definitely getting some extra chase outside, but you're also probably going to see more takes on those offerings that are now way outside. Pitchers simply don't like to throw the ball that far off the plate on purpose, even to free swingers like Pillar. All of their training is to build the muscle memory to throw strikes. They'll certainly push the boundaries occasionally, especially with right-handed sliders, but for the most part they're going to attack a non-power hitter like Pillar because that's what their bodies are telling them to do.
Now, for this plate shift to work Pillar would have to get used to seeing the ball from an entirely different angle, but this is something that he does every time a new pitcher comes to the mound. While it's true that there are certain clusters where most pitchers release the ball, there is more than enough variance that any major league hitter should be able to make this adjustment.
Whatever they've tried with Pillar to this point clearly hasn't worked. This move at least gives him a chance. As has been shown, the move closer to the plate could improve the quality and frequency of contact for Pillar both in and out of the zone, and even increase his ability to get on base without a hit. If he can even get slightly better at those things, he's a star player with his work in centre field.
It's time for Pillar to take that next step, and it could be as easy as stepping toward the plate.
Lead Photo: © Nick Turchiaro-USA TODAY Sports
Charts via Brooks Baseball
GIFs created with special thanks to Sportsnet and MLB.TV