Toronto Blue Jays @ Texas Rangers
Friday October 7th, 2016
On the surface, one could argue that conditions favored Texas entering Game One on Thursday afternoon. The Rangers, owners of the best record in the American League during the regular season had their ace on the mound, and were hosting the villainous Jose Bautista and friends; seeking revenge for a devastating defeat at the hands of the Toronto Blue Jays during the American League Division Series last fall. So devastating, in fact, it forced Rangers and the entire state of Texas to relinquish self-control to their inner eight-year old child when the two teams faced off in May. Known diaper-baby Rougned Odor, upset that someone celebrated the single greatest moment of their professional career by throwing a bat, decided that physically assaulting another human being was the proper recourse. Shortly thereafter, fully embracing trash capitalism, Odor attempted to monetize the "moment" for his own financial gain, before someone around him advised that it was a really, really poor idea.
Even with the underlying swell of conditions lining up in Texas' favor, it took all of three innings for things to completely unravel. After getting two batters to fly out around an Ezequiel Carrera walk, Cole Hamels allowed each of the next five batters to reach base, capped off by a Troy Tulowitizki triple to deep right center field, scoring three, which converted shortstop Ian Desmond alligator-armed at the base of the wall. The Blue Jays kept piling on, with a solo home run by Melvin Upton in the fourth and a monstrously satisfying three-run bomb by Jose Bautista in the ninth being the highlights.
Despite the playoff circumstances, the rivalry, and the unfriendly atmosphere, Game One was legitimately and unquestionably the easiest Blue Jays game to watch since at least August. The offense covered its share in spades, for sure, but on the mound, Marco Estrada was equally dominant, shutting down the Rangers' bats (and hopes) one inning after another. He faced more than the minimum in just two of the eight innings he completed, and even then, it was merely a pair of singles who failed to advance further than first base. Rarely needing the curveball or cutter, Estrada used his fastball/changeup combination to perfection, racking up more strikeouts (six) than total base runners (4) allowed. The cherry on top of the game? Not only was Roberto Osuna (shoulder) not needed, none of the Blue Jays' late inning/high leverage relievers were called into duty. The only non-Estrada pitcher to enter the game was reliever Ryan Tepera, who retired both of the two batters he faced.
With the win the Blue Jays are now in possession of home field advantage for the remainder of the series; taking care of business at the Rogers Centre would punch their tickets to their second consecutive American League Championship Series. Looking to steal the show for a second consecutive afternoon will be J.A. Happ.
Pitching Matchup:
Friday, October 7th – 1:00 PM ET
RHP Yu Darvish – 7-5, 100.1 IP (17 starts), 132 strikeouts, 3.41 ERA/2.56 DRA, 3.4 WARP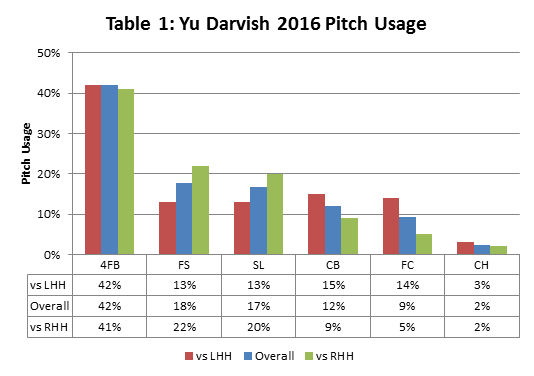 In game two on Friday afternoon, Texas is sending once-a-Jay-but-never-quite-actually-a-Jay Yu Darvish to the mound, a key cog on the Rangers' staff who was devastatingly absent during the Division series last October. Darvish had suffered an elbow injury in August 2014 and was shut down, but when he attempted to ramp things up the following spring, he experienced triceps soreness which eventually led to Tommy John surgery and an entire lost campaign. Darvish began 2016 on the disabled list as he continued his rehabilitation, not making his debut until late May after twenty-one months away from the game. It was short lived, however, as after just three starts he found himself out of action for another six weeks with shoulder soreness.
Upon his return, Darvish picked up right where he had left off, as the right hander has become something of baseball's strikeout king since debuting stateside in 2012. Over the first five years of his Major League career, his strikeout rates of 30.3 percent and 11.32 per nine innings rank first among pitchers with 500 or more innings pitched. The secret behind his success? A diverse six pitch mix with an impressive 25 miles per hour of velocity separation, top to bottom, helping drive a Stuff Score of 1.45 — tops among Rangers starters, and in the 94th percentile across all MLB starters in 2016.
As Table 1 above (via Brooks Baseball) details, Darvish relies primarily on five pitches, each of which is well above average at generating swinging strikes. Using the invaluable Pitch F/X leaderboard at Baseball Prospectus and filtering by pitches thrown at least one hundred times, his curveball (36.23 percent) and slider (38.89 percent) rank in the 75th and 83rd percentiles among right handed starting pitchers. The whiff per swing rates of his three hard-type offerings grade even better; each between the 92nd and 97th percentile among their respective pitch types.
The flexibility of his arsenal limits the opportunity for opposing batters to find and expose any potential glaring weakness, and consequently, Darvish is able to heavily neutralize the platoon advantages. For his career, right handed hitters have hit just .201/.277/.332, while left handers have slashed an only slightly better .223/.306/.365. The splits have actually reversed in 2016 — possibly because his cutter is looking much crisper than ever before — with lefties producing just a .606 OPS versus a .661 mark for the righties. Against the right handed dominant Blue Jays, look for Darvish to lean heavily on the four seam fastball, sinker, and slider.
LHP J.A. Happ – 20-4, 195.0 IP (32 starts), 163 strikeouts, 3.18 ERA/4.42 DRA, 2.1 WARP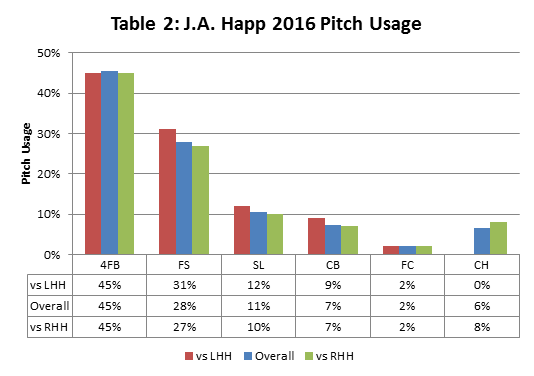 The Blue Jays will counter Darvish with twenty game winner J.A. Happ, whose fastball reliance should serve him well in defusing the Rangers' balanced lineup. Happ features roughly 75 percent hard-type offerings, but his success dating back to his second half with the Pirates has been less about that sheer volume of fastballs and more about the way the fastballs have been used. As Joshua Howsam pointed out at the end of August, the separation in vertical movement between his four seam fastball and sinker is the largest among all starting pitchers, and has allowed Happ to create unpredictability on the mound when the surficial numbers suggest his 92 mile per hour fastballs should be entirely predictable and, in turn, hittable.
Where Darvish displayed some tilt with his pitch usage against lefties and righties, there are no such complexities with J.A. Happ. As Table 2 above demonstrates, outside of completely parking his changeup against same sided batters, there's a general uniformity in his pitch usage patterns. His results this season have been strikingly consistent, as well with lefties hitting a meager .242/.304/.347 and righties just .227/.292/.377.
With just eight earned runs over his last five starts — good for a 2.38 ERA — Happ is entering the postseason on a bit of a roll run prevention wise, but the underlying numbers from his last two starts have been more than a tad troubling. The 6-foot-6 left hander recorded just three strikeouts against six walks over 13.2 innings of work against the Yankees and Red Sox, and even more disconcerting is the six whiffs across 199 total pitches; a swinging strike rate of just 3.0 percent. J.A. Happ has never been a huge whiff guy — his swinging strike rate of 9.6 percent in 2016 was a career best but still just 38th among 73 qualified starting pitchers, so while you'd like to see him inducing a few more awkward swings on Friday afternoon, he's proven time and time again this season that when push comes to shove, his deception and guile alone can be more than enough. With an off day on Saturday and an eight-man bullpen, a stout if ultimately un-sexy five or six is all we need.
Keep an Eye On
The Rangers' Horseshoes
The Texas Rangers had the best record in the American League during the regular season, finishing the year at 95-57. Remarkably, they managed this despite an overall run differential of +8. Plus eight – as in, equivalent to a Pythagorean expected record of 82-80. Of the other seven remaining teams playing in the two Division Series, the next lowest run differential was the Wild Card winning Giants at +84. The Rangers flew in the face of conventional wisdom and advanced thinking for six months, lucking their way to an impossible 36-11 record in one run games — the highest win percentage (.766) since 1901. This helps explain how, despite outscoring the Rangers by 15 (36-21) over seven games this season, the Blue Jays were victorious in just four of the games. One typically associates dominant one-run-game records with a lights-out bullpen, but that's hardly the case here as Texas relievers posted the sixth worst ERA (4.40) in the majors this season. Simply put, the organization has had a horseshoe up their backside since the beginning of April, and it's good and time for someone to remove it.
Always Underappreciated Adrian Beltre
With a career that's largely been spent under the radar, 37-year old Adrian Beltre hasn't produced a sub-3 WARP season since he left Seattle seven years ago. Many casual fans fail to recognize it, but when watching Beltre, you're in the presence of one of the best and most consistent third basemen in history, and a surefire future Hall of Famer. Barring a Bondsian run into his forties he's unlikely to ever reach the level of the Phillies' Mike Schmidt (112.9 career WARP), but Beltre (69.7) already ranks ninth all-time in WARP among third basemen. With a freshly minted extension through 2018 signed in April in his back pocket, he's feasibly within striking distance of Wade Boggs (80.3) way up there in fourth place. Beltre played in both of Texas' wins during last year's ALDS matchup, but would play in just one of their three losses after suffering a back injury in Game Two. Forget the Colt-45; now back to full strength, the underappreciated third baseman is the Rangers' deadliest weapon, and should be handled with a fearful respect.
Don's Ailing Hip
The reigning Most Valuable Player did not have a September to remember, as after Donaldson went 0-for-31 from the 4th to 11th, he was shelved for three days. The trainers prescribed rest as he tried to rid himself of the inflammation that had dogged him for weeks, eventually forcing him to an MRI which, thankfully, showed no structural damage. Donaldson returned to the field on the 15th and was much better statistically over the final 17 games of the regular season (.288/.436/.525), but he still hasn't looked quite like his usual, explosive self despite the flashy Lebron 10s he's been rocking. Donaldson's importance to this team cannot be measured in MVP trophies, as he is legitimately the heart of the organization and the spirit animal of the fan base. For the Blue Jays to advance to their second consecutive Championship Series, Josh Donaldson needs to be Josh Donaldson. After one game (4-for-4 with a walk), he's looking good.
Probable Lineup
| | |
| --- | --- |
| Blue Jays | Rangers |
| Devon Travis – 2B | Carlos Gomez – LF |
| Josh Donaldson – 3B | Ian Desmond – SS |
| Edwin Encarnacion – 1B | Carlos Beltran – DH |
| Jose Bautista – RF | Adrian Beltre – 3B |
| Russell Martin – C | Roughned Odor – 2B |
| Troy Tulowitzki – SS | Jonathan Lucroy – C |
| Michael Saunders – DH | Shin-Soo Choo – RF |
| Kevin Pillar – CF | Mitch Moreland – 1B |
| Ezequiel Carrera – LF | Elvis Andrus – SS |
Final Thoughts
Game One was a smashing success; legitimately a best case scenario. Let's dunk on 'em again this afternoon and give the good guys two chances to end the series in Toronto — something to be truly thankful for on this holiday long weekend.
Lead Photo: Tim Heitman-USA TODAY Sports