Toronto Blue Jays vs. New York Yankees
September 23 – 26
Written by Nick Dika and Greg Wisniewski
The Blue Jays return home for the final homestand of the season (playoffs excluded), when they open a three-game series against the New York Yankees (79-72). While many expected the Yankees to fall out of playoff contention after dealing Aroldis Chapman, Andrew Miller, and Carlos Beltran at the trade deadline, the Yankees have remained on the fringes of the playoff picture. Being swept last weekend in Boston didn't help their cause, but the Yankees still remain just three games out of a Wild Card, albeit with four teams currently ahead of them for that spot. With the offence still producing in fits and starts only, the Blue Jays return home from a 4-3 West Coast road trip looking to exact some revenge on a Yankee team that swept them in New York earlier this month. The Jays enter the weekend a game up on the Tigers for the top wild card spot and could bury the Yankees and put themselves in a stronger playoff position with a winning weekend at the Rogers Centre.
Pitching Matchups:
Friday, September 23rd – First Pitch 7:07 PM ET
Bryan Mitchell vs. Francisco Liriano
Francisco Liriano is who you choose when you have a bunch of innings limits and health concerns, and you traded for a guy who turns out is pretty decent after all. Liriano was hurting the Pirates and costing them a lot of money. As a result he and his 5.46 BB/9 we shipped to the Blue Jays with a couple of prospects in order to lighten the payroll. Some mystical forces in the Jays uniform have seen his walks drop to 3.16/9, and his ERA drop by about one and a half runs. Regression can be a wonderful thing, if you're on the right end of it. The Jays keep tapping him for starts because he keeps giving them five to six solid innings when he goes out there.
Bryan Mitchell is what happens when you need someone to start after you trade Ivan Nova and Nathan Eovaldi goes under the knife to have Tommy John surgery. The Yankees are short on pitching options, and even though they are in a wild card chase (at least in theory). Byran Mitchell is all they have for this slot in the rotation. This is his third "cup of coffee" with the Yankees in three years. His career ERA is 5.47, and he's only stuck out 5.25/9 in his three starts this year. If the Blue Jays are looking to break out offensively, now would be a great time to do it. Mitchell shut them down in New York, but now that they have seen him, they should do better.
Saturday, September 24th – First Pitch 4:07 PM ET
CC Sabathia vs. Marcus Stroman
Marcus Stroman is who you choose when you have to slot someone into the rotation who is way over his career high in innings pitched, but can't be named Aaron Sanchez. This is a big start for Stroman, who has had good success against the Yankees both in his career and this season, going just five innings last time out, but striking out eight and allowing only two runs.
CC Sabathia is what happens when you have a player nearing the end of his massive free agent deal. A player who is not who he was when you signed, but is not nothing at all. The following chart is the literal decline of CC Sabathia.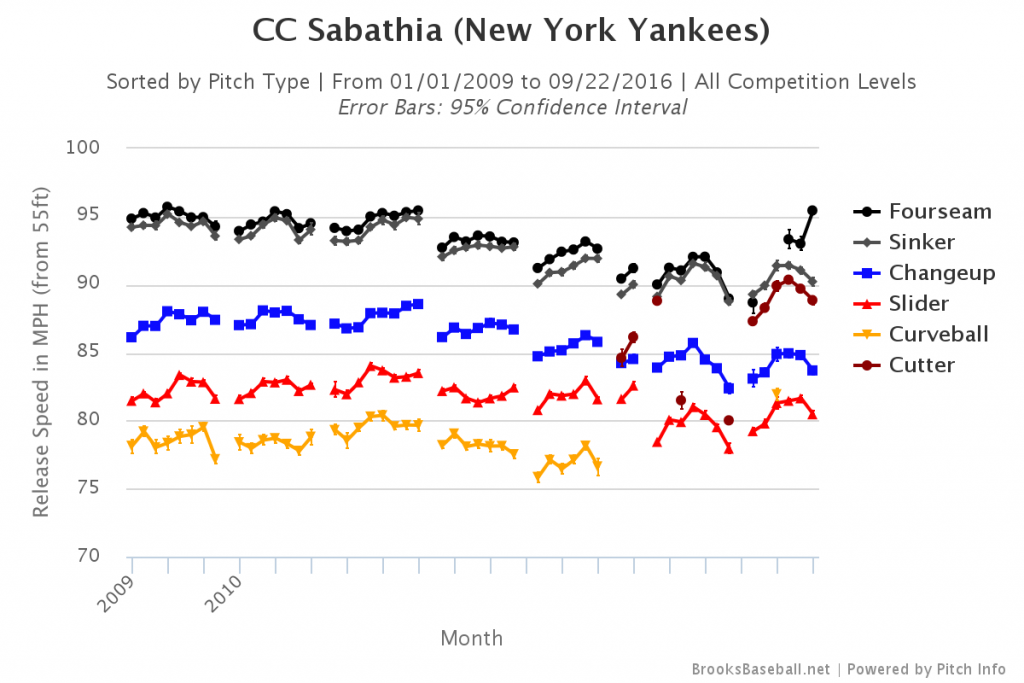 Notably, Sabathia has completely abandoned his four seam fastball, which used to zip in at a healthy 95 mph. He has moved on to cutters and sinkers. In order to keep his career and hopes alive, Sabathia is morphing into a "crafty lefty". He has walked more batters than ever before, as it's unwise for him to challenge them as much, but he's inducing a few more ground balls and most notably, limiting the home runs in 2016, making it worth it for the Yanks to send him out there every fifth day.
Sunday, September 25th – First Pitch 1:07 PM ET
Marco Estrada vs. Michael Pineda
Marco Estrada is who you choose when you want to give a guy a chance to show that he's back in top form for the playoffs. Estrada has a herniated disc in his back, and just how much this affected his recovery from an injury while swinging the bat remains up for debate. Things might be looking up for Estrada. Two starts ago he started with five consecutive strikeouts against Tampa, and didn't allow a baserunner until the fourth inning. Things went downhill from there, and he didn't finish six innings. Last start against the Mariners he took a no-hitter into the seventh inning. He also took the cutter out of his pitch mix in his last start, was that about the opponent Mariners 2nd half wOBA of .428 against all cutters), or about the feel for his changeup? If it's the latter, the unhittable Marco Estrada might be back just in the nick of time.
Michael Pineda is what happens when you trade for a future superstar who gets hurt a lot but never really lives up to his potential. You've probably gotten an idea of what Pineda is all about, since the Jays have faced him a number of times over the past couple of years. He was young and full of potential, and then was traded to the Evil Empire early in his career. 2012 and 2013 were injury riddled years, and it was only in 2015 that he returned to something resembling full time duty. He wasn't quite the strikeout machine that he had been as a rookie, but he made 27 starts. In 2106, the strikeouts are back, at 10.59/9, the fifth best mark among qualified starters. He's certainly not 'ace' material at this point in his career though, as his 4.89 ERA shows, not to mention his tendency to fall victim to the longball. His HR/9 is 19th highest among qualified starters, and his HR/FB of 16.3 percent is eighth worst among his compatriots.
Monday, September 26th – First Pitch 7:07 PM ET
J.A. Happ vs. TBD
J.A. Happ is who you choose when you are running out of names in the starting rotation hat, and decide to go with the de facto ace of the staff. Really, it's hard to heap enough praise on the way Happ has performed in the first year of his free agent deal. His ERA is 2/3 of a run lower than his career average, and his K/9 is marginally higher than his career best. He has proven to be a workhorse too, with a career high of 181.1 innings so far. Those are quality innings as well; in 15 of his starts, he has allowed two runs or fewer. That's half of the time. The 20 wins are nice on the stat sheet, for sure, but they also make a statement about how durable Happ hass been. J.A. Happ is the true rock in a rotation that isn't without several other solid members.
TBD is what happens when Masahiro Tanaka pulls a muscle in late September and can't take his turn. Luis Severino is a possibility for this spot, but the Yankees have not made any announcements.
Additions and Subtractions
The Yankees are dealing with a number of injuries lately, included the aforementioned Masahiro Tanaka. Aaron Judge is out of the season, and Chase Headley and Jacoby Ellsbury have only just returned to the lineup after missing time with injury. The Yankees also made a signing since the last time these two met, picking up Billy Butler after he was released by Oakland. Butler is platooning at DH with Brian McCann, so will likely see the field in the first and fourth games of this series.
While a bunch of Blue Jays are banged up (see below), there are no new injuries that are keeping players out of the lineup.
Keep an Eye On
Gary Sanchez: Still Terrifying
It's not really about keeping an eye on him. It's more about just walking him. As you most likely know by now, the Yankees' 23-year-old catcher is slugging .747 with 19 home runs in just 188 plate appearances this season. Aside from Hanley Ramirez, there is no player on the planet hotter than Gary Sanchez right now. He has been so good that there is talk of Sanchez being considered for American League Rookie of the Year honours despite the fact that he will finish the season with fewer than 80 games played. Thinking about how good the Yankees could be if they continue to draft, sign, and develop players like Sanchez is enough to give fans of other AL East teams existential fits. Sanchez is not likely to be able to keep up his torrid pace over an entire season, but the Blue Jays pitching staff will need to find a way to contain the young slugger if they want to keep the Yankees offence at bay this weekend.
Jays' M.A.S.H. Unit
It's no secret that many of the Blue Jays' key contributors are dealing with some major injuries. Marco Estrada has been pitching with a herniated disk in his back for an undisclosed amount of time, Josh Donaldson is dealing with a pretty serious-looking hip injury, and Jose Bautista still appears to be feeling the effects of a sprained toe and knee that landed him on the disabled list twice this summer. The Jays pitching staff have also seen several of its key contributors move towards career highs in innings pitched (but you haven't heard anyone say anything about that, have you?). This week in Seattle, there were signs the Jays' were able to contribute despite their injuries; Estrada pitched very well on Monday night, Bautista hit his second home run of the month, and Josh Donaldson added two extra base hits of his own. It is nothing short of incredible these players are able to get on a Major League field as hurt as they are, but their ability to contribute while at less than 100 percent will be a major factor in the Jays' ability to qualify and go deep into the playoffs.
Middle…Relief?
The Blue Jays have had a lot of trouble lately in the middle innings as they attempt to bridge the gap to the late-inning trio of Joaquin Benoit, Jason Grilli, and Roberto Osuna. If one of the starters gets knocked out early, the struggling middle relief corps will once again be called into action, and they will have to be much better than they have been in recent games. Brett Cecil was a huge part of the big Yankees-Jays series one year ago, and he will be counted on heavily in this one with some of the tough left-handed hitters in the Yankees lineup.
Probable Lineup
| | |
| --- | --- |
| New York Yankees | Toronto Blue Jays |
| 1 Brett Gardner LF | 1 Devon Travis 2B |
| 2 Jacoby Ellsbury CF | 2 Josh Donaldson 3B |
| 3 Gary Sanchez C | 3 Edwin Encarnacion DH |
| 4 Brian McCann/Billy Butler DH | 4 Jose Bautista RF |
| 5 Mark Teixeira 1B | 5 Russell Martin C |
| 6 Didi Gregorius SS | 6 Troy Tulowitzki SS |
| 7 Chase Headley 3B | 7 Michael Saunders LF |
| 8 Nick Williams RF | 8 Justin Smoak 1B |
| 9 Donovan Solano 2B | 9 Kevin Pillar CF |
via Roster Resource
Final Thoughts
Just win, baby. That's pretty much what it comes down to for the Blue Jays (and Yankees) at this point. Every single loss is magnified, and every win allows for a big time sigh of relief. The Jays need to take care of business at home, and bury the Yankees once and for all. Anything less than a split would spell extreme danger for Toronto's playoff hopes, and really they should be looking to take three of four heading into the series with the Orioles.
Lead Photo: Noah K. Murray-USA TODAY Sports