In Episode #28 of Artificial Turf Wars, Joshua Howsam and Greg Wisniewski talked about a cat-and-mouse game that pitchers play with 'dangerous' offences like Toronto's. They speculated that since the offence was used to seeing so many breaking balls off the plate, they were being caught off guard by a lot of fastballs in the zone lately. If hitters are used to being pitched delicately, they're usually not looking for fastball strikes.
The speculation got me thinking, so I dove into the PITCHf/x data. Sure enough, the Jays faced the most breaking balls out of the zone of any team in the first half. Then I looked at the splits to see how that affected their production against fastball strikes in the second half, and turns out Greg and Josh were dead on. The offence's OPS against fastballs in the zone dropped from .867 in the first half to .783 thus far in the second half.
But while I was looking into the numbers, something else caught my eye: the Jays have also seen the most breaking balls in the zone of any team this season. In fact, they've seen the most strikes of any kind of any team this season: 11,645 strikes according to PITCHf/x, to be specific.
While we've explained why pitchers might occasionally throw a fastball strike against the Jays, it doesn't sound right that one of baseball's most potent offences (can I still say that?) should be getting fed so many strikes. The answer to this paradox lies in the lineup's plate discipline.
In 2015, the Jays swung at just 28.3 percent of the pitches they saw outside of the strike zone – the second lowest chase rate in the league. This year, the offence has been even more selective. Toronto's 27.1 percent O-Swing rate is the lowest in the league by a good margin. Jose Bautista, Russell Martin, Edwin Encarnacion, Josh Donaldson, Michael Saunders, and Troy Tulowitzki all have chase rates well below the 30.3 percent league average. If you took Kevin Pillar and his 36.4 percent O-Swing rate out of the equation, it would be a near-historically selective lineup. That has forced opposing pitchers to venture into the zone more often than they want to.
The connection between good plate discipline and the amount of strikes you get is pretty intuitive, and the data confirms a pretty strong correlation between a team's O-Swing and number of strikes seen this season (60% r-squared).
This is great news, you're thinking! Hitters do way more damage on strikes than balls, so by getting more selective and seeing more strikes they should do more damage, right? In the Jays case, not quite.
Here's a graph that plots the damage each team did on pitches in the strike zone against how many pitches they saw in the zone on a per game basis in 2015. As you might expect, Toronto saw a lot of strikes and did more damage than anyone else.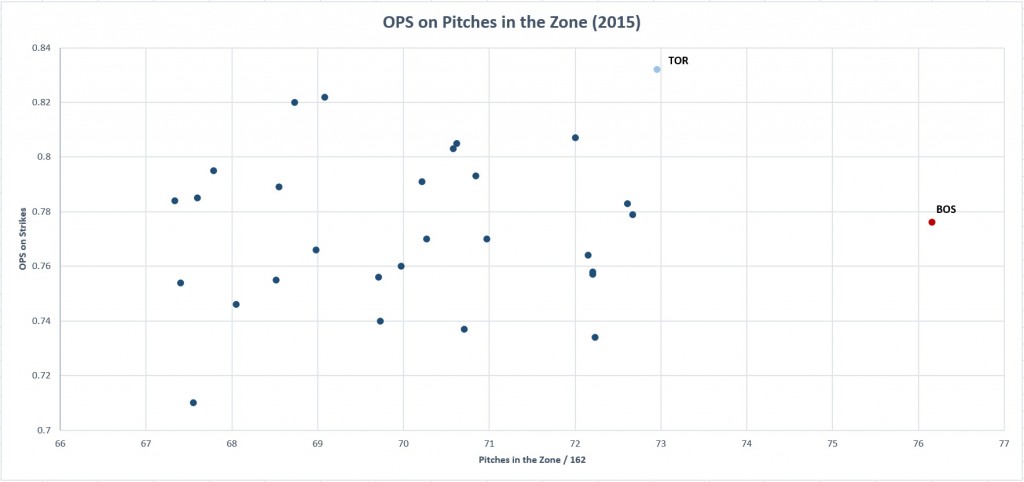 Here's what that same graph looks like this year, through 150 games played.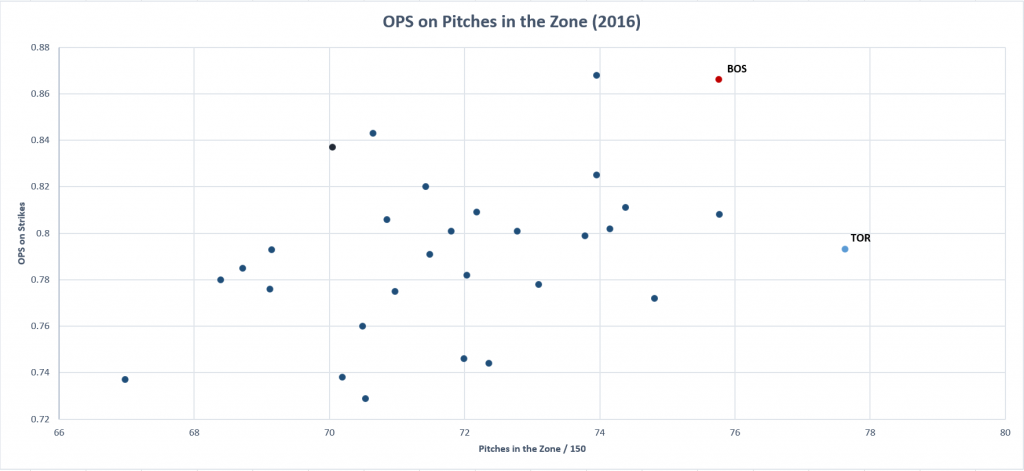 With the Jays' hitters doubling down on their selective strategy and seeing approximately five more strikes per game, they've gone from an OPS of .832 to an OPS of .793 against pitches in the zone. And the bats are still swinging just as often as they swung last year – their 64.5 percent Z-Swing in 2016 is virtually identical to their 64.3 percent Z-Swing in 2015 – it's just that those swings aren't producing the same results.
It's safe to say that the plan hasn't exactly worked like it did last year, but there is one silver lining that has come from Toronto's lineup and their reputation as a ridiculously selective lineup over the past two seasons; here are the leaders this season for most walks drawn on pitches that PITCHf/x thought were strikes:
Blue Jays – 59
Cubs – 48
Astros – 46
Pirates – 46
Cardinals – 46
That's a ludicrous gap between the Jays and the Cubs, and admittedly it's part of what originally inspired this post. It's just a hypothesis and I don't really have any statistics to prove it, but it makes intuitive sense that when a guy with a reputation for having a 'good eye' like Jose Bautista takes a borderline pitch, the ump might be more inclined to call it a ball than a strike.
Since this post has been pretty depressing, I combed through those 59 shouldn't-have-been walks that the Jays have drawn this season and giffed up the two most egregious ones. Well, egregious if you're Rick Porcello or Wade Miley, hilarious if you're a Jays fan.
Look at Porcello freeze in time as if he's trying to enter a different dimension where umpires know their strikes from their balls. Look at Donaldson take off his elbow guard like it's on fire on his way to first.
This looks less obvious because Chris Iannetta does a poor job setting an early target and the curveball has a ton of movement, but it's actually closer to the heart of the zone. And Saunders clearly knows it.
It will be interesting to see if the team can make an adjustment over the last ten games of the season. If not, it could be an interesting week and a half.
Lead Photo: Evan Habeeb-USA TODAY Sports