The Blue Jays have had a tumultuous September. With a record of 5-11, and a winning percentage of just .313, Toronto's team has managed to put up on of the worst September records in all of baseball. That's not quite what you'd like to see out of a team that should be competing for a shot at the World Series. Of course, you know this already. You also likely know the reason behind many of these poor results; Gideon Turk detailed them in a post last week. But, to me, the Blue Jays' woes aren't the most interesting thing about the team right now, it's how they've dealt with them that intrigues.
In the month of September, the Jays have dealt with two things offensively: poor hitting and sore/injured batters. That's been true for them more so than most other teams. Given the expanded rosters, one might then expect Toronto to shake things up; optimize usage of those extra batters on the bench. However, that hasn't been true at all. Instead, the Blue Jays have stood pat, using their regular roster players* more so than any other team in Major League Baseball: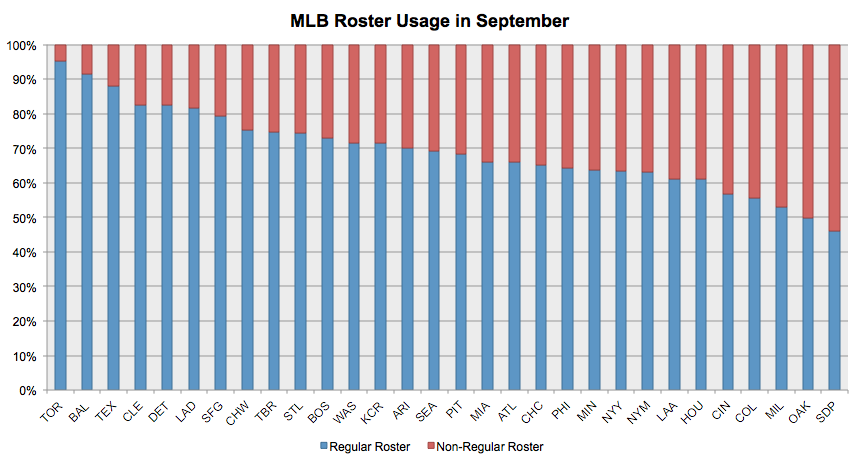 *A regular roster players was defined as having >= 300 PAs prior to September.
That fact can be taken as interesting in two very distinct ways.
The Blue Jays have a lot of faith in their current roster
The Blue Jays don't have a lot of faith in their bench
The Blue Jays Have a Lot of Faith in Their Current Roster
Despite having a struggling offense (and defense), the Blue Jays have done very little to spread the starts around. Nothing to 'shake up the roster'; nothing to 'spark some performance'. At the very least, that runs contrary the clichés of any sport, which would tell you that sometimes players just hit slumps. It also runs contrary to how we've seen other teams around the league managed. But, is it the right thing to do?
The laws of sabrmetrics would say yes; that positive regression will come to those whose true talent level is above their present level of play. Over the long haul, that principle will almost certianly be right. But over the short term, with an eight-man bench at their disposal, one would think that the Jays would budge more than they have. This especially applies with two defensively struggling corner outfielders in Jose Bautista and Michael Saunders. Thus far the changes have been limited to a few extra games at DH for Bautista, but that's not nearly enough.
The Blue Jays Don't Have a Lot of Faith in Their Bench
This is inverse of the previous statement, but it has broader implications, especially for the playoffs. Beyond being an opportunity for experimentation, September has become a good managerial test for optimizing one's roster. In some ways, John Gibbons has passed that test with the bullpen; getting use out of even the likes of Matt Dermody. However, when it has come to the bench, Gibby's been less liberal.
As far as pinch hitting goes, the conservatism is somewhat justified…which is actually part of the problem. The Blue Jays don't have a well-hitting bench. In turn, John Gibbons does not utilize that bench. But, the bench has other strengths; particularly in speed and defense. The question of whether or not to give others on the active roster a start is debatable; the question of whether or not to utilize them at all is not.
This lack of usage has been particularly evident on a few occasions with one of the three catchers on base. When there are three catchers available, and runners on the bench, there's zero reason that Thole, Navarro, or Martin should be running late in a close game. The same is true of either Michael Saunders or Jose Bautista in the outfield late in the game (which Gibby has admittedly gotten better at with Jose, less so with Saunders).
The Playoff Implications
At this point, there are 13 games left in the regular season. If the Blue Jays end up playing in the wildcard game (it's likely that they will), then they could have up to 20 more in the playoffs. Over an entire entire season, logistical mismanagement means very little for a manager. But in the 13 games before the playoffs, and then in a small set of games in each playoff series, it means a lot more. This is something that Rany Jazayerli and Sports Illustrated's Joe Sheehan often talked about on the now defunct Baseball Show with Rany and Joe podcast; managers can swing a playoff series. With that said, they also recognized that good teams could win in spite of poorer in-game management (See: 2015 Kansas City Royals).
Previously, the Blue Jays had been playing well enough to overcome having to worry about the margins. The rotation was fresh, position players were healthy, and the lineup was hitting better than ever. Now, for the Jays to succeed, they should take all they can get. With the little time left in September, Gibbons should be pinch hitting and running out the wazoo. In that way, they can take advantage of the expanded roster while it's available, and prep for a smaller series in which similar tactics will need to be applied with a shorter bench.
Lead Photo: Dan Hamilton-USA TODAY Sports