Ezequiel Carrera is currently in his sixth Major League season. He has 931 career plate appearances; 834 at bats. He has 10 home runs. Five of those have come this year; none bigger than Monday night's solo shot to the leftmost point of left field. It hung in the air, dragged those extra inches over the wall, by either the cumulative willpower of the entire Rogers Centre, or the collective gust created by the entire 100 Level inhaling simultaneously. Either way, it cleared the wall and the Jays won.
Again, Carrera has 10 career home runs. Had an oracle foretold a pinch hit dinger in the eight inning, Carrera is hardly the first name you'd guess. Smoak, maybe. Navarro too. But spry and sprightly Zeke? Unlikely.
In appreciation of Carrera's general passability as a fourth outfielder and Monday's wall-scraper, I'm going to look back at his homers this season to see just how close they were to staying in the yard. For a light hitting player like Carrera to have five home runs, you'd assume that most resemble the "just enough" effort that earned Toronto a much needed win. I dove into his Statcast page and downloaded the data from his home runs to see how it all breaks down.
The clip starts out with Pat Tabler saying "he's gonna get a fastball." Carrera didn't miss, depositing his first of the year 399 feet away into the seats in right center. Off of a lefty no less, Carrera's home run left the bat at 104 miles per hour at a 31.2˚ angle. This one was anything but cheap.
Hit with an exit velocity of 130.3 mph at an angle of 43.5˚, Carrera turned on an Eflin fastball that broke right back into the middle of the plate. While it was hit just 350 feet, there was little doubt that it was gone considering how much the ball was pulled.
Gallardo left a fastball up and away and Zeke turned on it, smashing it 406 feet into the bleachers in right center. With an exit velocity of 104.2 mph at a launch angle of 23.8˚, this one got a courtesy jog out of Adam Jones but was never in doubt. Again, not a cheapie.
Carrera deposits a high fastball just shy of the first deck facing in right center for his fourth home run of the year. Smoked at 106.9 mph and with a launch angle of 22.9˚, this was a bullet that was crushed 415 feet. No doubt about this one either.
So no, when Carrera connects, he's not just hitting them to the perfect spots of the park. Except for Monday, when something magical and deeply unlikely happened.
This one is the definition of "just enough." With an exit velocity of 97.4 mph and a launch angle of 40.02˚, Carrera's fifth home run of the season landed 340 feet away and just over the fence. ESPN's home run tracker has the ball clearing the wall in just three ballparks as well as some less generous velocity, launch angle, and distance data (I've used Statcast data for all homers above to keep things consistent).
Five home runs with nary a "Swing and a Drive," but Carrera has actually capitalized on potential home run pitches up (and sometimes out) of the zone: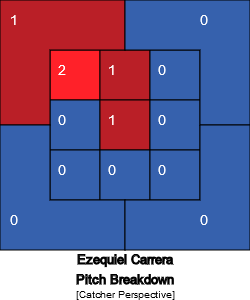 Carrera had just enough muscle to push a Brad Boxberger fastball over the fence and once the adrenaline subsided it got me thinking about the difference between a win and a loss in big moments like that. Thinking about the alternate timelines where the wind is blowing just enough to turn a flyout into a homer, a loss into a win, an extra win into a playoff berth, so on and so forth until the entire course of baseball history is changed.
Zeke's audition tape for Dancing with the Stars. pic.twitter.com/pHzglwi4gY

— Ian Hunter (@BlueJayHunter) September 13, 2016
Just last week, Justin Smoak came about a foot shy of crushing a grand slam in the top of the ninth even though it'll live on as a lowly F7 to end the game.
#ShouldOf used Carrera.
Lead Photo: Nick Turchiaro-USA TODAY Sports