With a lot of players you watch to see how the ball comes off the bat. With Josh Donaldson, you listen. It's the sound that tells you everything you need to know. If you're watching, it might look like a mile-high fly ball. If you're listening you know without a doubt it's a home run.
I realized this last summer, when I was interning in the Jays communications department. I got to watch some games from the press box, and was told on my first night that the most important rule was "No cheering in the press box." Of course, I said. I am a damn professional, I thought.
On a warm May night with the Jays trailing the White Sox by two in the bottom of the ninth, Donaldson stepped up to the plate with two men on. I sat on my hands and dug my fingers into my seat. Then I heard the sound, and everybody in the press box let out the kind of strangled cries that I imagine robots make when Asimov's laws conflict with each other. It had only happened four times in Blue Jays history — a three-run walk-off home run down two runs. The last time it happened was in 1999.
It was only for a split second, but the sound had stunned us all. This past Sunday against the Twins, he stunned us again with his first three-homer game that included a go-ahead shot worth 0.356 WPA. Since arriving in Toronto in 2015, Donaldson has done everything in his power to prove that the concept of 'clutch' is not a myth. Last season he hit .351/.426/.713 in high leverage situations and finished fourth in WPA (6.03). This season he is hitting .300/.412/.613 in high leverage situations and leads the league in +WPA (13.31), which adds together all the positive events he has contributed offensively.
But you don't need statistics to tell you how clutch Donaldson has been. You've seen it for yourself, and you know the easy anticipation when he comes to bat in a big situation. His entire approach is designed for big situations. The all-fields approach that makes him tough to shift against, the walk rate that has almost eclipsed his strikeout rate this season, the effortless yet full throttle swing that is always looking to do damage…
A more productive way forward I think is to zoom in on the actual moments that shape our perception of a player as clutch or unclutch. I'm going to lay them out the same way Jeff Sullivan did in his article on how incredibly unclutch Michael Saunders has been this season. The following table lists the outcomes of Donaldson's 18 highest leverage plate appearances this year. I cut it off at 18 not to cherry pick but because there's a sizable drop off in leverage index from 18 to 19.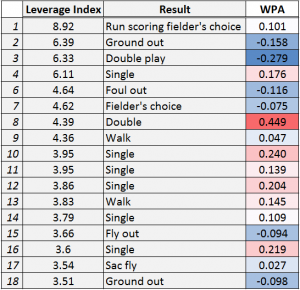 If the fancy colour-coding doesn't do it for you, I'll break it down easy. Donladson has gone 7-for-18 in his highest leverage plate appearances, and that's not including a pair of walks, a sac fly and a run-scoring fielder's choice. That means he has generated a positive outcome in 11 of his 18 biggest moments this season.
Since this list is sorted by leverage index and not WPA, it shows the shimmering highs that we've held on to side-by-side with ugly lows that we've chosen to forget. Moments like grounding out into a game-ending double play with the bases loaded—that's the deep blue box worth -0.279 WPA three spots down the list. Or like the three other double plays he has grounded into in late and close situations. Or how with two outs and runners in scoring position, Donaldson is batting just .214.
The main argument people use to debunk 'clutchness' is the relative lack of importance of the order in which events happen. For example, a walk-off solo homer that gives the team a 7-6 win is great, but the contributions that led to the six runs being scored before the walk-off are equally crucial in hindsight. It's the same logic we use when we value closers over set-up men, or write think pieces about Zach Britton's MVP case. The entire artifice of clutch rests on the fact that we construct narratives in a linear fashion according to time. The big picture extension of this argument is statistical distribution: Over the course of a player's career, while the walk-offs might stick in our memories, odds are he'll have just as many homers early in games as late in games, in blowouts as in tight games, in pennant-clinchers as in meaningless contests.
So maybe relying on memory, or some numbered list, isn't the best way to tell if a player is clutch. And maybe it's illogical to believe in the existence of clutch hitters in the first place. But I think that baseball is a lot more fun to watch if you choose to suspend logic and don't try to explain how since the start of 2015 nobody in baseball has hit nearly as many homers in tie games. Or how you just know sometimes that when Donaldson steps up to the plate with the game on the line he's going to do something special.
Josh Donaldson is just clutch.
Lead Photo: Nick Turchiaro-USA TODAY Sports