Toronto Blue Jays vs. Houston Astros
August 12 – 14
Written by Gideon Turk and Dave Church
Only a week removed from their trip to Houston, the Blue Jays are returning the favor and inviting the Astros to the Rogers Centre for a three game tilt. The Blue Jays ended up taking three of four from the Astros in the four game series despite scoring only ten runs in the four games. Their pitching, which has been excellent all year, carried them by allowing only four runs in the six games. Both the Jays and the Astros have shuffled their roster a bit in the ensuing seven days, so let's take a look at what's changed for this matchup.
Pitching Matchups:
August 12 – 7:07 PM ET
Francisco Liriano vs. Joe Musgrove
Francisco Liriano is making his second start for the Blue Jays after being acquired at the deadline. His first start was promising, allowing three runs (two earned) over six solid innings, striking out five. While a reunion with Russell Martin probably didn't hurt, Liriano's problem this season has been his control: he's walking more hitters, which was always his problem prior to joining the Pirates. He struggled at times with the Royals in locating his fastball in the zone, which led him a bit of trouble in the middle innings, though the Royals were mostly unable to make him pay. One other positive sign from that start: fewer grooved pitches in the middle of the zone, especially with his fastball.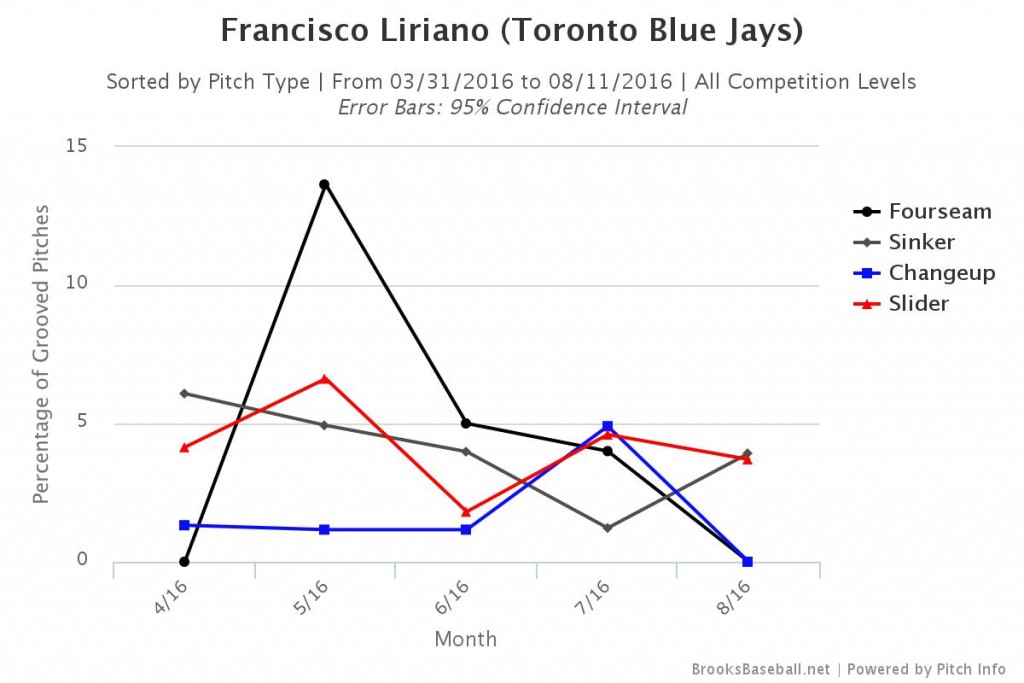 Joe Musgrove is already infamous to Blue Jays fans, having pitched four and a thirds innings of scoreless relief and striking out eight in the lone loss in the last Astros series. Jays fans may also know him from the J.A. Happ trade, as he was one of several players sent to the Astros for Happ in 2013. Musgrove is an opposite to Liriano in many ways: though his stuff is good, it's his command and control that are the highlights, as he had a fantastic 87 Ks against 10 walks in 16 minor league appearances this season (and a 14/1 ratio so far in the majors in two appearances). This could be a difficult matchup for a Jays lineup that likes to draw walks and make pitchers work.
August 13 – 1:07 PM ET
Aaron Sanchez vs. Collin McHugh
With the debate about whether or not Aaron Sanchez should go to the bullpen having quieted for now, we can focus more on how great Aaron Sanchez has been. His last start against the Royals wasn't up to his usual standards, as he allowed nine hits, the most he's allowed since June 12. These starts have been few and far between for Sanchez this year: he's only allowed nine hits or more three times in 22 starts, and four runs or more four times. Sanchez has yet to face the Astros this year, and with his stuff, has an excellent matchup against a team that has struck out the most in the American League.
Collin McHugh was a pleasant surprise for the Astros a couple years ago, coming out of nowhere to become a fixture in the team's rotation. In his career, his mostly used a mix of a fastball, cutter, and slow curveball to get outs, with a very occasional changeup. He's struggled this year to a 4.69 ERA, courtesy of a slight uptick in his homerun rate, and his pitches getting hit more often in general: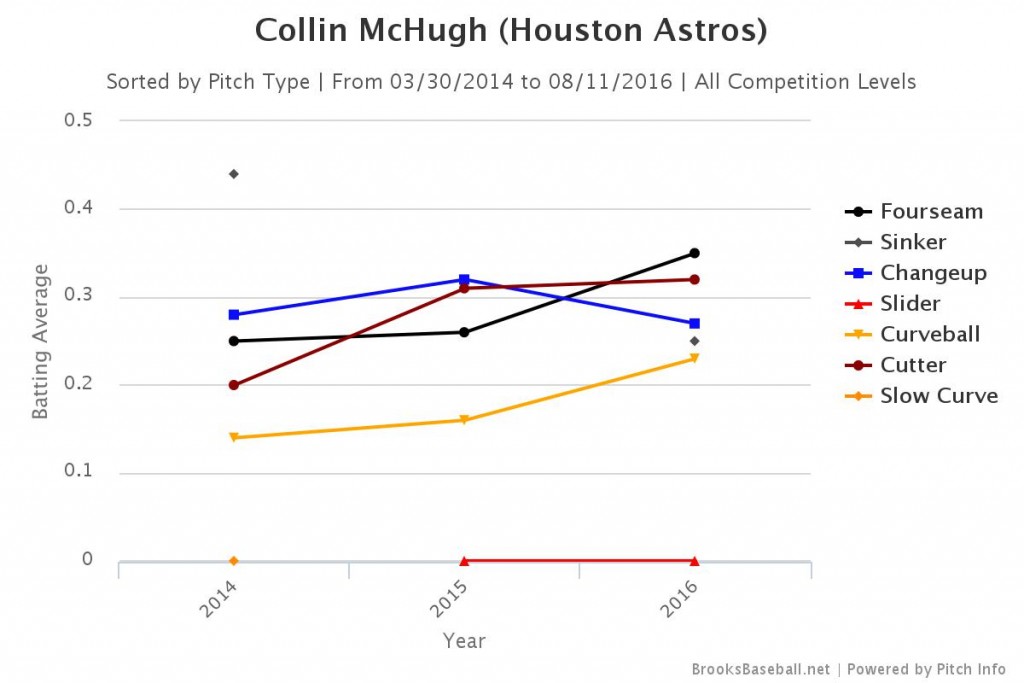 McHugh had a solid start against the Jays in the last series, going six innings, allowing three runs and striking out a whopping ten batters. He's had their number historically, with a career 2.79 ERA prior to this season against them.
August 14 – 1:07 PM ET
Marcus Stroman vs. Mike Fiers
After starting opening day for the Jays with high expectations, Marcus Stroman has had his share of struggles this season. The ascension of J.A. Happ, Marco Estrada, and Aaron Sanchez have made the assumed ace's struggles easier to live with, but there are certainly some positive trends we can see as the season has gone along. Stroman may have overused his sinker in the early going, and is doing a better job of mixing his pitches now.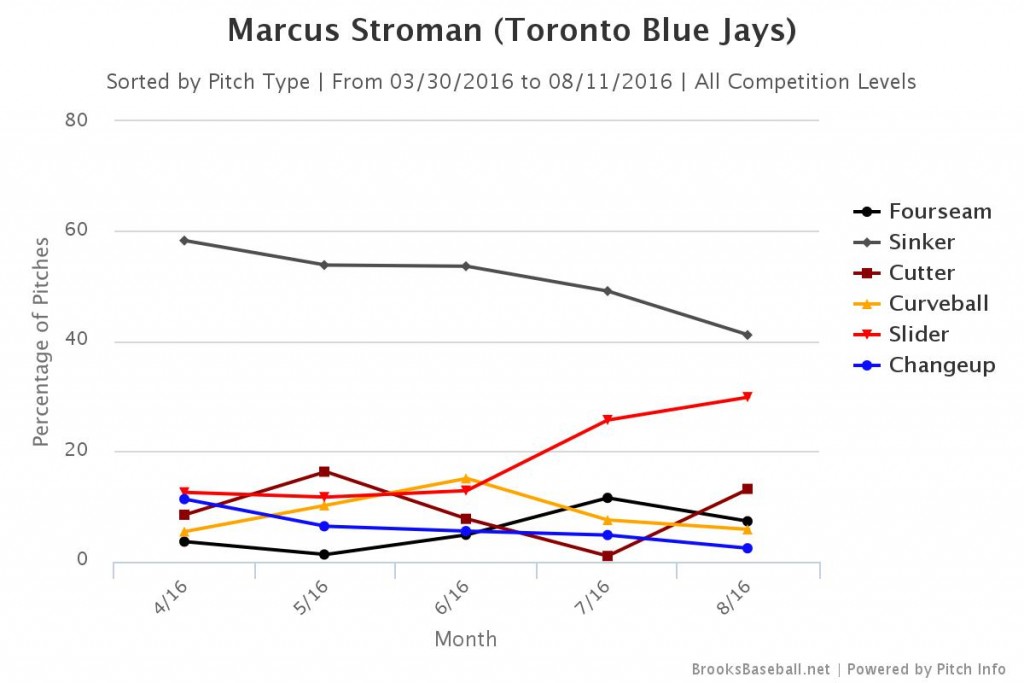 Stroman had an impressive start against the Astros in the last series, going seven strong innings and striking out 13 batters. Stroman has generally struggled this season when facing a team twice in a short span, so it will be interesting to see what, if any, adjustments he and Russell Martin make for the return matchup.
Mike Fiers came over to the Astros from the Brewers in what would probably be called the Carlos Gomez trade, but Houston has probably been much more happy with Fiers, given that they just designated Gomez for assignment. Fiers is a fun story as a late bloomer who caught fire with Milwaukee in 2012, and has carved out a role as a steady back-end pitcher, something which teams can always use. As someone without dominant stuff or high-end velocity, Fiers has to mix his pitches and work the strike zone to be effective, and did so against the Jays in his last start, going six innings and allowing only two runs and no walks.
Additions and Subtractions
The Blue Jays will be forced to rely on their outfield depth in the coming weeks with both Kevin Pillar and Jose Bautista landing on the disabled list in recent days. Replacing them will be Darrell Ceciliani and Junior Lake, both up from AAA Buffalo. Outfielder Ezequiel Carerra, a third Blue Jay on the disabled list, will be starting his rehab assignment on Friday with the Buffalo Bisons, and is eligible to return on August 16th.
Houston will be missing their ace reliever Ken Giles for this series as he is heading to paternity leave for the weekend. However, Luke Gregerson, their other star relief pitcher, could return from the disabled list if deemed ready to pitch. All reports are that he is good to go, so he may be back this weekend. The Astros will be without former Blue Jays players Colby Rasmus and Luis Valbuena (Spring training counts, right?), as they both find themselves on the disabled list for different injuries.
Keep an Eye On
Tired Astros
The Astros played a double header on Thursday due to a rainout on Wednesday, so they could suffer from fatigue in this upcoming series with the Blue Jays. Luckily for them, they easily won both games on Thursday in blowout fashion, meaning their players had much less stress on them than tight games. However, they still had to fly to Toronto late on Thursday night from Minnesota, so the effects of that may still come into play.
Strikeouts
The last time the Blue Jays and Astros met up, the Blue Jays set a MLB record for most strikeouts in a series with 59. A lot of that was caused by the players' unfamiliarity with the lighting at Minute Maid Park, as well as a non-black batter's eye, so don't expect another record setting "performance" in this series. However, two of the Blue Jays' best three batters when it comes to avoiding the strikeout, Kevin Pillar and Jose Bautista, will not be playing in this series, and their replacements are a lot more prone to whiffing than them. That could help the Astros record some big punch outs again this series.
Second Basemen
The Blue Jays' second baseman, Devon Travis, has been carrying the load offensively while the rest of the tam has been slumping lately, batting a cool .386/.414/.627 since July 19th in 87 plate appearances, but he won't be the best player at the keystone in this series. The Astros' Jose Altuve has been one of the best players in baseball this season, with a 6.0 WARP and a triple slash of .361/.427/.570 in 504 plate appearances. Settle in for an amazing series of offense from these second basemen as they look to one up each other during each at-bat.
Probable Lineup
| | |
| --- | --- |
| Houston Astros | Toronto Blue Jays |
| George Springer-LF | Devon Travis-2B |
| Alex Bregman-3B | Josh Donaldson-3B |
| Jose Altuve-2B | Edwin Encarnacion-DH |
| Carlos Correa-SS | Michael Saunders-RF |
| Evan Gattis-DH | Troy Tulowitzki-SS |
| Preston Tucker-LF | Russell Martin-C |
| A.J. Reed-1B | Justin Smoak-1B |
| Jake Marisnick-CF | Melvin Upton Jr.-CF |
| Jason Castro-C | Darrell Ceciliani-LF |
via Roster Resource
Final Thoughts
The Blue Jays enter this series only 0.5 games above Baltimore for first place in the American League East and have to face a very tough Astros team this weekend. Houston has won three straight, albeit against the lowly Minnesota Twins, so despite their third place standing in the AL West, don't expect them to just roll over and die in this series. As we saw last week, they are capable of staying in these games and making them tough, despite the Blue Jays taking three of four last time. With Baltimore facing the first place Giants over the weekend, winning this series isn't so crucial, but can go a long way to giving the Blue Jays a more comfortable lead heading into the last six weeks of the season.
Lead Photo: Thomas B. Shea-USA TODAY Sports