Jose Bautista is an interesting fellow. He's talented; he's tenacious; and he's been the heart and soul of this current Blue Jays revival. Not only is he the most tenured active Blue Jay, but for a long time he was also the best player on the team. Oh, and performing the bat flip heard round the world probably doesn't hurt your clout.
A player's value and inherent connection to his team afford him a lot of flexibility. Sometimes that flexibility comes in the form of being supported by one's fanbase at divisive times. At other times, that flexibility comes in the form of one's role on the team. Jose Bautista has both experienced and utilized the flexibility afforded by his clout in both of those cases.
It's easy to forget now, as Jose hasn't played in the infield since 2014, but at one point there was a very real discussion about whether he should be at third base or in right field. In fact, in 2011, his defensive chops were so flexible that when the Blue Jays wanted to spark the lineup with "top prospect" Eric Thames, Bautista was shifted from right field back to third base. Because of the nature of third base talent at the time, Jose Bautista was a much more valuable player at the hot corner. However, Jose thought he was better suited for right field. He had a cannon for an arm, and could regularly gun down runners from there. It wasn't his highest value position on the diamond, but it was where he wanted to be, and over time, he became the de facto right fielder.
Unfortunately, Jose Bautista has gotten progressively worse in the outfield throughout the years. Between 2012 and 2014, he was anywhere from average to slightly above average at the position. In 2015, as he battled a shoulder injury, that was no longer the case. He went from adequate, to posting a -4.8 FRAA; the worst defensive numbers of his career in the outfield. On the periphery there were those of us who were concerned, but the mainstream saw more value in Bautista's strong RF arm than there actually was. Then, because Jose Bautista had hit well enough to justify playing the position of his choice, his detractors never pushed the issue too much.
If it ain't broke, don't fix it…right? Well, it might finally be broken.
In 70 games at right field in 2016, Jose Bautista has been absolutely horrid. He isn't getting to balls that he should be, and his arm can no longer compensate for missteps in his defensive form. The results are evaluatively evident in his advanced defensive metrics: Bautista has a -8.6 FRAA and -9 DRS. Among major league outfielders this season, those totals are fourth and eighth worst respectively. Among all Blue Jays in franchise history, the rankings are even grimmer.
Here are the ten worst defensive seasons in Blue Jays history by FRAA per 1350 innings: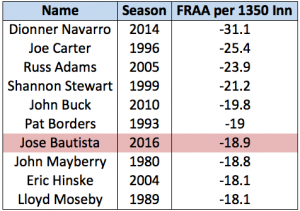 Jose Bautista's 2016 is the eight lowest total. That's bad.
Here are the ten worst defensive seasons in Blue Jays history by DRS per 1350 innings: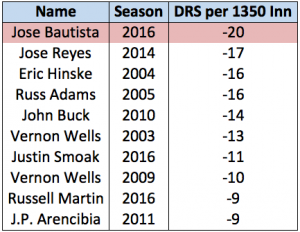 Jose Bautista's 2016 is the lowest total. That's worse.
In fact, it's so bad that even though he's been a good (albeit not usual Bautista-level) hitter, his WARP, at 0.2, is hovering around replacement level. He has gone from the heart, soul, and muscle of the Blue Jays revival to a player who probably doesn't deserve to play full time at his current position. It's kind of sad, actually.
Generally, it's unwise to draw too many conclusions from advanced defensive statistics in smaller sample sizes, but there's physical evidence that supports the decline. For one, this poor defending isn't new; all that's changed is how much its getting recognized. For another, Jose Bautista is not a young man; he'll turn 36 during the playoffs.
Previously it was easy to justify ignoring Bautista's defensive numbers. He hit well enough not to worry about it. However, 2016's Jose Bautista isn't the Jose Bautista of yore. His batting average is at a career low .216, and his power has lacked its previous league topping pace. In addition, unlike years past, there are adequate replacements for him in the outfield, and there's a less defensively demanding spot in the lineup available: DH.
Roster wise, the Blue Jays' outfield is six deep with Jose Bautista, Kevin Pillar, Michael Saunders, Ezequiel Carrera, Melvin Upton, and Dalton Pompey waiting in the wings.
For the time being, with Zeke and Pillar on the disabled list, this becomes somewhat of a logistical issue. But that doesn't mean it's not worth trying.
To provide some perspective for the kind of value that a change could provide, we can use Lewis Pollis' simple WAR calculator. Over a full season, given his current stats, the WAR calculator gives Jose Bautista a 0.4 WAR in RF. However, with the same stats at DH, the WAR calculator gives him 1 WAR. Generally, when a player moves from a position of higher difficulty (RF) to a position of lower difficulty (DH), it hurts their value. Bautista's been so poor that it'd help him.
At present, a non-ideal solution could be found in calling up Dalton Pompey and playing him in center field, or utilizing Darrell Ceccilani more often. Neither is a perfect solution, but the argument could be made that the benefit of not having Bautista play in the outfield outweighs the cost of Pompey or Ceccilani hitting instead of Justin Smoak.
Then, once either of Pillar and Carrera are back, the solution gets much easier. The Jays could employ a straight platoon of Carrera and Upton in RF, with Bautista firmly at DH. The difference may seem trivial to some, and it is admittedly on the margins. However, the importance of those margins will become a lot bigger come October. It isn't hard to picture a scenario where Jose Bautista either doesn't get to a ball, or misplays it, and that defensive error ends up being the difference between a playoff win and loss.
There will be egos at play here, and that comes with its own set of difficulties. That's the reason why I wouldn't advocate for Bautista to be played more at DH with Pillar and Carrera on the DL; even if it's an empirical upgrade. However, once Pillar and/or Carrera are back, and the Blue Jays have AT LEAST four outfielders better suited to play defense, the Jays need to move Jose. It's happened once, and it can happen again. He's the heart and soul of this team, but he's the anvil holding the defense down.
Lead Photo: Peter G. Aiken-USA TODAY Sports