After a couple of seemingly innocuous, if useful depth moves, the Blue Jays have acquired a legitimate front of the rotation type of arm. As first reported by Robert Murray, the Blue Jays have picked up Francisco Liriano and two prospects (via Davidi) from the Pittsburgh Pirates:
Source: Blue Jays get Liriano from Pirates

— Robert Murray (@RobertMurrayFRS) August 1, 2016
#BlueJays also getting two prospects from #Pirates

— Shi Davidi (@ShiDavidi) August 1, 2016
Also: Harold Ramirez AA OF to Toronto with Liriano

— Buster Olney (@Buster_ESPN) August 1, 2016
With the prospect of moving Aaron Sanchez to the bullpen, the Blue Jays top of the rotation was threatening to take a major hit, as Sanchez has been one of the best pitchers in the American League. That void has been filled. Liriano isn't having a great season, with an ERA of 5.46 in 21 starts, but he is still striking out hitters at a nice rate of 9.1 K/9, and is a groundball machine with at a rate of 51.9%. He is also coming off three straight seasons of ERAs at 3.38 or below. The issue currently is Liriano's walk rate, which sits at a career high 5.46 per nine innings. However, that seems like something of an aberration. Reuniting him with Martin also seems like a very promising move.
Liriano's ERA w/ Russell Martin Catching: 2.92

Liriano's ERA w/ All Other Catchers: 4.28

Just sayin'

— Matt Gwin (@Matt_Gwin) August 1, 2016
This seems to continue a theme for the Jays recently, of acquiring pitchers whose walk rates have spiked, but have not come with a dip in stuff. Take a look at Liriano's velocity and movement charts below. The velo is exactly the same, and the movement is extremely similar. There's a lot to hope for here.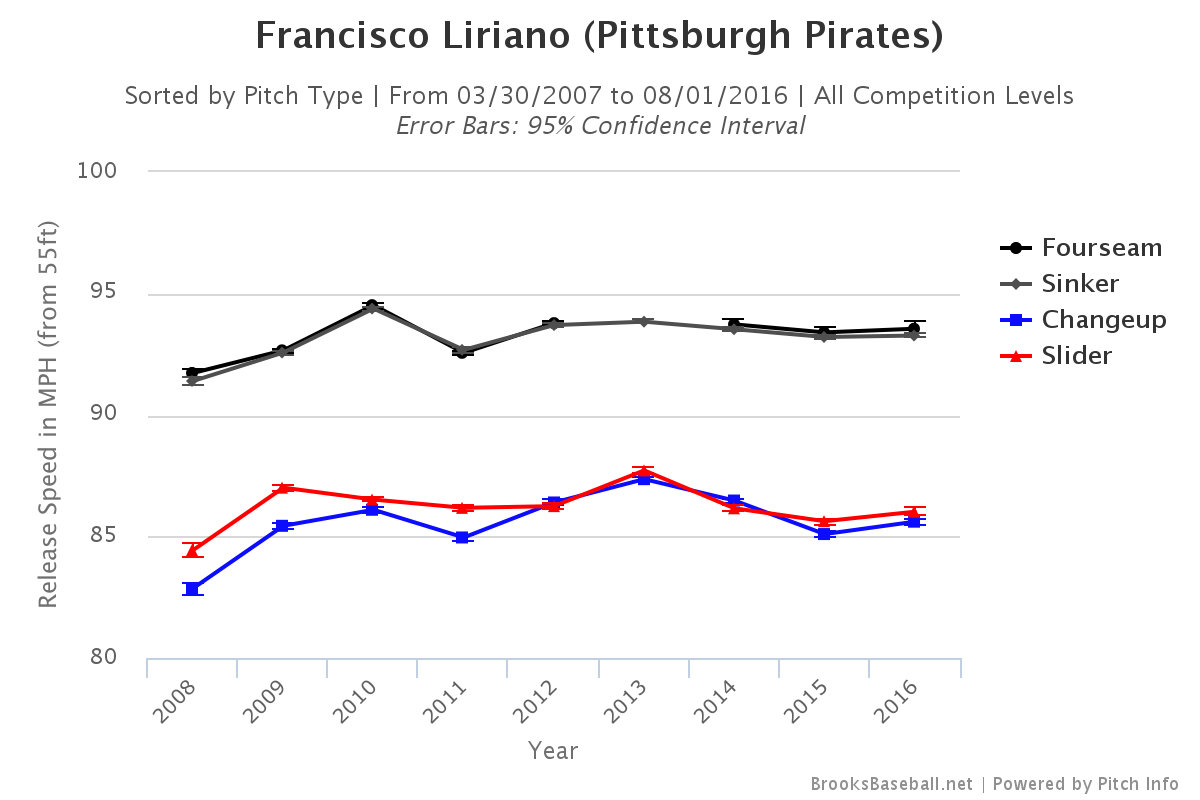 Liriano is also signed through 2017 for another $13M, which gives the Jays a nice replacement for pending free agent R.A. Dickey. In fact, this now means the 2017 rotation is full (barring injury) with Stroman, Happ, Estrada, Liriano, and Sanchez. That's very helpful for a team facing so many free agent decisions.
Harold Ramirez was the #9 prospect (according to MLB Pipeline) in the Pirates system prior to the deal. He is a 21 year old outfielder who is currently playing very well in Double-A Altoona, hitting .305/.354/.401, despite being 3.4 years younger than the average age for his level. He has a nice feel for contact, with a career .304/.362/.409 line despite always being young. He apparently has a very weak arm though, so despite solid speed and defensive instincts, may be forced to LF. He still seems like a nice get for Toronto.
Of course, with Liriano and prospects coming to Toronto, there must have been something substantial going the other direction. As first reported by our own Gideon Turk, Drew Hutchison is heading off to the Steel City.
Source: Drew Hutchison going to #Pirates in Liriano trade.

— (((Gideon Turk))) (@GideonTurk) August 1, 2016
Hutchison entered 2015 with so much hype following a successful finish to the 2014 season. However, he was terrible in 2015, pitching to a 5.57 ERA, and eventually losing his rotation spot when the Blue Jays acquired David Price. His two starts this season weren't a lot better, as he gave up seven runs in 12 2/3 innings of work. He has pitched well at AAA Buffalo, however, working to a 3.26 ERA with 110 strikeouts and only 35 walks in 112 innings. There is still clearly some upside there, as he he won't be a free agent until after the 2018 or 2019 season (depending on how much service time he gets until the end of the season).
All in all, this is a good move for the Blue Jays. They lose a solid but expendable starting pitcher, and add one with top of the rotation upside. They also fill a hole for next year's rotation, allowing them to focus money on fixing up the offense. Yes, this probably means Sanchez is officially ticketed for the bullpen, but given that was likely to happen regardless, this is a great way for Toronto to cover itself.
It has been a very solid trade deadline for the Jays, who needed not large moves (though Liriano qualifies), but minor tweaks. For the first time in a long time, the Blue Jays are also showing some financial flex, adding Upton, Feldman, and now Liriano while taking on additional salary. This is very encouraging, especially with the increased attendance.
Well done, Messrs. Shapiro and Atkins.
Update
The clubs have announced the deal, and joining Ramirez as the second prospect in the deal will be catcher Reese McGuire, the 14th overall selection in the 2013 MLB Draft, and a consensus top 100 prospect in baseball. McGuire is known specifically for his defense, as his bat has struggled throughout he tenure in the minors. In 77 games for AA Altoona this season, he has hit just .259/.337/.346. Those numbers are clearly not where you want them to be, but thankfully the path to the majors for great defensive catchers is a bit easier, even if they can't hit. From BP's top 101 prospect list, is the following:
"McGuire lacks the offensive upside of the other catching prospects on the 101, but he's by far the best defender of the group. He struggled with the bat in the Florida State League last year, but he offers a plus defensive projection behind the plate with a plus arm and advanced receiving skills. He's a good athlete for a catcher as well, and may grow into more game power over time. His stock is down until he starts to hit a bit more, but the glove alone gives him a good shot at a major-league career, even if it's the one-day-a-week kind."
You have to like this deal for the Blue Jays. It comes out to Drew Hutchison for Liriano, McGuire, and Ramirez, a deal made possible by the Blue Jays taking on additional salary. I'll let Baseball America's J.J. Cooper sum it up:
Needless to say, I LOVE this deal for the Blue Jays. If they released Liriano tonight, I'd love it for them.

— JJ Cooper (@jjcoop36) August 1, 2016
Let's play some meaningful baseball, shall we?
Lead Photo: Charles LeClaire-USA TODAY Sports