Despite the optics of trading for struggling relievers, the swap of pitchers Drew Storen and Joaquin Benoit is a good move for everyone involved. It might not be a transaction with a major impact, but the process behind it is sound. While it's fair to speculate how much a change of scenery helps with losing two miles per hour off your fastball or losing control of the strike zone, both pitchers are best-served with fresher starts.
Of course, this year was already supposed to be a fresh start for Storen. He came to Toronto from Washington after he had his closer role usurped by Jonathan Papelbon and saw his performance drop. In the mix for the ninth inning role in spring training, Storen was beaten out by Roberto Osuna and was supposed to be the team's top setup man. That, obviously, was not the case. A drop in velocity coupled with a high BABIP leaves Storen with a career worst mark in both hits and home runs per nine innings, both by a sizable margin. He might benefit from moving to a more pitcher-friendly park as well as some regression, but the Blue Jays don't really have the time to see if he'll figure things out this season.
Benoit was traded to Seattle after spending two strong years in San Diego. Unlike Storen, whose performance declined, Benoit was moved to net the Padres some more prospect capital. The right hander would also be given the chance to play for a team that was much closer to contention. That deal was supposed to help all parties…but Benoit faltered in a big way as a Mariner. Benoit comes to the Jays with a 5.18 ERA, easily the highest he's ever posted in ten years as a full-time reliever. That's better than Storen's 6.21 mark, but hardly adequate in its own right.
In essence, this move is a no-lose situation because Storen was on the outs. Recently DFA'd, the team was set to lose him regardless; they wouldn't be the beneficiaries of any bounce back either way. If Benoit ends up being better than Storen it's a clear win. If he continues his tough season the Jays aren't worse off than they were before.
But is there reason to believe that Benoit can return to form?
The Bad
The giant red flag with Benoit is his walk rate. He's up to 6.03 BB/9 after two walks in yesterday's Blue Jays debut. It was an issue early in his relief career, as he sported a 4.3 and 7.0 BB/9 in his first and third seasons coming out of the bullpen for Texas. On the other hand, Benoit has since never exceeded the 3.2 BB/9 he posted last year. In the aggregate, the lack of control this year seems very much like an outlier for someone who's proven to be very effective out of the bullpen.
Beyond the walks, Benoit has already conceded 20 hits in 25.1 innings pitched, giving him a H/9 of 7.4; his highest mark in four seasons. He's sporting a WHIP of 1.46 which would be by far the highest he's posted since those troublesome years in Texas. Since 2010, his first year with a team other than the Rangers, he has a career WHIP of 0.94.
One thing that stands out seems to be Benoit's slider. Over the nine years that BrooksBaseball has been gathering data, hitters have batted .165 against the slider but have hit .250 off of the pitch this season. His splitter has remained excellent (.105 opponent average) and while his fastball is higher than his career norm at .263 it's not nearly as drastic as his struggles with the slider. Granted, that's only an 86 pitch sample so it's hard to say too much about the pitch one way or the other.
The other big issue is the fact that he's surrendering a whopping 34.1 percent line drives on Balls in Play on his fastball, well above career norms: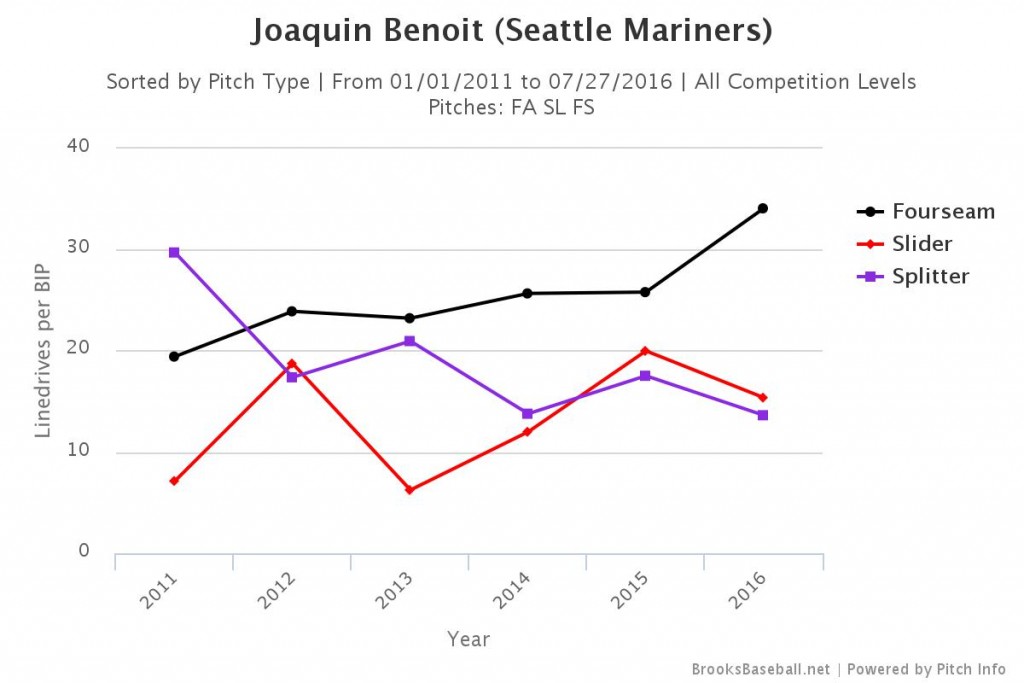 So hitters are squaring up his fastball and hitting his slider pretty well. His struggles aren't necessarily BABIP driven, as this season's .254 mark is in line with his career average as a reliever. The answer might lie in his pitch selection, as he's relied on the fastball much more heavily than in recent past: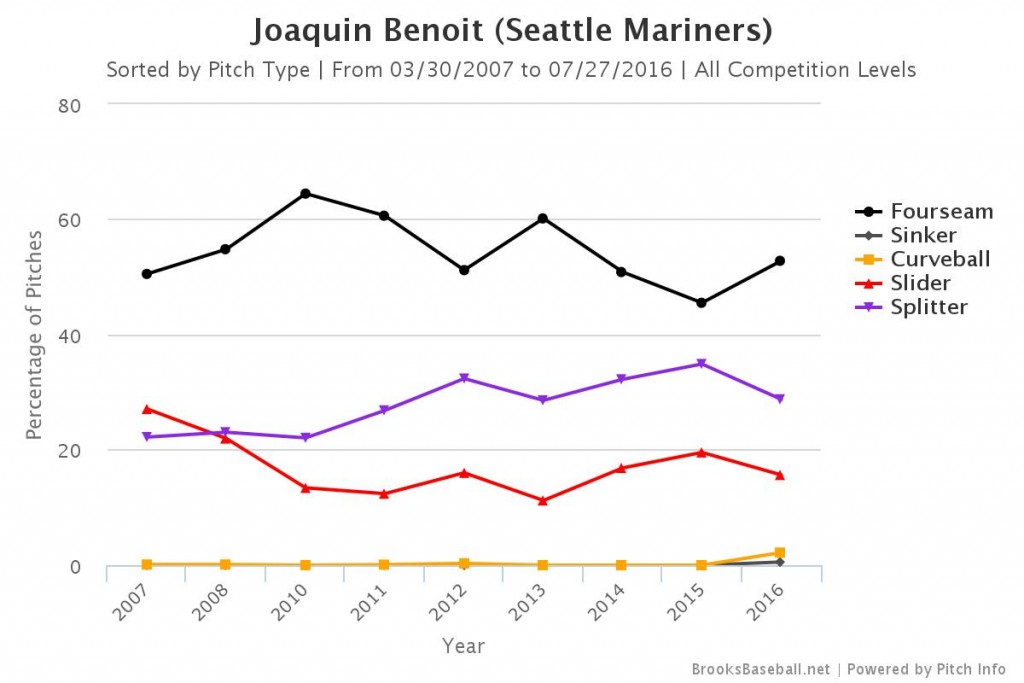 His fastballs are getting laced and he's throwing them more frequently than he has in years past, perhaps in part because of his penchant for getting into three ball counts. He has faced 111 batters this season and gotten to three ball counts on 32 of them: 28.8 percent. Compounding the issue are his struggles getting ahead of hitters: 53 have seen a 1-0 count while only 49 have been at 0-1. Benoit is getting behind in counts and hitters can expect to see a fastball sooner or later. While it could be a simple fix, it might also be a sign of decline as he's been trending down for three years running:
On his first pitch to left handers he'll throw his fastball 59 percent of the time and his splitter 36 percent of the time. Right handed batters see 42 percent fastballs, 41 percent sliders and 14 percent splitters to start an at-bat. His splitter generates the most whiffs among his three pitches but also results in a ball 42 percent of the time and 60 percent of the time when it's the first pitch of an at bat. Benoit's splitter is a good pitch; just maybe not a good first pitch. It's exacerbating his struggle to find the strike zone and setting him up to throw more fastballs later, much to the delight of opposing hitters.
The Good
The walks are troubling, but there's some hope in Toronto. In a perfect world he'd follow the path of Jason Grilli and cut his walks way down upon joining the Jays. Grilli had a 6.9 BB/9 in 17 innings with the Braves but has only a 3.6 BB/9 in his 17.2 innings with Toronto. Whether there was a mechanical change or something to do with his approach that shifted upon heading north, Grilli improved. It's hardly a guarantee that those results would transfer across pitchers but there could be a path forward here. If Toronto's pitching coaches have found a way to cut way down on walks there could be a big payoff from Benoit.
One other positive sign is that his velocity is still there. His fastball is still 94 miles per hour, hitters have just done better at hitting it hard. That could be because of his change in pitch selection which in turn might be coming from his lack of command early in the count. No matter the cause, it's not a case of Benoit losing his ability to overpower hitters with his heater.
Equally important is the fact that he's striking out batters at a good clip. His 10.4 K/9 is right up there with his career-best seasons; he's clearly maintained the stuff to put hitters away. If he can manage to get ahead more frequently he definitely has the ability to turn things around.
Last but not least, Benoit was diagnosed with shoulder soreness and inflammation, which he felt limited his ability early in the season. If those troubles are behind him he's almost surely due for a little bounce back.
So there are some issues with Benoit, but that doesn't make the trade a bad one. His big bugaboo is one that the organization might have an idea of how to fix, if Jason Grilli's recent success is to be believed. Everything else seems to be in place to make this a good value pickup. Joaquin Benoit has no doubt disappointed so far in 2016, but it's within the realm of possibility that he looks a little bit more like the quality reliever he's been in years past. As far as reclamation projects go, the Blue Jays could've done a lot worse. To get him without surrendering anything of value means the gamble is a worthwhile one.
Lead Photo: Kevin Sousa-USA TODAY Sports