It's been a crazy few months for the Blue Jays. The team was supposed to possess an otherworldly offense, but instead, for a long time, the hitters were nowhere to be found, and the Blue Jays survived on a starting rotation that finished the first half of the season with the best earned run average among American League staffs. Off the field, the contract hysteria that surrounded Jose Bautista and Edwin Encarnacion during Spring Training completely vanished as soon as real baseball started, and virtually any current mention of their expiring contracts is laughed off by everybody wanting to focus at the task at hand: winning the AL East.
A lot has happened recently. The team played a nineteen inning game, had five representatives in the all-star game, and finished the first half of the season with their best record since 1993 thanks to a seven game winning streak. Even though there have been plenty of storylines that stick out among the Blue Jays first 91 games, by nature of how much more important the next 71 are, there are sure to be plenty more. Here are a few storylines that should dominate the media coverage until October 1st.
Josh Donaldson Chases Another MVP Award
Since 1994, only one player in the American League has won back-to-back Most Valuable Player awards, Miguel Cabrera in 2012 and 2013. For Josh Donaldson to do it would be an incredible show of talent. What's more incredible is that by most measures, Donaldson is performing better in 2016 than he did a season ago. He's walking about 1.5 times more often than he was in 2015, and if that wasn't enough to further his offensive prowess, he's also striking out 1.9 percentage points less often. Combine that with an increase in his power numbers (.295 ISO in 2016 compared to .271 in 2015), and you've got a player with a TAv of .345, up .021 points from last season. If he maintains this level of production, it's hard to see Mike Trout beating him out for the award this season, given that the Blue Jays are headed for playoff competition and the Angels are scheduled to pick nice and early in the draft next year.
Marcus Stroman Tries to Keep the Ball Down
The Blue Jays de facto ace coming into 2016 has been an enigma over the first half of the season, and his performance down the stretch will likely impact if/how the Blue Jays make the playoffs. If he can pitch like he did for the last two starts before the all-star break, the Blue Jays' chances of climbing up the standings into the division lead will greatly increase. In order to do that, he'll need to keep his sinker down, something he just couldn't do for a prolonged period of time in the first half of the season. Additionally, it will be interesting to see how frequently he uses his slider down the stretch, as he went to it more often in his last three starts than he has in the past.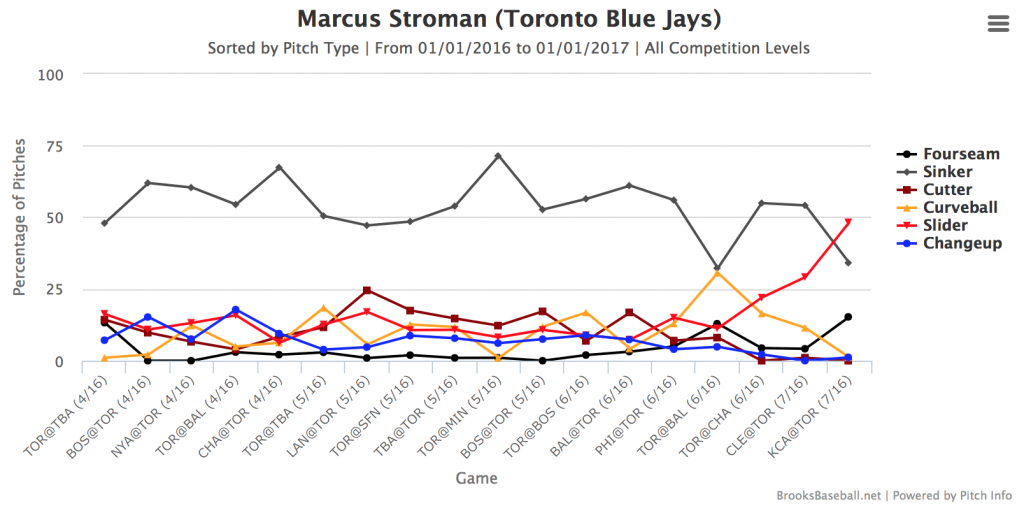 Aaron Sanchez and the Great Bullpen Debate
It's pretty amazing that, just a few short months ago, Aaron Sanchez was fighting with Gavin Floyd for a spot in the Blue Jays rotation, and this week he was pitching in the All-Star Game. However, Sanchez's success throughout the season's first half could hurt him down the stretch. He's been so good that he's racked up 118 1/3 innings already. He's rapidly approaching his career high, and the Blue Jays talked often about moving him to the bullpen at some point this season.
Luckily their tone has somewhat changed of late, making it seem like the move may not happen at all. The science on innings limits is extremely limited, and it would seem like the best move for the club in both the near and long term would be to evaluate Sanchez biomechanically. Thus meaning that they should only remove him from the rotation if he gets to a specific point in data markers that would point to fatigue. That decision needs to come from somebody smarter than you and me, but things like spin rate, velocity, and movement on pitches might be tell tale signs that Sanchez is starting to wear down. Fortunately, Sanchez has been great in 2016, which means he has avoided a lot of high-stress pitches, meaning he still may have dozens of innings left in the tank.
Trade Deadline Activity
The Blue Jays will make a move over the next two weeks. No contender with people in charge of it as intelligent as the people in charge of the Blue Jays stands pat. However, how they opt to improve the club sill remains to be seen. A lot of that will be dependant on Sanchez, as if he is staying in the rotation, the bullpen becomes the most pressing need, whereas if he is slated to move to the 'pen, another starter is needed.
A third, and more adventurous option, would be to improve the offense by acquiring somebody like Jay Bruce, who the club not only tried to acquire during Spring Training, but who has been tied to the club in recent weeks as well. An acquisition like that would allow the club to move Jose Bautista to first base when he returns from injury, and would make an already scary Blue Jays lineup even more potent. Players of Bruce's ilk, corner outfielders who can slide Bautista over to first base and are still controllable beyond this season, are probably the route the team would go if they decided to upgrade on offense.
Jose Bautista Returning From Injury
Before his injury, Bautista was putting up his worst numbers since he became the real Jose Bautista at the end of the 2009 season. Of course, as "bad" as he was, he was still batting .230/.360/.455 in 286 plate appearances. Despite the Blue Jays' offensive resurgence, it is extremely unlikely that all the big mashers remain hot for the rest of the season, and getting a vintage Bautista back to add to this lineup could take a lot of pressure off of Edwin Encarnacion, Troy Tulowitzki, and Josh Donaldson.
Bautista also has a lot riding on the last two months of this season, because, as it stands now, his value has taken a significant hit since he requested a five-year deal worth more than $150 million in the spring. A couple of months of declining performance and missing time due to injury are basically the two worst things that can happen to a pending free agent in his mid 30's. The ship may have sailed on a five year deal, but a solid end to the season could land Bautista a generous multi-year deal.
Getting Help From the Minor Leagues
The upper levels of the Blue Jays minor league system are unusually barren due to the exile of prospects that occurred at this time last year. However, that doesn't mean there aren't some players that could have an impact on the Blue Jays in the second half of the season. Chris Colabello is eligible to return from his suspension on July 23rd, and all signs point to him staying in Buffalo at that point. He's sure to be back with the club in September at the latest, but he is an option that can help the club off the bench if needed before that time. Dalton Pompey has had an injury riddled season for the Bisons, but could also come up and help the club in a pinch if needed. Another potential option, which may be a bit out there, is Rowdy Tellez, the slugging first baseman who is destroying Double-A pitching at the moment. A move to Triple-A is likely in Rowdy's near future. If that goes well, and the Blue Jays want another big bat off the bench in September, Rowdy could get the call.
On the pitching side of things, Drew Hutchison has been up and down with the big league club. Further down the system is Connor Greene, considered by many to be the Blue Jays' best prospect, sitting in Double-A New Hampshire right now. Like Tellez, it's unlikely he gets the call because he has yet to play in Triple-A , but if the need arises, he would seem to be a strong option for a prolonged starting spot in the rotation.
Lead Photo: Dan Hamilton-USA TODAY Sports