Since they say starting pitching wins championships, each time through the rotation we're going to break down each individual start to see what the pitchers did well and what they didn't, with an attempt to go a little bit deeper than just the box score. You can read all past Rotation Reviews here.
Last time through the rotation the Blue Jays starting pitchers feasted on opposition hitting (or lack thereof), posting a 1.83 ERA over 34.1 innings. That's certainly a tough performance to top. Were they able to build on their fantastic showing the prior week or were there some long faces leaving games? Let's take a look.
Marcus Stroman
Line: 7.0 IP, 8 H, 2 R, 2 ER, 2 BB, 8 K, 0 HBP, 0 HR, 66 strikes, 40 balls
Pitch mix: 1 Fourseam Fastballs, 50 Sinkers, 5 Changeups, 18 Sliders, 6 Curveballs, 26 Cutters
Coming off arguably his most dominant performance of the season against the Rays, Marcus Stroman took on a tougher Dodgers lineup in an attempt to help start a small winning streak. For much of the early parts of the season, Stroman was getting a lot of groundball outs, but wasn't really getting the strikeouts to help him reach ace level. That changed against Tampa Bay, so the Blue Jays ace hoped to continue the trend. He certainly delivered, going seven strong innings, allowing just two runs and striking out eight – one off his season high. He also generated 13 swings and misses, which is his second highest total of the year (14 against Tampa). Considering the difference in the quality of opponents (the Dodgers actually take the occasional pitch), this could have been considered an even better outing than last time.
It wasn't without its faults, however. Once again, Stroman gave up runs late, giving up both runs in the seventh inning on a two out sequence that went double, RBI double, RBI single. In five of his seven starts this season, Stroman has given up late runs that either blew a lead, or caused it to shrink considerably. Obviously a huge part of that is the fault of the struggling bullpen (either blowing leads or being simply untrustworthy) but the Blue Jays and John Gibbons have to recognize when Stroman is starting to falter earlier.
Overall though, this was still an excellent outing for the Duke University graduate. He carved through a tough lineup and had them off balance for essentially the entire game. As mentioned, he also got a lot of strikeouts for the second straight game. A big reason for this is the further increased use of his cutter. Last week's Rotation Review broke down how Stroman was using this pitch as a strong complement to his sinker. By having a pitch that breaks on the same plane as his fastball, just in the opposite direction, it makes both pitches much tougher to hit. There is, however, another factor: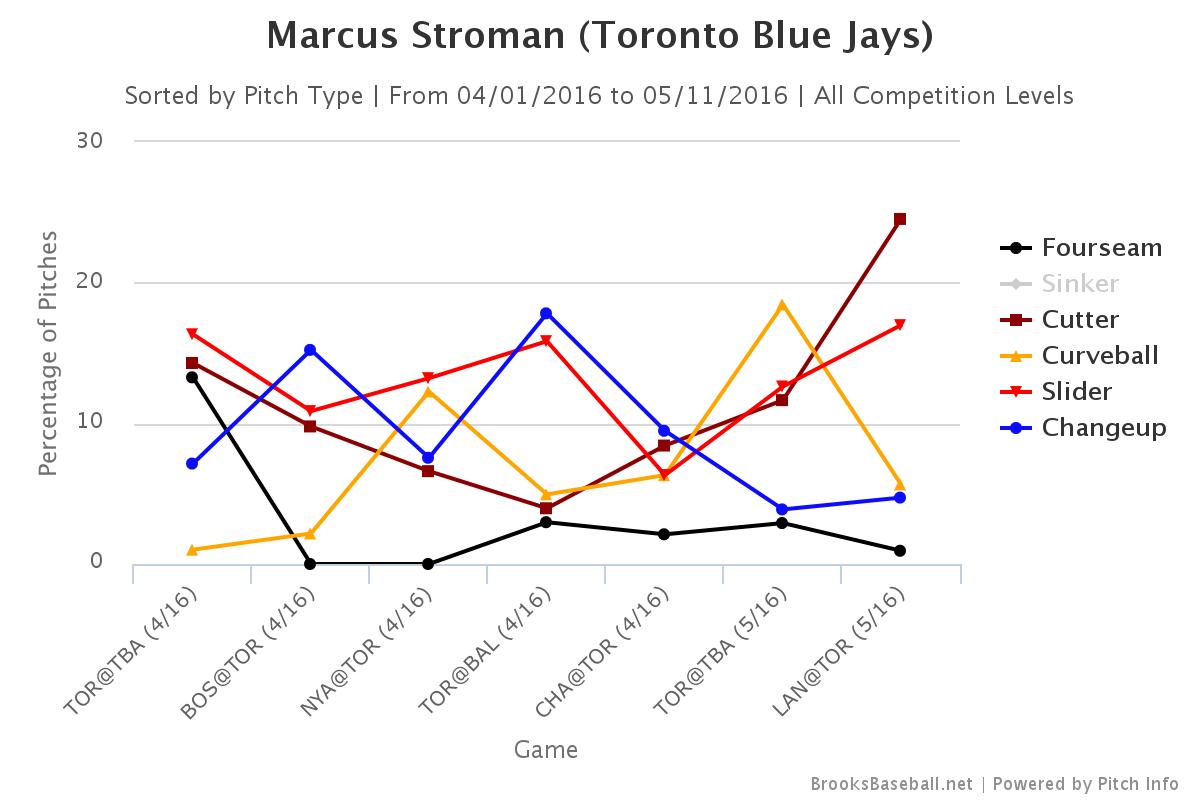 Last week, Stroman mixed cutters and curveballs. This week, he almost completely junked the curveball and went to the slider as his secondary pitch. Early in the season, he would go back and forth with the changeup, which he barely threw this time out. This is a theme that is going to show up a few times in this piece, but Stroman is altering his pitch mix every start. This makes him almost impossible to scout. If you have to worry about four or five different pitches in any count, it's pretty tough to hit.
R.A. Dickey
Line: 7.0 IP, 6 H, 4 R, 2 ER, 1 BB, 3 K, 0 HBP, 1 HR, 60 Strikes, 27 Balls
Pitch Mix: 79 Knuckleballs, 8 Twoseam Fastballs
In his last start, Dickey shut down the Texas Rangers and managed to pitch into the seventh inning for the first time this season. This was of some importance, as Dickey's main value to this team is as a man who can provide a whole bunch of innings worth of league average production. Therefore, if he's not going deep into games, he isn't all that useful. Thankfully, after a very rough April, Dickey seems to be finding his stride. He put up his longest outing of the year, and aside from one rocky inning, really held the Dodgers at bay. His issues came in the third inning, but he really didn't have help. After Dickey allowed a leadoff single, Corey Seager hit a chopper in the hole between shortstop and third base for an infield single. With two on and none out, Dickey got the groundball he needed, but Darwin Barney failed to field the ball, and instead of a double play (or at least a forceout), the bases were loaded with nobody out. Josh Thole followed with a passed ball to let in one run, then Adrian Gonzalez singled in two more. Dickey escaped without any further damage, but considering he was matched up with Clayton Kershaw, that pretty much meant the ballgame.
Overall, this was a very effective outing. Even though he struggled to get ahead of batters (59 percent first pitch strikes), Dickey threw a ton of strikes overall (69 percent). When he is commanding the knuckleball, he is tough to hit. Joc Pederson took a high floater deep, but really, the Dodgers couldn't do any real damage. Another encouraging sign was that Dickey threw his hardest knuckleball of the season, breaking 80 mph for the first time. The thing that always separated Dickey from other knuckleballers was his ability to throw the pitch hard. So far this year, that has been a problem. Thankfully, he tends to get a bit better as the season goes on: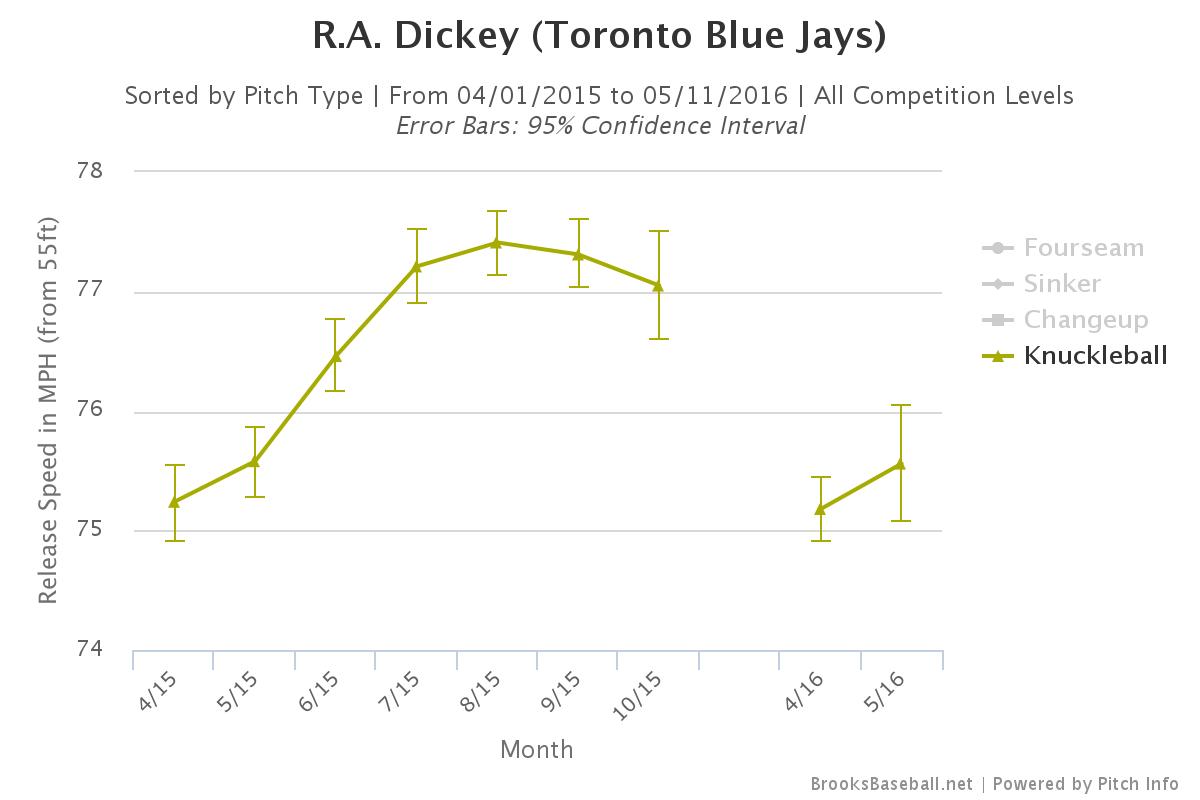 Whether it's the weather or some other external factor, R.A. Dickey really struggles to throw his best knuckleball early in the season. If he can continue to increase that velocity, starts like this one could be come the norm again, instead of the outlier.
Marco Estrada
Line: 7.0 IP, 3 H, 1 R, 1 ER, 2 BB, 8 K, 0 HBP, 1 HR, 63 strikes, 40 balls
Pitch Mix: 47 Fourseam Fastballs, 26 Changeups, 12 Curveballs, 18 Cutters
For the second straight week, Marco Estrada allowed just a solo home run while completely dominating the rest of the game. The only run he gave up was in his seventh and final inning as he left with a 2-1 lead. Of course, as has happened far too often this season, great starting pitching was ruined by a disastrous bullpen effort. But this is the Rotation Review, not the Staff Review, so we'll focus on Estrada. As has become commonplace, the 32-year-old was masterful. The Dodgers really didn't hit anything hard all night until the Pederson home run (on a hanging curveball), and Estrada mixed in eight strikeouts, which gives him three starts where has has put up more strikeouts than innings pitched. Overall his, K/9 has risen from 6.5 last year to 8.6 this year, and his K% has risen from 18.1 percent to 23.7 percent.
Even with the strikeouts, as was pointed out in this space last week, it is unusual for Estrada to dominate without any balls in play being classified as infield fly balls. But for the second straight dominant start Estrada has done just that. While there were no pop ups, he still induced his fair share of soft flyball outs. However, the vast majority of the outs were actually on the ground. Estrada put up a 64.7 percent groundball rate, which was easily his highest of the season. A big part of that is his increase used of his improved cutter, which Joshua Howsam outlined here. In this start, Estrada threw 17.5 percent cutters, which is his highest rate since his season opening dominance of the Red Sox.
Estrada was slightly more fastball heavy than previous starts this season. In a way it was somewhat odd given the left handed heavy nature of the Dodgers lineup. But by using the cutter, he was able to get in on the hitters' hands which forced them to open up the outside corner for his other offerings. As you can see from the chart below (catcher's perspective), almost all the cutters were on the inner half to lefties, and most of the fastballs and changeups were away.
As is always the case, getting ahead of hitters is also extremely important, and Estrada managed to throw first pitch strikes to 18 of 27 batters (2/3). After 0-1 counts this season, Estrada is limiting hitters to a .157/.203/.271 line and has allowed just 15 of 74 batters to reach base, so this was a big factor in his success in this game. All-in-all, Estrada has done his best to prove all the doubters wrong as he continues to show that last season's saviour act was not an aberration. If there is one thing to be somewhat concerned about, it is his rising walk rate, though if he continues his improved strikeout rate, it could be somewhat of a moot point.
Aaron Sanchez
Line: 7 IP, 3 H, 1 R, 1 ER, 5 BB, 5 K, 0 HBP, 0 HR, 57 strikes, 48 balls
Pitch Mix: 20 Fourseam Fastballs, 65 Twoseam Fastballs, 14 Changeups, 6 Curveballs
This was something of an interesting start for the young, fireballing righthander. Against the hapless San Francisco Giants, Sanchez walked five batters and managed to throw just 54.2 percent of his pitches for strikes, while also generating his fewest groundballs of the season (52.6 percent). Of course, 52.6 percent groundballs is still fantastic, and the overall line looks downright dominant. Three hits and one run in seven innings? That's elite. So overall, I don't think anybody would (or could) complain.
So how did he do it? How does someone struggle to throw strikes and still hold a team down like that? Well, it starts with what we all know of Mr. Sanchez: He has elite stuff. And in this start, the stuff was even better. As you can see from the numbers above, Aaron Sanchez threw a LOT of fastballs (either four or twoseam). What was interesting is that, while they were getting the same horizontal movement they usually do, they were both dropping considerably more.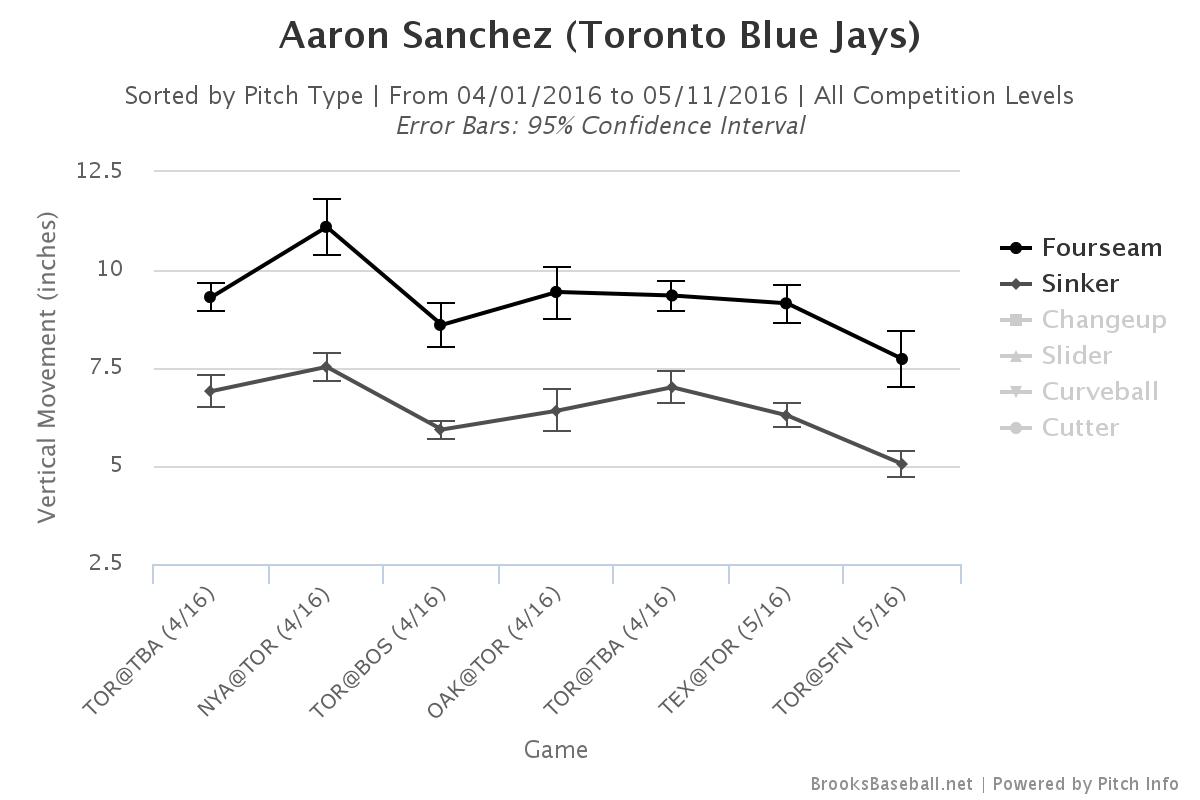 That type of increased movement, combined with the raw velocity, will lead to a lot of weak contact. Of course, it should also lead to more groundballs, and as mentioned above, Sanchez had his fewest grounders of the season. Well, the fastballs did lead to more grounders. 58.3 percent of them, in fact. However, Sanchez also threw a lot more changeups in this game, and they just kept on generating weak popups (60 percent of balls in play).
Sanchez's evolution as a pitcher has been very interesting to watch this season, as has Russell Martin's pitch-calling. Coming into the year, Sanchez was basically a two pitch pitcher. He has a big time fastball, and a power curve, but the changeup was always in question. Then last time out, he threw almost as many changeups as curveballs. In last week's Roto Review we alluded to how that adds value, then this time, he threw over two times as many changeups as curveballs. The Giants have a bunch of left-handed hitters, and the development and confident in the changeup gives Sandchez another weapon to get lefties out. It was mentioned above that the Blue Jays are making it nearly impossible to plan for their starters, and here we have another example. Not only is Sanchez getting that extra tier of velocity into hitters heads and possessing a reverse-platoon pitch, he also has teams planning for him to pitch one way and coming at them completely differently. That's how you dominate even when you can't throw strikes.
J.A. Happ
Line: 8.2 IP, 6 H, 0 R, 0 ER, 3 BB, 5 K, 0 HBP, 0 HR, 75 strikes, 36 balls.
Pitch Mix: 37 Fourseam Fastballs, 40 Twoseam Fastballs, 9 Changeups, and 16 Curveballs, 9 Cutters, .
J.A. Happ's first eight innings in this game (before tiring a bit in the ninth) were one of the brightest pitching performances from a Jays pitcher over the past few years. He was sharp from the get go, getting through the first six innings with fewer than 12 pitches per frame. He was doing this by pounding the zone, throwing 45 strikes to just 18 balls to that point. He continued his strong pitching through the seventh and eighth before some wildness, somewhat aided by Tom Hallion's tight strike zone, almost put a damper on the effort. He almost got the complete game, but John Gibbons brought in closer Roberto Osuna to shut down the late threat by the Giants and preserve the shutout.
If any start this season was going to show that Happ has maybe taken a step beyond the lasting impact from his time with Ray Searage, this was it. Happ went deep into the game, which he never did with the Pirates, and kept his velocity and mechanics through the first eight innings. He continually worked around the outside of the zone and really had his curveball working, particularly against Brandon Belt, who struggled to deal with it all game. Despite his fastball heavy approach, he continually mixed in his other pitches at times when hitters weren't expecting them and generated weak contact with 13 groundballs and 2 pop ups to go along with his five strikeouts. It may be repetitive, but once again, a Blue Jays pitcher completely changed up his pitch usage. In last week's Rotation Review, this was written about Happ:
Batters go in with a scouting report that tells them they're going to see a bunch of curves and fourseamers, so Happ throws sinkers and cutters. Then the next time out, he might throw changeups and curveballs. There has been absolutely no consistency, and that makes him tough.
It wasn't quite changeups and curveballs, but Happ dropped that cutter usage right back down to the bottom. You combine that with strike zone command, and this start is what you get.
Normally we try to leave you with a chart, or a graph that shows you what was successful. But sometimes, you just need to see it for yourself. MLB hasn't made this video embeddable yet, but you can click this link. And since we don't want you to leave empty handed, here's a teaser:
Rotation Stats for the Week
36.2 IP, 26 H, 8 R, 6 ER, 13 BB, 29 K, 0 HBP, 2 HR. 2-1, 1.47 ERA
YTD Stats
227.0 IP, 193 H, 85 R, 79 ER, 75 BB, 175 K, 5 HBP, 21 HR. 11-6, 3.13 ERA
Final Thoughts
Somehow, the Blue Jays managed to top last week's performance, throwing more innings, yet allowing fewer earned runs. For the second straight turn, there were no weak links in the rotation chain, as even the worst performance (Dickey) still provided seven innings and two earned runs. If the Jays can keep getting anything close to this level of production, they will be extremely tough to beat.
Lead Photo: Lance Iversen-USA TODAY Sports