Since they say starting pitching wins championships, each time through the rotation we're going to break down each individual start to see what the pitchers did well and what they didn't, with an attempt to go a little bit deeper than just the box score. You can read all past Rotation Reviews here.
Sadly there was no rotation review last week, as the Saturday night game messed up a few schedules, but we promise not to miss any more weeks. The last time we looked in on the Jays rotation, Aaron Sanchez had stumbled, but R.A. Dickey had finally made a decent start and J.A. Happ and Marcus Stroman continued to be strong. Let's see how things went this time.
Marcus Stroman
Line: 8.0 IP, 3 H, 1 R, 1 ER, 2 BB, 9 K, 0 HBP, 1 HR, 66 Strikes, 37 Balls
Pitch mix: 3 Fourseam Fastballs, 52 Sinkers, 4 Changeups, 13 Sliders, 19 Curveballs, 12 Cutters
Through the early parts of this season, the constant theme for Stroman starts is that he would make a lot of hitters look foolish, but he would do this not by generating swings and misses or strikeouts, but by getting a lot of weak groundballs. However, this would get him into trouble a lot in the later innings, as a ball here or there would squeek through, and he would leave the game up to the bullpen. Well…he has left seven men on base for the pen, and all seven have scored. So this time, Stroman decided to take things into his own hands. Pitching eight full innings for the second time this year (both against Tampa Bay), Stroman looked exactly like the ace we all have been hoping he would be. He ruthlessly pounded the bottom of the zone, but more importantly, he also was able to finish batters off once he got to two strikes, punching out nine hitters.
Over the course of this game, Stroman generated 14 swings and misses. His previous season high was nine, also against Tampa Bay. Part of that is simply due to the fact that the Rays tend to be more free-swinging, but the biggest reason is that those are the two games where Marcus Stroman threw the fewest sinkers of the season. In the two Tampa starts, he has thrown 47.9 percent sinkers and 50.4 percent sinkers, respectively. In his other starts, he averages over 60 percent. This is basically the Aaron Sanchez (pre-2016) problem. If your batters can just sit on the sinker, they're going to hit it, no matter how good it is. But when you start mixing in more breaking balls, and hitters must wait back, the sinker all of a sudden becomes a swing and miss pitch.
In this outing, Stroman used the curveball way more than he has at any point this season (18.5 percent, with only one other game as high as 12.3 and the rest below seven), which helped him get some early strikes, but he really used his cutter effectively once he got to two strike counts. In previous games, he threw cutters with two strikes to 4.3 percent of hitters. In this game, it was a whopping 27.3 percent. This is a pitch that Stroman should probably use more often, as it has completely opposite movement compared to his sinker. And unlike the curve and the slider, the ball doesn't drop. Instead, when hitters are expecting the pitch to dive in (or away if left-handed) or drop out of the zone, he is able to do this: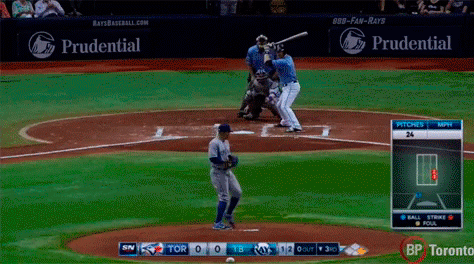 Yep. That'll play.
Hopefully Stroman continues to mix all his pitches, because he has an elite repertoire. Groundballs are nice, but sometimes you need to miss a bat or two, or fourteen.
R.A. Dickey
Line: 6.1 IP, 6 H, 1 R, 1 ER, 3 BB, 3 K, 0 HBP, 1 HR, 66 Strikes, 32 Balls
Pitch Mix: 89 Knuckleballs, 3 Twoseam Fastballs, 6 Fourseam Fastballs
Ahh, the magic of a flipped over page on a calendar. I kid of course, as May 2 is hardly different from April 28, but R.A. Dickey's April struggles are no secret. Of course, he hasn't traditionally been all that good in May either, but he certainly got off to a good start this year.  The Texas Rangers weren't coming in hot, but they are a team that still has a lot of very good hitters. It didn't matter though, as Dickey completely shut them down. They still managed a few baserunners, but for the most part they had a lot of trouble with the knuckler.
The biggest reason: Dickey was throwing strikes. For the rest of the season, R.A. Dickey has thrown strikes on 61.5 percent of his pitches. In this game 67.3 percent of his pitches went for strikes. In the early starts, he threw 52.5 percent of his pitches in the zone; in this game: 61.2. And perhaps most importantly, Dickey was getting ahead of hitters (see first pitch plot below). I've said it before, but oftentimes the biggest factor for Dickey's success is merely his ability to start guys off with a strike. When he is falling behind, batters can wait for that extremely hittable fastball. And when that happens, Dickey gets crushed. In this game he threw first pitch strikes to exactly 2/3 of the batters he faced (18/27).
It may sound way too simple to say "Dickey throws strikes therefore is Dickey good," but it's the truth of the knuckleball. Even at its worst, a knuckler is really hard to hit. So when you can throw it in the strike zone, you're going to get a lot of weak contact (his groundball rate rose slightly from 44.3 percent to 47.6 percent), and therefore a lot of easy outs.
Marco Estrada
Line: 6.0 IP, 2 H, 1 R, 1 ER, 1 BB, 3 K, 0 HBP, 1 HR, 58 strikes, 30 balls
Pitch Mix: 36 Fourseam Fastballs, 28 Changeups, 10 Curveballs, 14 Cutters
Coming off a game in which he threw 118 pitches and was constantly grabbing his shoulder, all eyes were on Estrada, looking to see how he would respond. It certainly didn't start well, as Rougned Odor hit the second pitch of the game over the fence for a home run, but that would end up being all the Rangers would get. For the next 18 outs, Estrada was absolutely masterful. He gave up just the solitary run, while also allowing only one more hit and one walk. He would leave the game after only 88 pitches, which was either a concession that he needed the rest, or out of a desire to get Jesse Chavez some work, but it was yet another gem from the man who saved the Blue Jays in 2015.
One of the interesting things about this start is that Estrada didn't generate a single infield popup. He did generate a lot of weak flyballs, but usually we see four or five of them fall in the infield. He also didn't end up with as many strikeouts, despite getting swings and misses on 14.7 percent of his pitches (league average is 10.5 percent). So on the surface, it doesn't seem like a typical Estrada good outing. But in the end he still was the same soft flyball pitcher we have come to expect, and it was all because, once again, he is working up in the zone.
It's nice to see that Martin is continuing this trend we saw from Navarro, as Estrada suggested they would. At some point soon I will be taking an overall look to see their compared usage, but so far, we definitely can't complain.
Aaron Sanchez
Line: 7 IP, 7 H, 3 R, 3 ER, 2 BB, 5 K, 0 HBP, 0 HR, 70 strikes, 31 balls
Pitch Mix: 21 Fourseam Fastballs, 50 Twoseam Fastballs, 16 Changeups, 14 Curveballs
Things certainly didn't start well for the young righthander, as he gave up six hits and three runs in the first two innings of play. At that point, it looked like we might be seeing one of those starts where Sanchez just can't get anybody out, but that wasn't the case. From innings three to seven, Sanchez was fantastic, giving up just three baserunners the rest of the way, one of whom was erased on a double play.
I said it on this week's podcast, but this was Aaron Sanchez's most impressive start of the season. He didn't dominate like he did in Boston, or get a ton of strikeouts like he did in Tampa, but he showed that he can make adjustments and get outs. Against Oakland, everything just snowballed on Sanchez, but in this one, he was able to settle down and beat a team loaded with left-handed hitters. He pounded the zone (69.1 percent strikes. How often do we get to say that?!) and generated a ton of groundballs (63.6 percent of his pitches), giving the Blue Jays time to get back into the game. This is what good pitchers do.
One of the most interesting things about this start is the pitch mix. For much of his major league career, Sanchez has been very much a two pitch pitcher. He had a good curve, which he threw sparingly in relief, and he almost never threw his changeup. Take a look at the totals. Aaron Sanchez threw sixteen changeups in this game. This is hugely important for two reasons. The first, and most obvious, is that it gives him a weapon against lefties, as the changeup is a reverse-platoon split pitch. The second, and perhaps more important reason is that it allows Sanchez to pitch in three velocity tiers. His fastball is usually in the upper 90s, and his curveball sits in the upper 70s, but the changeup comes in right in the middle, sitting at about 88 mph.
By forcing hitters to focus on three speeds coming out of the pitcher's hand as opposed to two, even poor fastballs can generate easy outs, and Aaron Sanchez's fastball is anything but poor. The development of the changeup also allows him to get outs without his best fastball, which is something he didn't have against Oakland. This is a trend to watch, as it could really push Aaron Sanchez further up the developmental ladder.
J.A. Happ
Line: 7.0 IP, 6 H, 1 R, 1 ER, 1 BB, 5K, 0 HBP, 0 HR, 59 strikes, 31 balls.
Pitch Mix: 29 Fourseam Fastballs, 36 Sinkers, 13 Cutters, 5 Changeups, and 7 Curveballs.
It's almost getting silly at this point.
Showing that Pittsburgh is no fluke (despite a vastly different approach), J.A. Happ just keeps putting up dominant outing after dominant outing. This time out, his victim was the Texas Rangers, who had all kinds of trouble with the tall lefty. Happ actually gave up a run in the top of the first inning, but it only scored as a result of a broken bat single and a wild pitch. The Rangers just couldn't square up anything Happ was throwing, and the game turned into a laugher (the Blue Jays won 12-2).
This game was particularly interesting, as for the first time all year, Happ threw more sinkers than fourseam fastballs. This was a man who threw almost exclusively fourseamers with Pittsburgh, and now puts up an elite start where he throws just 32 percent of them. He also threw far fewer offspeed pitches in this game, relying on the cutter (slutter) to generate outs off his fastball instead of the curve and change.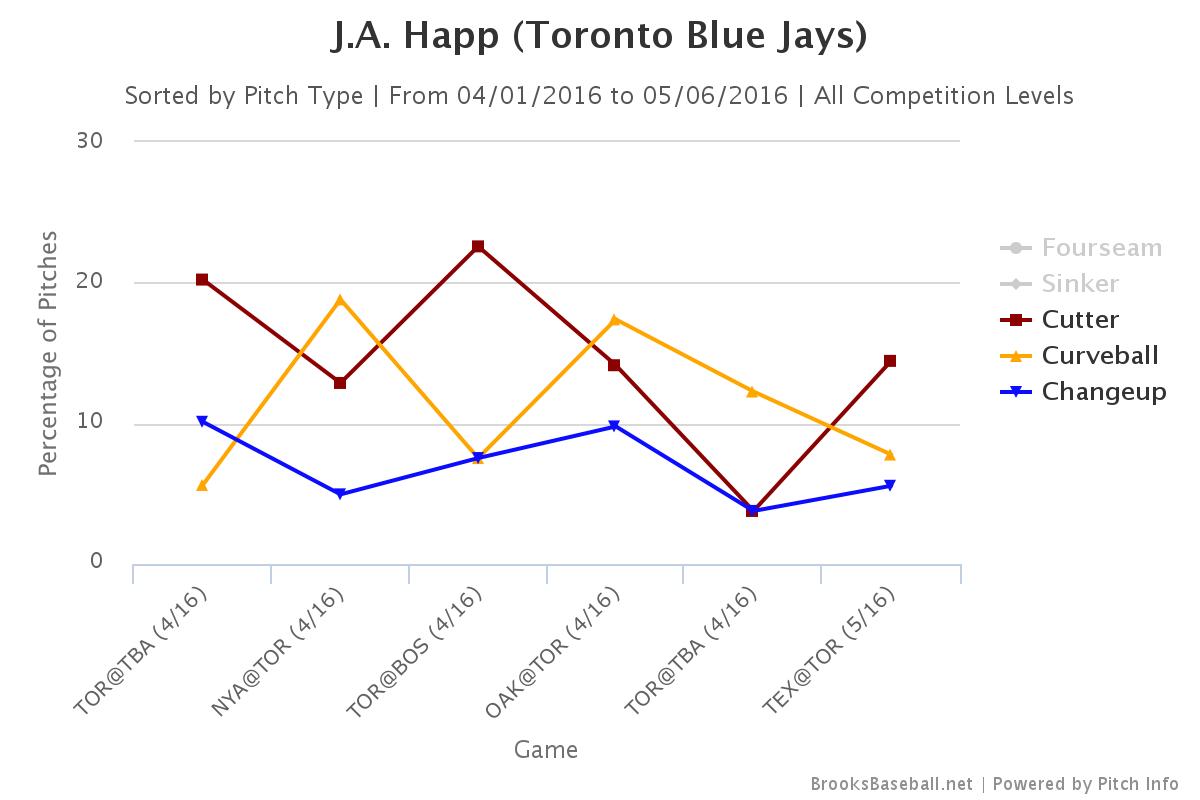 If anything, it is this variability in his pitch usage that could be what makes Happ so tough to hit. Batters go in with a scouting report that tells them they're going to see a bunch of curves and fourseamers, so Happ throws sinkers and cutters. Then the next time out, he might throw changeups and curveballs. There has been absolutely no consistency, and that makes him tough.
Rotation Stats for the Week
34.1 IP, 24 H, 7 R, 7 ER, 9 BB, 25 K, 0 HBP, 3 HR. 2-0, 1.83 ERA
YTD Stats
190.1 IP, 167 H, 77 R, 73 ER, 62 BB, 145 K, 5 HBP, 19 HR. 9-5, 3.45 ERA
Final Thoughts
I almost felt sorry for opposing batters this week. Almost. The starting rotation continues to be an incredible strength for the Jays, and this was probably their best week yet. They averaged just under seven innings per start (and could have been over if Estrada or Happ had been allowed to continue, as they easily could have), and put up a 1.83 ERA. They were only 2-0 because of some awful Blue Jays hitting (Thursday's game notwithstanding), but if they keep doing this, the Jays will be VERY  tough to stop.
Lead Photo: Dan Hamilton-USA TODAY Sports
All pitch charts courtesy of Brooks Baseball