TORONTO — A moment that has been imagined since early February 2016 was finally realized last night at the Rogers Centre. What started with two brothers, who were both top players from the most famous baseball family in Cuba, defecting to the United States, to yesterday living their life long dream of both playing on the same field in the major leagues.
"I am very proud to be here with my little brother," said the former Cuban national baseball champion. "It is a dream come true, something that is amazing, and I am very proud of him and us being together."
"I feel proud to be here and have an older brother to do the same as you and follow him," said the player who was considered the top Cuban prospect prior to his defection. "Knowing that it is something to look forward when we were younger is somewhat amazing."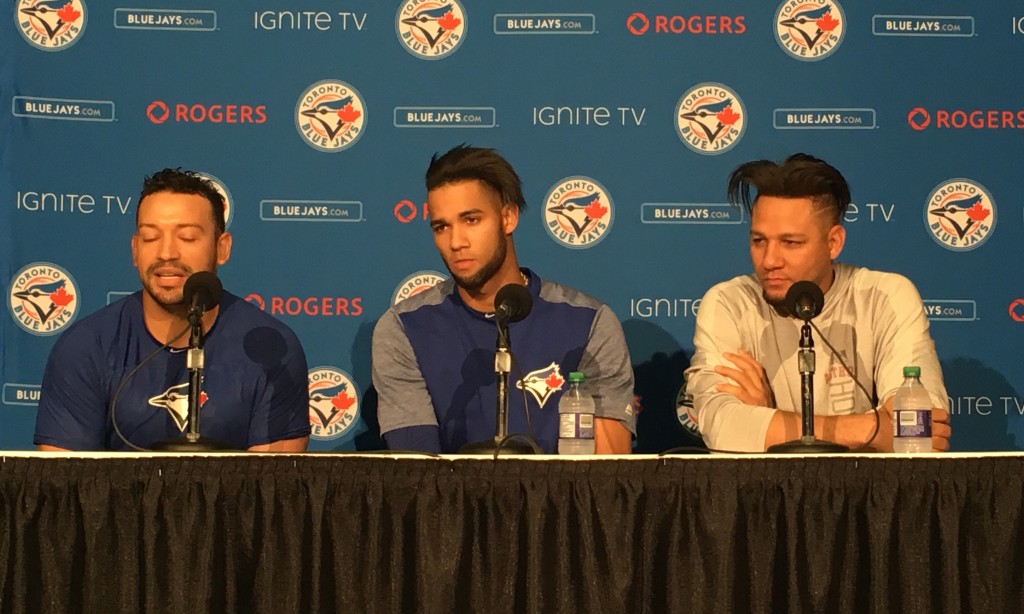 The Gurriel brothers, Yuli and Lourdes, are as much known for their success on the field as they are their hairstyle.  When asked about their hair, Yuli replied with "One morning I got up and my hair was like that and people started liking it. His (Lourdes) hair grew out and he started doing it too. Now his hair is better than mine"
That gave the public a glimpse into the type of relationship between both baseball brothers. The young brother who looks up to the older sibling, the humour they share, and hints of their friendly competition.
When asked the question "how is it going to be on the field?" They both made it very clear they may be brothers, but they want to win. "We are pretty close as brothers, but whenever the game starts between the lines I am trying to be better than him and beat him," said Yuli.
Lourdes added that "we have always been very competitive with each other, not just on the field but off the field.  We have always been competitive with video games every time off the field.  I don't think it is going to change."
They may compete on the field, but two of their biggest supporters don't care who ultimately wins or loses. "It is difficult for them to cheer for one team or another," said Lourdes about their parents. "But I think they are going to cheer for the people we are, the players before the team."
"I can be honest, I am proud he is here. I just don't believe it." – Yuli Gurriel on Lourdes Gurriel Jr.
To commemorate both of her sons being in the majors, their mother created a special jersey. One that is half Houston Astros and half Toronto Blue Jays. Their father, Lourdes Gurriel Sr., who played for the Cuban national team and won a gold medal, two batting titles, and an MVP Award in Cuba, is extremely proud of his two sons. "Our dad is very proud, knowing that he was our idol and we can look up to him," said the Astros' Gurriel. "To see what we have accomplished so far is very nice and he is very proud of us."
Being in the shadow of their father's greatness has not always been easy for the brothers, though. "Dad is a legend, so everybody expected us to be just like him or close to him," said Lourdes. Yuli added that it has been tougher for his younger brother: "It has been harder for Lourdes because he didn't only have my dad he had his older brother (to follow in their footsteps)."
The elder Gurriel, 34, signed with the Astros in July 2016 and quickly made his ascension to the major leagues. He was fourth in Rookie of the Year voting last season, in which he helped the Houston Astros to their franchise's first World Series. He can play all over the field and has a career OPS+ of 112.
He has a 2018 slash line of .289/.323/.431 which is comparable to his younger brother's .281/.309/.446. When asked what he saw in Lourdes when he was a young boy, Yuli described how his younger brother would travel with his team at a very young age. It is there that he could see his brother had natural ability. Said Yuli: "I knew with his strength, speed and defence. Everything he was doing when he was younger I knew it then that he was going to succeed and do what he accomplished so far."
The proud older brother has made it a point to follow closely the early career of his 24-year-old younger brother. "I have been following a lot and after every game I watch every single at bat," said the third year Astro. "Make sure that I follow everything that he does. I can be honest, I am proud he is here. I just don't believe it. That he is here in the big leagues and how fast he made the big leagues."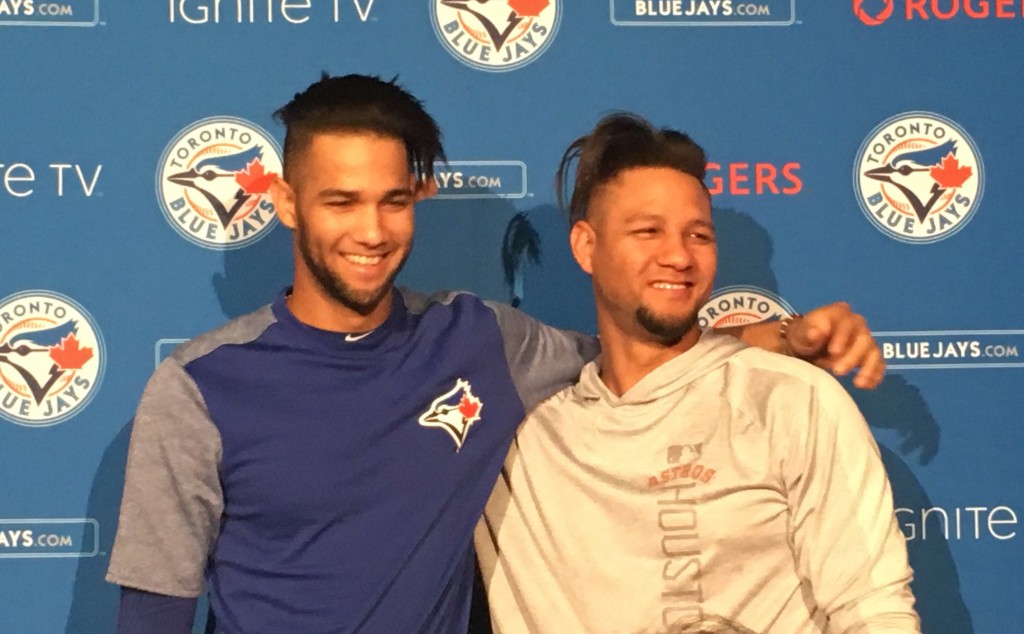 As Blue Jays manager, John Gibbons, commented about Gurriel Jr prior to the game on Monday: "He is a great kid and a good player. A first-class kid, very respectful and a special." Lourdes credits his older brother and father for influencing who Lourdes is and wants to be.
"I was fortunate to look at him, my older brother, and dad and see how they went about their business both on and off the field. How disciplined and respectful they were with everybody," said Gurriel Jr.
Earlier in the week they made history by homering twice in the same day. On Monday they hoped to great more exciting moments on the same field together. However, things don't always end up the way you would like. Lourdes Gurriel Jr., after grounding into a double play in the first inning, suffered left hamstring tightness and needed to be removed from  the game.
The injury that made the night anti-climatic for the fans, but for both brothers Monday was a dream come true.
Lead Photo – Kim Klement-USA TODAY Sports