Trading for Yangervis Solarte prior to this season made a ton of sense for the Blue Jays. After a 2017 campaign that saw far too many plate appearances from Darwin Barney and Ryan Goins, solid infield depth was a priority, and acquiring Solarte addressed that priority. With the injury-prone Troy Tulowitzki and Devon Travis occupying starting spots, there would always be a need for at-bats from the middle infield depth, with the dependably durable Josh Donaldson making the majority of appearances at third.
The Jays' best-laid plans went awry quickly, however, with both Donaldson and Travis spending time hurt, and Tulowitzki seeming to be forever on the mend. But this situation wasn't supposed to be too much of a problem, either — Solarte had essentially played as a regular throughout his career, and, in tandem with Aledmys Diaz, should have been able to hold the line capably until the Jays' regulars were back on the field. At which point he could drift back into a super-utility role, able to fill several positions capably if one of the starters needed a break.
Plan B started off well enough: Solarte was a bright spot to start the season, quickly earning regular at-bats and smashing seven home runs before the end of the Jays' misleadingly successful April. His cheerful attitude won over fans quickly. On a team looking for any sources of power in the lineup they could find, it seemed like Solarte could be one of those sources, and perhaps on even more than a temporary basis.
But hot starts from Solarte aren't unusual. Consider his career splits by month: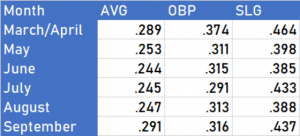 There's an easy narrative here: Solarte starts hot every year, gets more playing time because he's hitting well, perhaps gets figured out as the league adjusts. Brooks Baseball seems to agree. It has Solarte as being very aggressive, which plays well against pitchers who might be challenging him the first time around, but grows less effective as a strategy as pitchers adjust and face him again.
That's not to blame the Jays for continuing to play Solarte regularly through June and July, though, even as his numbers went into the nose-dive that his career has established as a pattern. Even though this pattern is evident, Solarte has never had fewer than 443 plate appearances in a season as a major leaguer. Toronto probably wasn't the first team planning on using Solarte primarily as a backup, only to have him emerge as the sole survivor of a wave of injuries and ineffectiveness.
And in 2018, as more and more players hit the disabled list, there simply weren't any better options for the Jays. The injury situation got so dire that their starting catcher was playing games at shortstop. Even if that starting catcher is Russell Martin, who is as athletic as they come behind the plate, that's an embarrassing situation for a major league team.
Now, with newcomer Brandon Drury already heading to the disabled list, Solarte will continue to get penciled into the lineup regularly as the Jays play out the season. With several years of consistent big-league playing time already under his belt, there'll probably be nothing new to see in Solarte's performance down the stretch. He'll have his usual slight bounce-back in September, as rosters expand and new pitchers come to see the aggressive, dancing infielder for the first time.
With the trade deadline come and gone, the Jays may keep Solarte around as a depth piece, which is fine. Even with his hot starts and mid-season swoons, Solarte is a perfectly capable bridge player on a rebuilding team, able to competently play a position until some new hot prospect arrives. He's also the kind of player that other teams might find useful for a playoff push, as a switch-hitting, defensively versatile infielder with some power. So he could get moved in the offseason, or perhaps stay as the Jays shuffle the deck around him and plan for the next great team.
Either way, the Jays are probably happy with what they got from Solarte this season. A potential career high in home runs might be offset by a current career low in OPS, but they know it's not his fault. At this point in his career, Solarte has established what he is, and the management can't possibly blame him for a lot of their starting infielders missing significant time. Hopefully the team can continue to build infield depth around Solarte to take advantage of what he does well, while not giving teams time to figure him out.
Lead Photo © Gerry Angus – USA Today Sports