Video Produced, Edited, and Directed by Sean Addis
The Toronto Blue Jays had a successful weekend on the field sweeping the last place Baltimore Orioles, but what happened off the field on Friday had the greatest impact.
Friday night the Rogers Centre was draped with rainbow colours on everything from the concourse, Jays shop, electronic score boards and even down to the rainbow coloured Blue Jay logos on the bases and spray painted onto the pitchers mound. Since 1978, these colours have come to most commonly represent a symbol of LBGTQ+ Pride. As June has been declared Pride Month throughout North America, the Toronto Blue Jays helped to successfully kick start the month of celebrations.
#PrideNight is off and running! Come take part in a bunch of activities at the WestJet Flight Deck throughout the game! pic.twitter.com/yXDfCjxl2i

— Toronto Blue Jays (@BlueJays) June 8, 2018
Marnie Starkman, Vice President of Marketing & Events for the Toronto Blue Jays said in a statement to the media that "the inspiration to host Pride Night this season came directly from our fans' feedback, conversations with LGBTQ community groups and members, and the team's desire to offer an inclusive and welcoming experience to all Blue Jays fans."
I had the chance to speak with Jillian Svensson, Vice President, Business Development and Operations at You Can Play Project. "The return of the Blue Jays first annual Pride night is a historic moment for the Canadian sports landscape," said Svensson. The organization is dedicated to ensuring equality, respect and safety for all athletes, without regard to sexual orientation and/or gender identity. She took part in pre-game ceremony and was presented with a donation from the Toronto Blue Jays on behalf of You Can Play.
The pre-game ceremonies also included 65 LGBTQ community members, who carried a large rainbow flag on the field, as well as the city's gay men's chorus Forte that performed the national anthems.
At the @BlueJays game celebrating Pride Night. Appreciate how they are celebrating inclusion in our wonderful diverse city. #BlueJays pic.twitter.com/rkbOjENg7D

— April Whitzman (@Alleycat17) June 8, 2018
Also prior to the game, a trio of You Can Play ambassadors threw out the ceremonial first pitch. This included former Olympic rower Marnie McBean, retired former NWHL hockey player Harrison Browne (one of the first openly transgender athletes in professional sport), and Clarkson Cup Champion Jessica Platt (the first transgender woman to play in the Canadian Women's Hockey League). One of the Blue Jays to take part in the ceremonial first pitch was Kevin Pillar.
Thanks for having us!! @BlueJays #YouCanPlay #PrideNight pic.twitter.com/3AyDGQ12ep

— Harrison Browne (@Hbrowne24) June 8, 2018
It has been well documented that last season Pillar was suspended for directing an inappropriate homophobic slur at Atlanta Brave pitcher, Jason Motte, during game action. It is that incident that some have said may have also been a catalyst for the long awaited Pride Night to return. If so, it shouldn't diminish the intentions or genuineness of the event. When a wrong is committed it is the actions that follow that are the most important and powerful.
Also, over the past year Kevin Pillar has been working toward atonement for his mistake. He has taken ownership of his words and donated and engaged with various LBGTQ+ organizations. The byproduct of all these interactions has helped to improve awareness and open a dialogue of better understanding and acceptance.
"You eventually can get to the point where we know we are not the same but we can still enjoy watching the game together which is ultimately the big thing we want to do." – Curtis Granderson
Shi Davidi of Sportsnet, after a sit down interview with Pillar, wrote about how the Blue Jay outfielder was profoundly impacted by a meeting with LGBTQ+ youth and their parents last July. In this meeting Pillar heard the challenges the youth have faced in both accepting themselves and gaining the acceptance of others.
"Just the fear of how they're going to be accepted by their own family, their own friends. Then you throw in society on top of that, and what they continue to go through was eye-opening." – Kevin Pillar in his interview with Shi Davidi.
Kevin Pillar's efforts to making amends have been noted and appreciated by many Blue Jays fans and members in the LBGTQ+ community. He still remains a fan favourite and has developed into a leader in the clubhouse.
Good to see #BlueJays finally celebrating #PrideNight – and doing in style. Smart having @KPILLAR4 take part in opening pitch ceremony. #LetsGoBlueJays pic.twitter.com/0RY6CPPo8k

— Cheryl Fullerton (@CherylFull) June 8, 2018
On Pride Night, Kevin Pillar catches the final out of the first inning and tosses the ball to a fan in the rainbow-festooned party deck in centre field. Good stuff.

— Ian Harrison (@iananywhere) June 8, 2018
I was able to catch up to Toronto outfielder Curtis Granderson, who is playing in his 15th season in the majors, prior to the Pride Night game. He spoke about the importance of how these events help to create awareness and foster understanding and dialogue.
"The more times it is brought up to somebody and important conversations happen, they obviously do become more aware," said Granderson. "It may have been something they chose to ignore or it wasn't around them. There are certain people that come from different walks of life and you can not assume they were exposed to certain things you were. We cannot assume they know until you mention it to them and then awareness is born."
Granderson went on further to discuss that we need to remember that not everyone who comes to the ballpark is the same, but it is important that everyone feels included and represented.
"I think that the fact that you start having those different nights and having those conversations," he said. "You eventually can get to the point where we know we are not the same but we can still enjoy watching the game together which is ultimately the big thing we want to do."
The crowd of just over 28,000 people were energetic and loud from the start of the pre-game ceremonies to the final out. Some of that had to do with the play on the field, but a lot of that energy game from the "pride" and feeling of acceptance from the many LBGTQ+ fans that attended the game.
Longtime Blue Jays fan Ryan Pike, shared his thoughts after the game on the importance of a Pride Night. "In the past, many sports venues have felt like unwelcoming places for LGBTQ+ people. The Pride game is significant because it lets baseball fans in the LGBTQ community know that we are welcome in these spaces without feeling that we have to hide who we are in order to participate."
He went on further elaborate being able to enjoy the game with loved ones, without fear of harassment or prejudice was comforting. "It is something that everyone should be able to expect – this is a step in the right direction."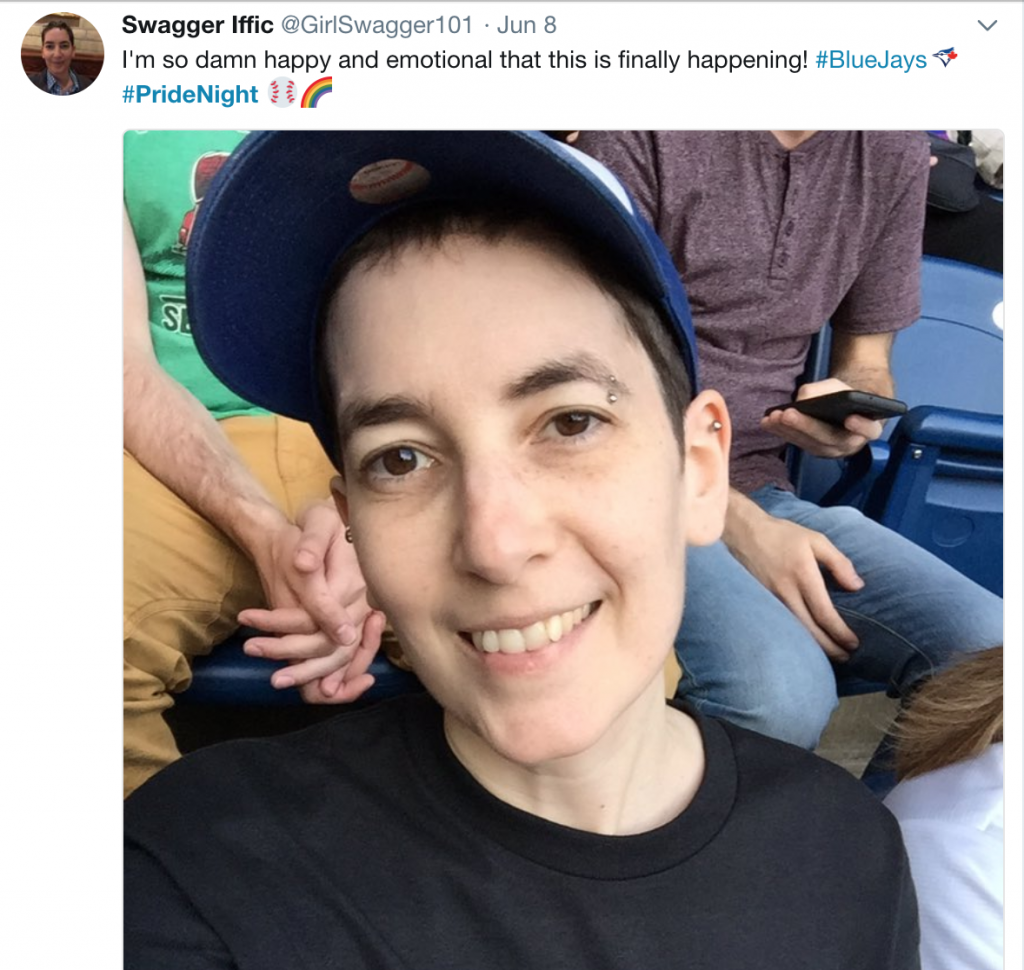 Sport has the power to unite people unlike any other platform in society. It brings diverse people together with one common interest, the team or sport they are cheering for or an instinctive desire and powerful pull to be part of something bigger.
Toronto second baseman, Devon Travis, also spoke about how sports intrinsically unites us all. "[Pride Night] is a good night for everybody to understand that no matter what our orientation is we are all one…and that is the beauty of sports."
So what are the next steps?
Sportsnet's Arash Madani discussed that in an interview with MLB's "Ambassador for Inclusion" Billy Bean (a former major league player who came out after his playing career) prior to Pride Night. In that interview Bean talked about the culture getting better but not being perfect. That there is a growing awareness that there is a possibility a teammate could be gay. However, he went on to say the next stage is when a player is able to talk about it and it not be considered a big deal by anyone.
For his part, Travis believes he is at that stage. "To be honest it is something I don't have to think of. I feel everyone has a place and it has no impact on how I feel about anybody."
For the Blue Jays this is just the beginning of a long term process. Svensson shared the developed partnership between the Jays Care Foundation and You Can Play. "Our partnership with the Jays Care Foundation will see You Can Play's LGBTQ inclusive resources and training impacting over 28,000 children and youth in Jays Care programs across the country. The Blue Jays are Canada's team and they are showing that regardless of sexual orientation and/or gender identity, if you can play, you can play."
The June 8th Pride Night event with numerous onsite activities, decorated in pride colours, well organized pre-game ceremonies and a well received giveaway will be remembered more for the intangibles. The feelings of inclusion, pride and appreciation of our differences was prevalent throughout the ballpark.
The Blue Jays swept the Baltimore Orioles and smacked nine balls over the fence, but the biggest hit by far over the four game series was Friday night's off field home run….Pride Night.
Lead Photo © Dan Hamilton-USA TODAY Sports