What happens when a confident closer loses his fastball?
Through three seasons, Roberto Osuna has become a star closing out games for the Toronto Blue Jays. The now 23-year-old right hander has brought stability to a volatile world of bullpens. The 2015 season doesn't seem like it was that long ago, but from the time Osuna made his major league debut in the Bronx to now, when he's the team's unquestioned closer, only two other members of that original bullpen remain: Aaron Loup and Aaron Sanchez.
Osuna's ability to come out of the 'pen and throw gas in the mid-to-high 90s with precision is the reason why he's one of the elite closers in the league. From 2015-2017, Osuna's 6.15 K/BB put him in some pretty elite company, ranking him third among all relievers behind only Kenley Jansen and Andrew Miller.
Then, last year, something weird happened in June: Osuna lost velocity on his fastball, making him back off the heater that he had a ton of success with and opting to mix in a cutter that he hadn't really used that much. Whether it was aches and pains or the anxiety trouble he was dealing with around that time, Osuna really shied away from his fourseamer. The fastball, once maxing out at 98MPH range, only topped out at 95 on good days, so he leaned on the cutter more, pretty much using the fastball as his third pitch.
But as time went on, his slider – a devastating secondary pitch to put batters away – became a casualty thanks to the lost velocity. The whiff rate on his slider in his first two seasons was at 25.8%. Midway through June, it was at 36.7% as he collected 19 of his 34 strikeouts with it. Obviously these are arbitrary end points, but look at how his slider lost effectiveness over the course of just over a month.

There's no question that with his putaway pitch not getting the results he's accustomed to – and his fastball not having the life it did earlier in the season – Osuna struggled mightily. While he did continue to strike out hitters, he also gave up a lot of runs. Over that 17.2 inning sample from the end of July to early September, Osuna's ERA was 7.64. Those 15 earned runs allowed over 18 appearances were over half his season total of 24. Thankfully, Osuna regained his velocity and didn't allow a single baserunner for his last five appearances of the season.
This signaled the end of the cutter experiment. Osuna didn't pitch for nine days and then came back throwing in the mid 90s again, topping out at 97, something he hadn't done since June.
In 2018, Osuna has gone back to using his trusted fastball often, throwing it just over 57% of the time on the young season. Unfortunately for the Blue Jays, Osuna's slider isn't getting the swings and misses we're used to seeing. Coming into today, the closer known for ninth inning punchouts only has a K/9 of just 7.5.
Which leads me to the thing that we've probably all been missing: in March of last year, Kyle Matte warned against Osuna keeping the cutter in his repertoire, mostly due to the fact that he already had a pitch with the same movement profile in the slider. Don't get me wrong, Roberto Osuna is still a great reliever in the major leagues, but I fear that with both, he'll continue to see these results, especially with the slider.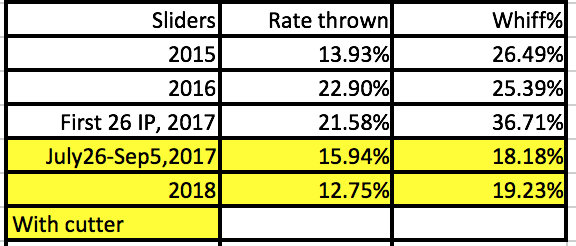 What initially started as a red flag because a top-tier closer lost velocity turned into a red flag because his putout pitch looks like it's been rendered almost ineffective. Thankfully for the Blue Jays and Roberto Osuna, the solution is simple: drop the cutter.
Lead Photo © Jasen Vinlove-USA TODAY Sports