The Toronto Blue Jays brought in Randal Grichuk from the St. Louis Cardinals this past offseason in exchange for pitchers Dominic Leone and Conner Greene. This was the second time the Blue Jays and Cardinals hooked up for a trade this winter, also acquiring Aledmys Diaz, who, in the absence of Troy Tulowitzki, is now their primary shortstop. Grichuk was thought to solidify the defense right field, and to represent a vast improvement over last season's incarnation of Jose Bautista. It's been a nightmare start for Grichuk offensively, however, and with kids like Teoscar Hernandez opening eyes, Grichuk is quickly becoming unplayable.
Grichuk is slashing .085/.203/.220 with a wRC+ of 20. He has hit only two home runs and driven in only seven runners (two of whom were himself). As to be expected with Grichuk, there has been a ton of swing and miss: His strikeout rate of 34.8 percent ranks 20th in baseball. Despite this, through Grichuk's 69 plate appearances he's shown a significant improvement in his other greatest weakness: taking walks. With a 10.1 percent walk rate, he's actually been walking more than the league average hitter. We'll see if that continues, but he definitely needs to start getting more hits as well.
Opposing pitchers may have picked up on a way to pitch to Grichuk to prevent him from getting his arms extended and tapping into that raw power. Here is the breakdown of pitches thrown against Grichuk when he is behind in counts: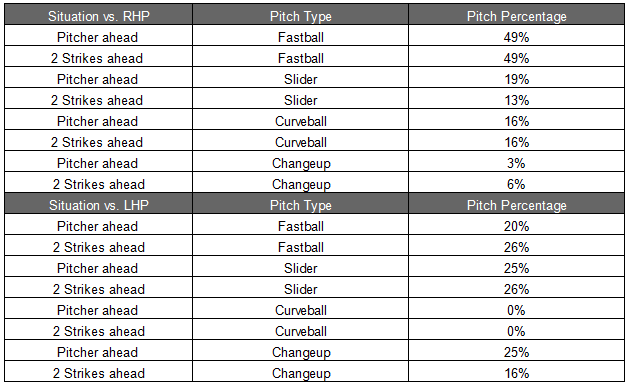 The fact that there is almost no difference in pitch selection with two strikes shows that pitchers are trying to exploit holes in Grichuk's swing as soon as they get ahead in the count. This follows when looking at Grichuk's past issues. Last year, Grichuk saw 247 fastballs from righties in the upper third of the zone or higher. He swung at 141 of them, and only put 13 of them in play — the rest were either whiffs or fouls, almost perfectly evenly distributed. As you can see, righties are continuing to exploit that. It certainly seems that with Grichuk's crouched stance, it's easy for right handers to get him up and in with a fastball.
Lefties, in contrast, typically throw more off-speed to Grichuk. Against 340 sliders thrown in 2017, Grichuk hit a measly .177. He didn't fare much better against the changeup, with a .214 average against 131 pitches thrown. He struggles mightily against off-speed pitches, and hits hard stuff well when he connects. With a smaller margin for error to get a fastball up and in (the natural movement takes it away from the hitter), lefties are choosing to put Grichuk away with off-speed stuff.
All of that said, and amidst all Grichuk's problems this year, there is one reason for optimism: He hits the ball really hard when he connects. In fact, his barrels per plate appearance is ninth in all of baseball at 13.0 percent. That's right behind some heavy hitters in J.D. Martinez, Mookie Betts, Joey Gallo, Xander Bogaerts, and Javy Baez. He's also hanging around some of the best power hitters in baseball in exit velocity, average distance, and hard-hit percentage. When he's connecting, he's hitting the ball hard.
Grichuk has also been at the wrong end of rotten luck on some of those well-struck balls. Here's a few examples with the hit probabilities listed at the end:
March 29th vs. Luis Severino – 103.6 MPH, 373 feet, 41.5 percent
March 30th vs. Masahiro Tanaka – 99.7 MPH, 353 feet, 27.5 percent
April 3rd. Vs. Gregory Infante – 107.1 MPH, 368 feet, 45.0 percent
April 6th vs. Jesse Chavez – 105.9 MPH, 396 feet, 81.8 percent
April 7th vs. Mike Minor – 103.4 MPH, 373 feet, 59.5 percent
April 8th vs. Cole Hamels – 106.8 MPH, 353 feet, 49.7 percent
April 17th vs. Eric Skoglund – 104.9 MPH, 391 feet, 88.1 percent
All of those balls were extremely well hit and went for long fly balls to the warning track. As you can see, with those hit probabilities, Grichuk has run into some poor fortune on balls in play. A few feet more on a lot of those, or even just a bit more pull towards left field, and there are a lot more than just two home runs for Grichuk in 2018.
Eventually those will start to fall, which will make Grichuk's numbers look a lot better. But Grichuk can also help himself by getting into more favourable counts, where he will see some hard stuff out over the plate. In particular, laying off of off-speed pitches outside the strike zone would go a long way towards reaching that goal. While that has plagued him for his whole career, he is chasing only 31.7 percent of the time this year, an improvement on his career rate of 38.2 percent. That should mean more pitches to hit. And then once the timing comes for Grichuk, we should see a rise in extra base hits.
Unfortunately, that timing is looking harder to come by. It has not been a pretty start for Grichuk, and with the Blue Jays' current roster jam, he has left John Gibbons no choice other than having him ride the pine more often than not while others are performing. Given his struggles, it's a real shame that Grichuk has no more options left to be able to go down to the Buffalo Bisons without having to be exposed to waivers. He'd get claimed in a heartbeat as he's only 26 and there is a ton of talent there.
Given the bad luck and increased patience, though, there is stillreason for optimism amidst all of Grichuk's struggles, and that should be enough to let him try and hit out of his funk. If a few of those balls start to fall, that may be all Randal Grichuk needs to show us all why the team wanted him in the first place.
Lead Photo © Gerry Angus-USA TODAY Sports