It's cold out where I live, and the large plains of white snow outside my window are about as far away from green infield grass as you can get. I keep opening tabs on my browser with the promise that spring training is only days away. At this point, especially in this glacially slow-moving offseason (with apologies to all the Jays Bruce fans out there), many folks are looking forward to try and divine what 2018 might bring. I, for one, agree with Yoda when it comes to trying to predict the next season: "Difficult to see. Always in motion is the future.."
So instead, I choose to look back. Although the 2017 season did not end as planned for our blue birds, there were still some standout moments. The fields were green, the air was warm, and the sun was bright.
Now, although a player's ability to be good "in the clutch" varies from year to year, there are definitely clutch situations in many games throughout the 162-game schedule, and on any given night, any player can be the one to come through. We have a fairly straightforward way to measure how much of a difference a particular plate appearance had on the outcome of a game. It's called Win Probability Added, or WPA, and if you click the link, it explains what percentage of a team's win belongs to a particular player or plate appearance. Let's look at the three most dramatic performances in terms of WPA in 2017, arguably the most exciting performances of the year.
Third place: Kendrys Morales, July 27th – WPA: .538
Any WPA over .50 is impressive, since a team begins a game with about a 50 percent chance of winning. You might say, then, that Morales' contributions alone were enough to win the game. That's an oversimplification, though, so let's dive in and see what exactly Morales accomplished to move the needle on this 8—4 Jays win. After each play, I will list the WPA changed by the result of each of his plate appearances.
In the bottom of the first, he struck out (-.03 WPA). Then, in the bottom of the fifth, he led off the inning with a first-pitch home run (.13 WPA) that cut Oakland's lead to 3-2. In the bottom of the sixth, he grounded out (-0.04 WPA).
Morales returned to the plate in the ninth inning, facing Blake Treinen, the Jays in a 4—3 hole. The at-bat unfolded as follows: Morales swung through a 97-mph sinker, laid off a 98-mph sinker outside, and took a changeup low. Now behind in the count, Treinen thought he had the answer for Kendrys, rearing back for a little extra and delivering a 99-mph sinker to almost the same location as his first pitch.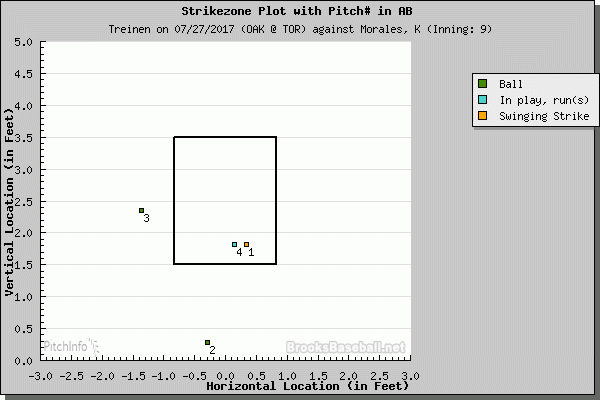 It was, from Treinen's perspective, the wrong answer.
That's a game tying home run in the bottom of the ninth, increasing the Jay's odds of winning by .43 WPA!
And here's why baseball is so much fun: If I asked you about this game you would probably only remember the last play of the game, when Steve Pearce hit a grand slam to seal the 8—4 victory. That play was 34 percent of a win—not quite as large an impact as when Morales kept the game alive one inning earlier.
Second Place: Kendrys Morales, May 5th – WPA: .715
Yes, it's Morales doing the heavy lifting once again, this time versus the Rays on the road in Tampa Bay. Here's how his game went: a strikeout in the second (-.02 WPA) and a double in the fifth (.06), then a two-run home run (.26) in the seventh, driving in Russell Martin and tying the game 3-3. And in his final plate appearance in the eighth, Morales hit another homer, this time driving in Kevin Pillar as well as Martin. That second home run was worth .42 WPA. He worked hard for this one, hitting it out on the sixth pitch of the at-bat.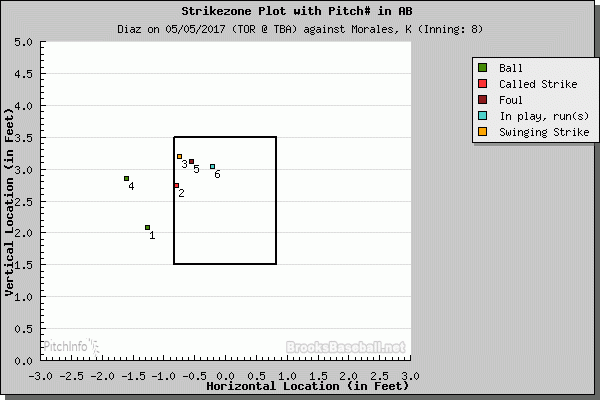 As an aside, they say you usually only get one good pitch to hit in an plate appearance. Pitch number five there is an 89-mph slider. Nobody throws a belt-high slider middle-in intentionally, so that was mistake number one. Morales fouled it off. Jumbo Diaz is a generous man, it seems, and he got a lot of the plate with the 99-mph fastball that followed. I wonder if Blake Treinen somehow misread the scouting report on Morales, which probably reads "He doesn't care how hard you are throwing the ball."
This drive turned the game from a 4—4 tie into a 7—4 Blue Jays lead, and Justin Smoak added a solo shot off the next pitcher the Rays brought in, proving that it's possible for good things to happen at the Trop. Once in a while, at least.
First Place: Steve Pearce, July 30th – WPA: .852
The WPA list is topped by none other than Steve "Beers" Pearce. His performance on July 30th was nothing short of amazing, within the single-game top ten for 2017 across all of baseball.
It started off innocuously enough, with a first inning flyout (-.02 WPA), then a double in the third (.07). This hit was reviewed to see if it was a home run, according to the play log, but the original call stood and the Blue Jays lost the challenge. (Shocking, I know.) He followed with a walk in the sixth (.02 WPA) and a lineout in the eighth (-.01). Had the game ended there, it would have been one of the more pedestrian performances of his career.
By the time the bottom of the ninth rolled around, the Jays were down by six, and Pearce was due up a distant eighth. This is the wonderful thing about WPA—it rewards you most when everything is on the line.
Here is how the bottom of the ninth unfolded. Goins walked. Pillar homered, and by this point, it was already obvious something weird was going on. A Rob Refsnyder double chased Brooks Pounders, and in came Bud Norris; Carrera singled and Martin singled, scoring Refsnyder. Smoak grounded out, then Morales walked to load the bases again. That's seven batters and only one out, and the score was now 10-7.
At this point, down three in the bottom of the ninth, the Blue Jays only had a 21 percent chance of winning the game. Time for Steve Pearce to see what he could do.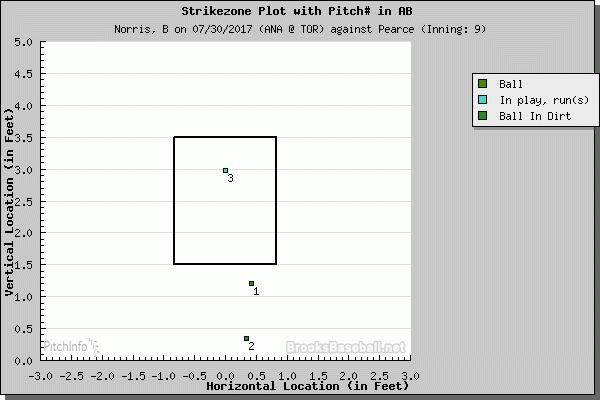 For whatever reason, Norris started the at-bat with two cutters. Neither of these pitches were close enough to the zone to tempt Steve. I assume he wasn't trying to get too cute and was just trying to hit the fastball. Norris tops out around 95 mph, and there's no reason to expect he won't try to use one at some point. A 2-0 count seems like when you'd really be ready for a fastball, and, sure enough, Norris threw the fastball. The problem with this particular fastball, of course, might have been that it was exactly three feet off the ground, and probably would have traveled over the point of the plate had it been allowed to get that far. Pearce likes meatballs. The ball found the seats instead of the catcher's glove.
That's a walkoff grand slam! And yes, I already talked about Pearce hitting a walkoff grand slam in the other entry. This isn't that one at all, of course. This is three whole days later. I know I've had this conversation on Twitter, and elsewhere, but hitting a walkoff grand slam is pretty much the only thing you imagine when you're ten years old and trying to learn how to self-hit. There you are, in the schoolyard, or out in a dusty lot, talking yourself through the situation: bases loaded, bottom of the ninth, down by three. Steve Pearce lived that. At the highest level of competition that his sport has to offer, he delivered on a childhood fantasy. Maybe next time, Mr. Pearce, it will be in the playoffs.
Pearce, HR, (.79).
 Lead Photo © Dan Hamilton-USA TODAY Sports