Whew. It was tough work. Exhausting really, but the payoff was well worth it. After watching every plate appearance and digging into every single advanced stat I've done it. It's not what I expected to find, but if the Jays' pitchers just follow these six simple lessons, according to my calculations, newest Yankee, Giancarlo Stanton won't really be a problem.
Of course, what counts as a 'problem' is relative in baseball. You saw what Stanton did in 2017. He's a big boy. The nature of the problem for the Jays' pitchers this season isn't, "how do we strike out Stanton or get him to make weak contact?" but rather, "they've scheduled us to face this man 19 times over the course of the season, which means he probably gets about 90 at-bats or so. How do we not give up 90 home runs?"
So yes, I'll admit it's less of a solution and more of a damage control plan. Something like the triage protocol they use in emergency rooms to help doctors treat a massive number of patients and casualties. That may seem like a defeatist mindset, but it's really just pragmatic. Because sure, it's definitely possible to win against Stanton. Pitchers in their forties have done it with less than overpowering stuff.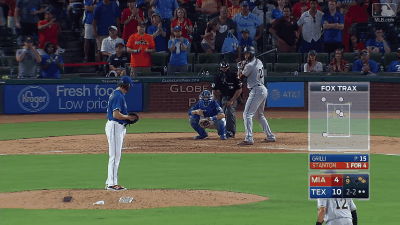 It's tempting to think that if Jason Grilli can win against Stanton, then what's to stop the Jays from winning? If a rusted-out sweatbag can do it, then surely any one of Toronto's youthful arms is up to the task! The problem with that logic is what happened to Grilli the very next night.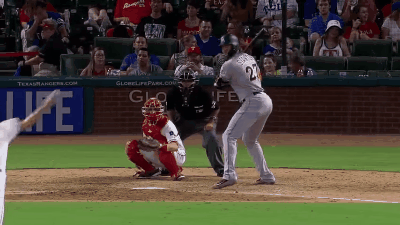 I didn't show you these gifs just to pick on Grilli – they simply illustrate the point that you can't go in expecting to win against Stanton every time. I could have shown you similar gifs of at-bats against any number of arms you might consider elite. Of the pitchers who've faced him over 20 times over their careers, Stanton owns a 1.000+ OPS against Madison Bumgarner, Jacob DeGrom, Stephen Strasburg, Cliff Lee, and Roy Halladay.
There are no easy answers when pitching to Stanton, but we can unpack several lessons from these two wildly different at-bats against Grilli. If we put all those lessons together, we can get pretty close to a solution to the problem of how to pitch to Giancarlo Stanton as a New York Yankee.
Lesson 1: You may win the battle, but you won't win the war
This is lesson number one for a reason. Succeeding against Stanton is less about executing perfectly (although that certainly helps) and more about your philosophical approach. Getting Stanton out should give you the same sense of accomplishment as when you manage to plug in a USB stick without having to flip it two to three times first. It's a minuscule victory in the greater scheme of things and treating it as anything grander will only serve to distract you from your ultimate goal, which is limiting the damage.
Lesson 2: Don't showboat
See Jason Grilli, above. This is the corollary to lesson one. Once you realize that you can't win in the long-run, getting fired up about a strike out doesn't make any sense. This lesson is mainly for Marcus Stroman.
Lesson 3: You're allowed to intentionally walk him
The ol' Barry Bonds special. And it's safer/easier than ever now that you don't even need to throw four pitches outside. This thought got me excited for a hot second until I realized that while the intentional walk might have helped Grilli avoid giving up that homer in 2017, it's not going to be much help to the Jays in 2018. Aaron Boone hasn't yet set the Yankees' batting order, but we'll probably see Stanton in the two or three spot batting in front of either Aaron Judge or Gary Sanchez. That's a completely different situation than having to face one of Justin Bour, Marcell Ozuna, or Christian Yelich. But hey, there was that one time where the D-Backs walked Bonds with the bases loaded and it worked out alright, so I'm keeping this lesson in here.
Lesson 4: Stay down and out
I'm all for throwing zero strikes to Stanton ever, but if you have to throw him a strike make sure its down and out. Since all we really care about here is preventing extra-base hits, I pulled Stanton's 2017 heat-map and filtered it to show isolated power. I'm guessing Grilli had this picture in mind when he threw that slider low and away to retire Stanton in the first gif.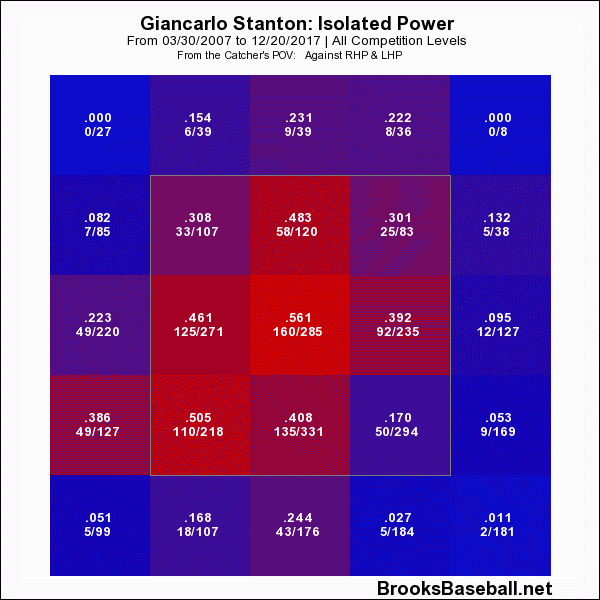 Lesson 5: Don't throw fastballs
According to Brooks Baseball, Stanton crushed 22 of his 59 home runs off fastballs in 2017. That's partly a function of the large number of fastballs he saw, but going by the rate stats (.305/.533/.690) it's generally not a good idea to throw him a fastball. I'm guessing Grilli didn't have this in mind when he threw that fastball middle up for a homer in the second gif. Judging by isolated power, your best chance to prevent a home run against Stanton is either a sinker (.274) or a slider (.282). If I were a Jays pitcher, I'd be asking J.A. Happ for sinker tips right about now.
Lesson 6: Get pitchers with proven success against Stanton
One way to avoid the problem Grilli ran into in the second gif is to not have had Grilli pitching to Stanton in the first place. This is more of a lesson for the Jays' front office than the pitching staff. Here is a short list of pitchers who've faced Stanton at least 20 times and limited him to an OPS at or under .700.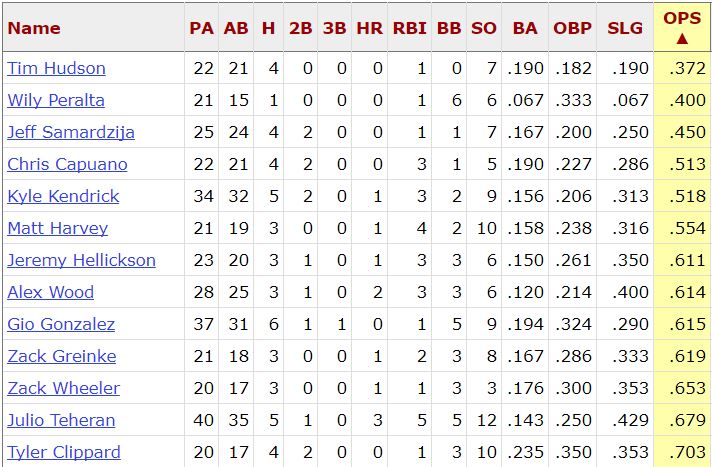 Right off the bat we can cross off Hudson (retired), Peralta (signed by Royals), Capuano (retired, I think), Kendrick (signed by Red Sox), and Wood/Gonzalez/Greinke/Teheran (not getting traded). The Mets might have had enough of Wheeler's injury issues to deal him in his first arbitration eligible year, but that kind of control would probably come at too high a cost.
That still leaves Ross Atkins with three viable Stanton-killing options to acquire. Hellickson and Clippard are both free agents and could probably be signed cheaply to 1-2 year deals. Harvey is the most intriguing option as the Mets have reportedly talked to "at least two teams" this winter about dealing the former All-Star. While that .544 OPS allowed might not be indicative of his current abilities, the bounce-back potential is tantalizing.
So there it is. I have complete confidence that if the Jays' pitchers follow these six simple lessons they'll be able to limit Stanton to fewer than 90 home runs.
Lead Photo © Kim Klement-USA TODAY Sports