Welcome back to the Stuffies! It has been a thrilling ride through the first few rounds of the playoffs, but to really increase your appetite for the World Series, Nick and I are here to help you understand which pitchers in baseball had the best Stuff.
Off the hop – a bit of a lesson on the Stuff metric used here; instead of average STUFF for teams, we're using "Weighted STUFF". Essentially, it's each pitcher's stuff, multiplied by the % of pitches they threw with respect to their rotation or bullpen mates. This was also repeated for all of the inputs that went into the STUFF metric – velocity, change, and break distance. For the individual pitchers, they had to throw 1000 pitches in the season to be included in the awards competition.
Best Team Stuff – Starters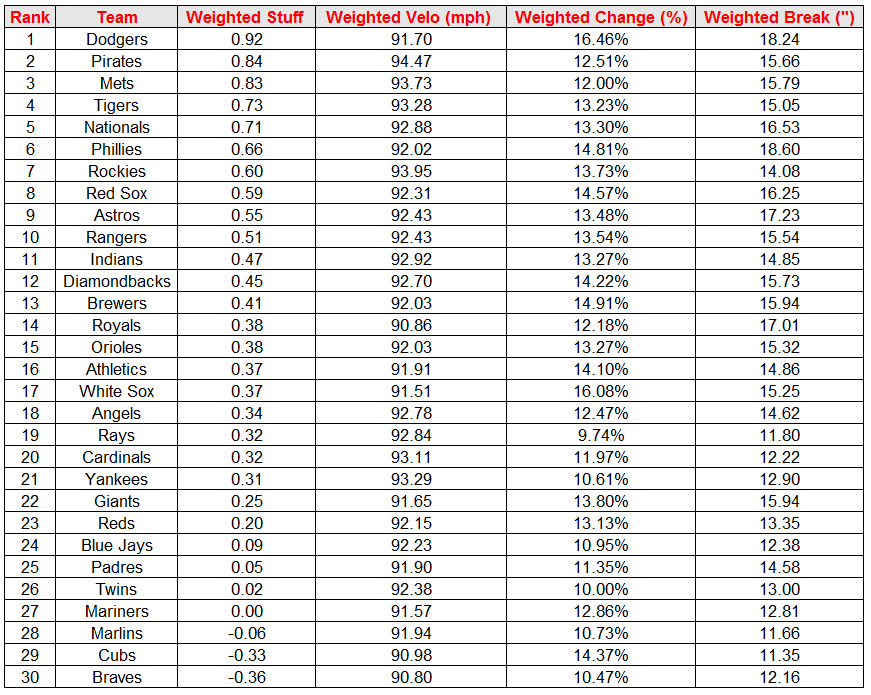 Dodgers
ND – It's no surprise to see the Dodgers' starting rotation (all 9 of them) up here at the top of the stuff list this season. Much to the frustration of the rest of baseball, the Dodgers used their deep pockets to trot out talented starter after talented starter this season. It's not hard to take home a Stuffy when your 4-7 starters are Alex Wood, Brandon McCarthy, Hyun-jin Ryu and Kenta Maeda. But in a true embarrassment of riches, it's not just depth that makes the Dodgers great – Kershaw, Darvish and Rich Hill aren't a bad top three either. Money might not be able to buy you happiness, but it can definitely buy you a lot of great starting pitching.
Pirates
MS - Gerrit Cole? Stud. Tyler Glasnow? Beast. Jamieson Taillon? Monster. The Pirates have the flame throwers to make a formidable rotation… but youth and inexperience has held them back from really taking the next step. There's no mystery to the madness here: Look at what the Pirates lead the league in – a 94.47 mph weighted fastball velocity. From their starters… You better be ready to swing early!
Mets
ND - Everyone knows that the Mets have a talented, young rotation full of great pitchers. What nobody knows is what the hell the Mets training staff are doing that makes these poor guys get hurt so damn often. Even if Matt Harvey might have (allegedly) partied his way onto the disabled list, that doesn't explain their inability to keep Steven Matz, Noah Syndergaard, Zack Wheeler, and Seth Lugo reasonably healthy over the past season. We all know pitchers get hurt but geez…..
MS – This is the part of the Stuffies where the award winner starts uncontrollably sobbing on stage and everyone in the audience is left kind of looking at each other, really awkwardly, not knowing what to do with their hands. It was fine when there were some sniffles, but now we're getting the big snot bubbles and it sounds like the person is choking. Please Mickey Callaway – find a way to make this rotation everything that it could be.
(dis)Honorable Mention – Toronto Blue Jays
MS - It certainly didn't help the Jays that the guy on their roster with the best STUFF was blistered up all season, but the Jays ranked 24th in total Stuff. Stroman (to be discussed later) lead the team in Stuff out of the rotation and swingman Joe Biagini also had great STUFF, while Brett Anderson chimed in some some good STUFF near the end of the season – but the Metric didn't favour soft-tossing Marco Estrada, fastball dominant J.A. Happ, or the slew of other jabronis that took their turn getting smashed throughout this 2017 season.
Best Team Stuff – Bullpens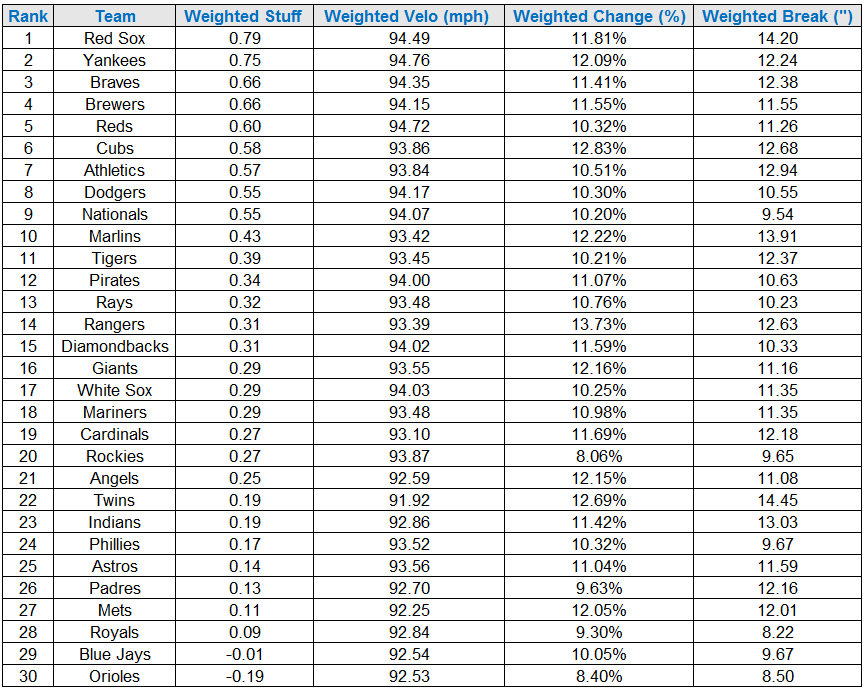 Red Sox
MS - John Farrell had the best STUFF in the world to work with out of his bullpen and that still couldn't get him to the ALCS. It also couldn't get him his job for the 2018 season… but I swear that doesn't come from a place of bitterness and resentment. The Red Sox threw absolute gas out of their bullpen, but they also had a lot of consistency – both Kimbrel, Joe Kelly, and Matt Barnes put in great seasons and appeared in a lot of Red Sox innings – partially due to a starting rotation that had its question marks. All of those guys look to be ready to put in great seasons in 2018, so there's no reason to think the Red Sox STUFF is going anywhere.

Yankees
ND – Sometime in July, Joe Girardi must have paid Brian Cashman a visit and suggested that the Yankees would have a better chance of winning if their opponents weren't able to make contact after the fifth inning. Cashman then spent the 2017 trade deadline assembling a super bullpen that sits number two on the reliever stuff list this season. Teams usually talk about a two or three-headed monster at the end of a game but the Yankees bullpen eats those for breakfast.
(Dis)Honorable Mention – Toronto Blue Jays
MS – Dear Mark Shapiro and Ross Atkins – Stuff is good for bullpens. Like, it's really good. It helps strike batters out and it helps keep the ball out of the 3rd deck. Can we please get some more for the bullpen in 2018? I'm not saying that Stuff is the only way to get hitters out… but it acts like an insurance policy against bad control. Like the kind a certain father of the Jays Bullpen had in the early part of the season (#NEVERFORGETGRILLI2016). 
(SuperDis)Honorable Mention – Baltimore OriLOLs
MS - Ha! Showalter you clown! Just like in the AL East Standings, the Jays jumped ahead of the Orioles at the last minute to stay out of the basement! The Orioles, while having some elite bullpen arms in Zach Britton and Brad Brach, don't fare that well in the STUFF category because they rely on velocity alone – a bunch of these guys don't have secondary pitches to rely on.
ND – One of the biggest surprises of the Stuffies this season is seeing Baltimore take home the Stuffy for worst reliever stuff. The Baltimore bullpen is considered one of the better pens in the American League. While many teams across the league would love to have Zach Britton, Brad Brach and Darren O'Day at the back of their pens, all of those groundballs don't impress the stuffy judging committee. Or Jose Bautista.

Best Stuff – Starters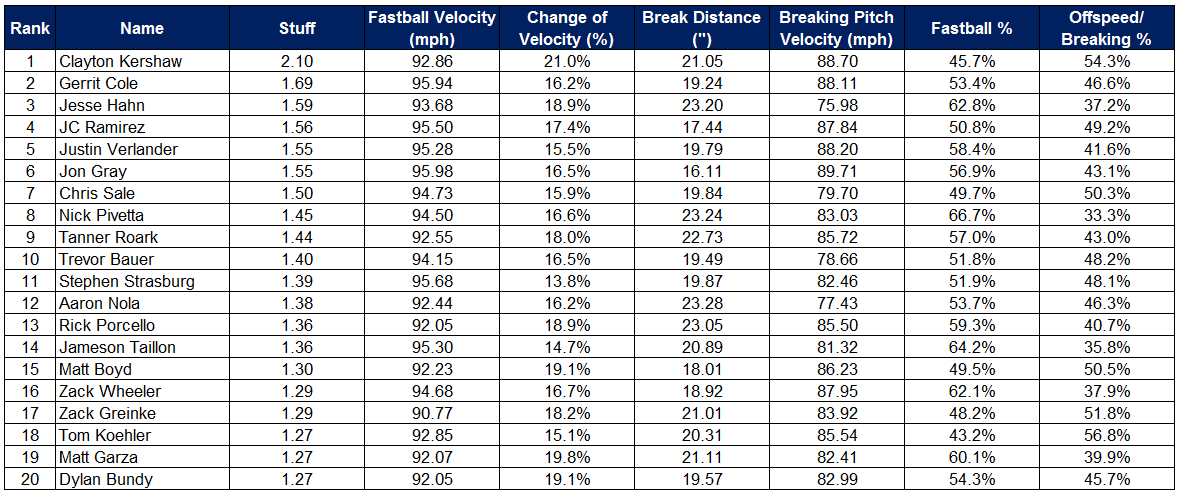 Clayton Kershaw
MS - Any time you create a pitching metric that is supposed to represent success at the MLB level and Clayton Kershaw comes out on top – you feel pretty good that the metric is accurate. Kershaw takes home the 2017 crown with an absolutely absurd Stuff level of 2.1. Kershaw has great fastball velocity – almost 93 mph… but it's the change in speeds and the distance between the pitches that truly sets him apart. Go and watch a bunch of PitchingNinja gifs about Kershaw now – you deserve it.
ND - Water is also wet. Sun rises in the east. Despite spending much of the second half of the season on the disabled list, Kershaw once again takes home the stuffy for best starting pitcher. Do you really need a Ph.D and a complicated multi-variable formula to know Kersh is the best starter in baseball? What are they teaching these people in grad school?
Gerrit Cole
MS - There's absolute hot nasty fire flames being thrown when former first overall pick Gerrit Cole is on the mound. His season was a rocky one – a lot of injury concerns, paired with an underperforming Pirates team, and you get the end result of Cole's career worst 4.26 ERA. There's a ton of upside for young Gerrit – he's only entering his age 27 season.
Jesse Hahn
ND – Injuries and inconsistency torched Hahn's 2017 season but the stuff-o-meter seems to really like him. Paired with pitching in the spacious O.co Coliseum and we might have a 2018 fantasy baseball sleeper on our hands….if you're into that sort of thing.
Honorable Mention – Marcus Stroman
MS – The StroShow put up his best STUFF season in 2017 and continued doing what he does best – being completely consistent. His 2017 Stuff was elevated from 2016, with nearly a 2″ increase in pitch separation and a slight increase in his fastball velocity. Earlier this year, Stro was talking with The Pitching Ninja on Twitter and started chiming in on how nasty Corey Knebel's curveball was. The two exchanged pleasantries, but what would it look like if Stro added the Knebel Knuckle Curve? Well, it would nearly double his stuff – increasing separation for both break and velocity. That's the the type of pitch that would really change things for Stro, and may get those strikeout numbers climbing.
Best Stuff – Relievers

Joe Kelly
ND - One of these things is not like the others. Kelly finds himself atop the reliever stuffy list without piling up the K's (his K/9 was a very pedestrian 8.07) that so many of the other top relievers do. All grit, moxey, and tattoos, Kelly's fastball velo keeps him atop the stuff leaderboards despite middle of the road results.
MS – At this point, people start to regurgitate their lunch whenever someone tells them Joe Kelly has great STUFF. But are people objectively quantifying it? Usually not! So, suck on that haters. Full disclosure – Joe Kelly seems like he might be a bit of a dork, and those are my people. 
Dellin Betances
MS – That Yankees bullpen is filled with absolute nasty STUFF – the only reason Chapman isn't on this list is because of his injuries this season; he just never crossed that 1000 pitch threshold. But you know who did? Dellin Betances. Betances pairs an absolutely next level fastball with huge pitch separation. His Stuff is legendary and his strikeout rate matches. One thing to watch for – there's no one who has had a higher workload since 2012 than Betances. By the time his huge free agency contract signing comes up, the Yankees may have bled him dry. More reason to hate them, I guess.
ND – This year's judging committee didn't put too much weight in being able to control the stuff each pitcher unleashes, because if they did, Betances might not be taking home a Stuffy. The big reliever walked 44 batters in 59 innings. That's not ideal, but when you're as nasty as Betances, you can afford to miss a little more often than not.
Craig Kimbrel
MS - Do you like pitchers who throw gas but also look like a weird bird before they do it? Craig Kimbrel is the guy for you, my friend. Not much else to say here – Kimbrel is one of the best in the game and he throws some of the nastiest junk in baseball.
Honorable Mention – Ryan Tepera
MS - Tepera is not talked about enough. Maybe he is? But not enough by me. Relievers have a very hard job – they have to go into games on short rest, get out the best hitters, and forget about bad results that happened in the recent past. When I looked at workload, Tepera was in the top 10 of the entire MLB. His Stuff sits at 32nd overall for relievers who threw 1000 pitches this season – and it's his giant fastball that is pretty much the only contributor to that. Great work, Ryan – let's keep it going in 2018.
The Wrap Up
From an MLB wide perspective, Stuff has never been better than it was in 2017. Velocity has its pros (striking fools out) and cons (ouch), but boy is it fun to watch and write about. On behalf of my friend and colleague Nick, thank you for reading about STUFF! It has been a pleasure once again. Let's hope the Jays can give us some more STUFF to look at in 2018 – looking at you, Connor Greene!