The 2017 postseason has been going for a week now, and I've got to be honest with you all: it's been a doozy. A real barn-burner. A raucous, rousing good time. Baseball's best starters have been lit the hell up; there have been pitchers' duels and crazy comebacks and unforgivable managerial blunders. It's been pretty much everything you could want out of October baseball.
Except, of course, that the Jays aren't there.
Given that their season essentially ended sometime during the seven-game losing streak in April, I thought by now I'd be numb to any regret about this year's failure. Even though I know a postseason appearance from this year's Jays would have been greeted with nothing more than a swift and humiliating exit, I still find myself missing them — wishing they were here in October with me. The postseason remains thrilling, but the season-long storylines that I'm watching come to fruition are never going to mean as much to me as they will for people who have been part of the story since the beginning of the season. Those who've devoted years and lifetimes of energy and thought to these teams. My team, on the other hand, the team I spent all year watching, fretting over, and writing about, is gone. They played their allotted 162 games, and then they went gently into that good night.
So I watch October baseball. I delight in the moments of magic. And when the games are over, I slip into reveries of my now-absent team: of what could have been had things broken better this season, of what could be in the Octobers of the future, and, mostly, of Octobers past – when everything went right, and the moments of magic were ours.
***
Here's one of those moments. Let me take you back. It's 1992, and it's the second  Sunday in October — Thanksgiving Sunday, for those watching at home.
It's not Thanksgiving where the Jays are, though. It is a crisp, clear autumn afternoon at the Oakland-Alameda County Coliseum. It's the top of the ninth, and the crowd that fills the stadium to bursting is readying for Dennis Eckersley to close out the Jays.
It's surprising that Eckersley is in this game at all. The A's led 6-1 after seven — a comfortable enough lead, one would think, to avoid using their closer. But the Jays came storming back with three runs in the eighth, cutting the lead to two. Eckersley, a future Hall of Famer playing in what might have been his finest season, recorded the last two outs of the eighth, though not before giving up two RBI singles. Still, those hadn't been his baserunners. Starting a clean inning with a two-run cushion, the A's and their fans had to figure this one wasn't going to get away from them. Down 2-1 in the series, they needed it not to get away from them.
Devon White leads off the inning with a single, bringing up Roberto Alomar. Alomar had started the rally in the eighth with a double; now, an inning later, he represents the tying run.
Eckersley goes into his distinct, elaborate windup. The huge leg kick, the arm dropping down. The fans wave their towels, urging him on, as the ball leaves his hand, sails toward the plate over which Alomar is leaned.
The pitch hangs. Alomar doesn't flinch. He waits. And at the last possible moment…
I know this moment. I know the timbre of the call, the visual unfolding of events, Ruben Sierra watching the ball sail just high enough over the right-field fence. I know what this moment leads to — the first pennant, the first World Series win. It is part of the legacy inherited by anyone who calls themselves a Blue Jays fan, and though it took place a quarter-century ago, the elation still feels immediate to me. The joy contained in the memories of Octobers past is a joy, unlike many, that is replicable, that can be revisited with the merest suggestion.

But these memories of Octobers past are not my memories. They're not my memories at all. Because this all happened over five years before I was born.
 ***
Baseball has a real fetish for its own past. This often manifests itself in pernicious ways — in the sport's well-known conservative streak, in tiresome "playing the game the right way" hand-wringing. But baseball's connection to the past is also an essential component of the experience of baseball fandom. We spend hours digging through the Play Index for tasty bits of history. We hunt down century-old newspaper clippings, collect cards, read memoirs and recountings and recaps. More than anything, we love to reminisce about days gone by – those golden days, always fleeting but infinitely tangible, when our team won and it mattered. When we find ourselves in quiet Octobers like this one, we conjure up the ghosts of Octobers past, recreating entire scenes from our lives: who we were with when it happened, what we were doing, the people we were back then. Human connection is the greatest reward of being a fan, and the exchange of these treasured memories is one of the ways in which such connections are formed and strengthened. Do you remember…? Where were when you when…?
It is strange, then, to be someone for whom these Octobers past never existed. The Jays are not a franchise like, say, the Mariners, where there have been no golden Octobers, and fans can connect through a shared sense of overwhelming, eternal futility. No, the Jays have such moments and what's more is that they are a franchise young enough that the majority of Jays fans remember them.
The Jays, as a franchise, are more than twice my age. They have been in only two postseasons in my lifetime, and both have ended in disappointment: the feeling that they should have won in 2015, the sad-trombone non-performance against Cleveland in 2016. The bat flip and the Donaldson dash that preceded these disappointments are the most direct experiences of baseball transcendence that I have.
So my connections with the most important history of this team, with the pennants and the World Series victories of yore, are mediated — conducted to me through Retrosheet box scores, 240p Youtube videos, and written reminisces, a series of electronic imprints long detached from reality. And somehow, though I never watched these Blue Jays teams, I feel connected to them. To the players who won the banners I can still see hanging when I watch today's Jays, and to the fans, past and present, who watched and loved them. Like their joy, though distant, is also mine.
 It is a strange kind of magic: conjuring memories of things I never witnessed.
 ***
Do you remember this? It is October 24th, 1993. It is game six of the World Series, being played at a packed, raucous SkyDome. In a game which they once led 5-1, the Jays are down by a run.
It is the bottom of the ninth.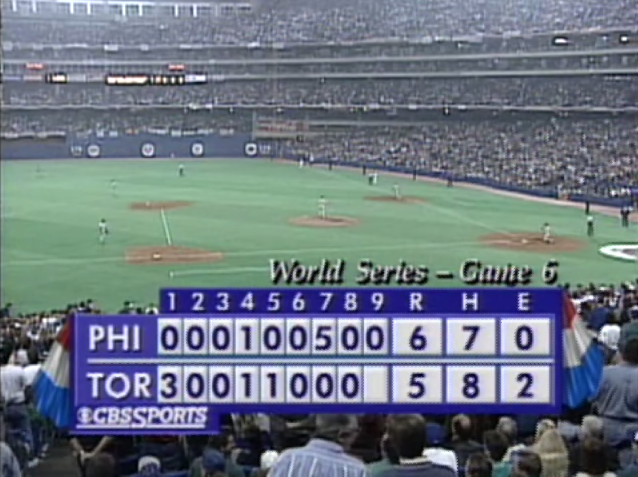 While the Jays are at a disadvantage in the game, they have the advantage in the series. Losing this game and forcing a game seven is not an ideal outcome, but it also isn't a death sentence — and these Jays are confident, loud, powerful. They are last season's champions, and they have the 50,000-strong crowd on their side. The Dome is pulsing with energy. It is nerve-wracking, yes, as is any bottom of the ninth, as is any game this late in October. And these Jays have never faced elimination in a World Series game before. But you have to like their chances, no matter how this last inning goes down. This is their series to lose.
For the Phillies, though, this half-inning, executed poorly, could end their season. This is do or die. This is the intersection of rock and hard place, the three outs that an entire season has come down to, and you can see the magnitude of the moment embodied in Philly closer Mitch Williams. His curly mullet flying dramatically behind him, a look of dark intensity in his eyes, he stalks off the mound after each warmup pitch, pacing in agitated circles before he again receives the ball, again throws it with furious, desperate energy.
Williams is a top-end reliever who recorded 43 saves during the 1992 regular season with a 3.34 ERA, but he has always had a concerning propensity for wildness, and his last outing in the World Series was disastrous. He gave up three runs in two thirds of an inning and took the loss in game three's 15-14 slugfest. This is the first time he's stepped onto the field since then; this is his chance to rewrite his World Series legacy, to transform himself from goat to hero…at least until tomorrow.
His first assignment is Rickey Henderson. A July acquisition from the A's, Henderson's production fell off a cliff post-trade, and the postseason has been no different. Still, though he poses little threat as a hitter, he is still the greatest base-stealer of all time. If he gets on base, the Blue Jays could be in business.
Right as Williams is about to throw his first pitch, Henderson calls time. Time is granted. But Williams, focused on himself and the pitch he is about to throw, doesn't notice until it's too late. He tries to abort his delivery and tumbles off the mound, doing a strange half-somersault on the turf. It is remarkably inelegant, a gauche physical act entirely out of place in the bottom of the ninth in game six of the World Series. The crowd is delighted.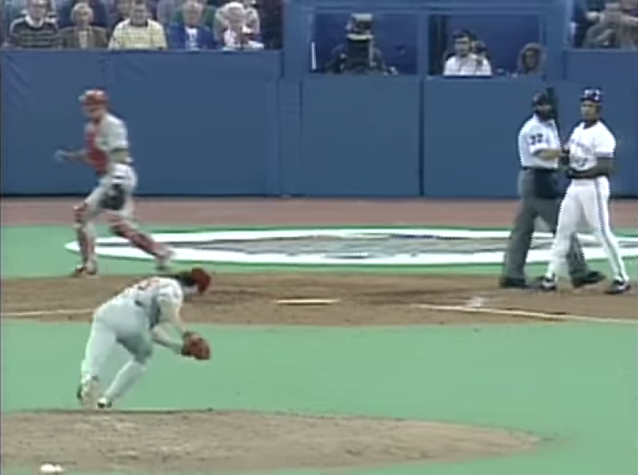 Williams' first pitch to Henderson flies in high. His second is in the other batters' box. The crowd, already loud, is now sounding at full tilt, a cacophony of whistles and screams and shouts and claps reverberating off the walls of the Dome as Williams' third pitch crosses the plate: ball three, high.
The Blue Jay dugout is on its feet. Henderson squares to bunt, and Williams throws his pitch. It is high and outside. Ball four.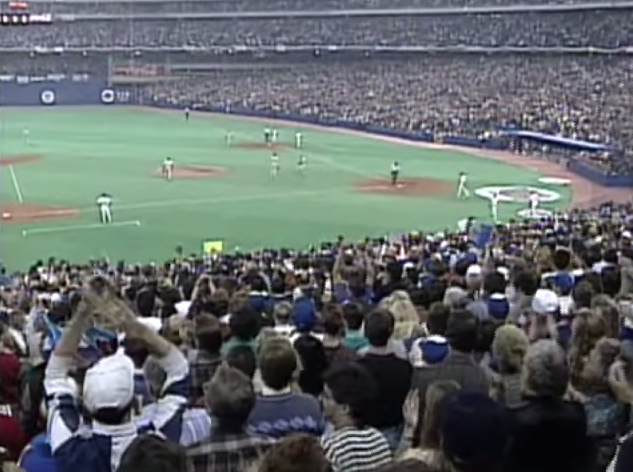 Here comes Devon White to the plate, now. You are expecting something to happen here. Not only does White not have a hit yet today, but he is 4-for-6 lifetime against Williams, including a triple in this series. Williams falls behind on him, perhaps distracted by the looming threat of Henderson dancing off first. White fouls off pitch after pitch, and, after running the count full…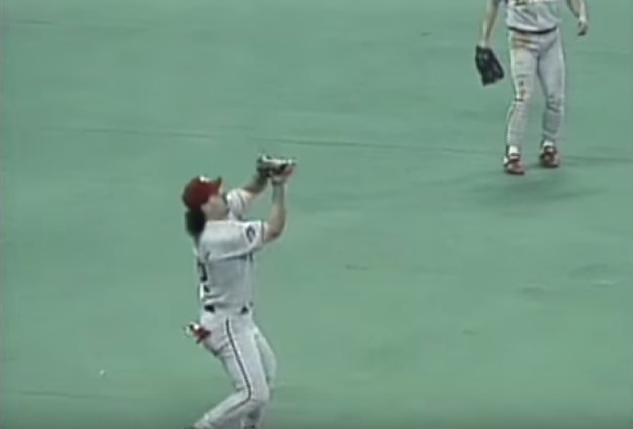 A fly ball to left. One out.
To the plate steps Paul Molitor. He has two doubles, two triples, and two home runs in this World Series – the first player ever to do so. If a hit was expected of White, it is a near certainty with Molitor. The crowd urges him on, and he obliges with his third hit of the night, a solid line drive into center. Williams is once again knocked over.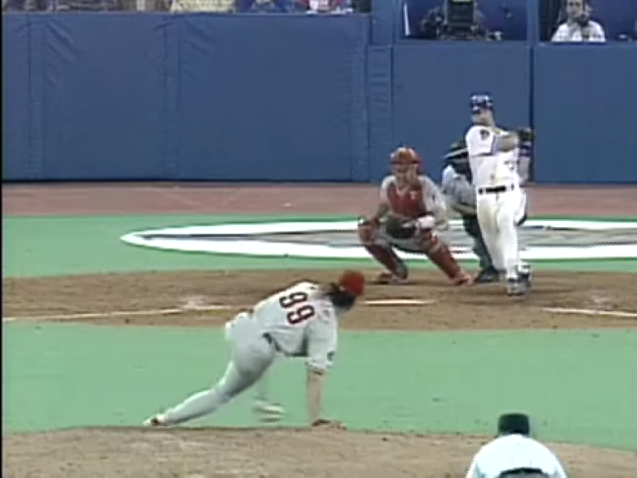 Can you feel it coming now?
When it happened last season, you weren't there. When it happened last season, it was in Atlanta, in extra innings, in an unfamiliar stadium full of disappointed people. This season, though — it's happening here. There is one out in the bottom of the night. They are down by one, and there are runners on first and second, and this pitcher – this pitcher, he's got nothing. It's happening, here and now, at home, on the turf at the SkyDome in Toronto.
You will tell this story for years, and it will tide you through baseball going on strike, through two decades of futility, through postseason hope and postseason agony. This is an image that will be indelible on your memory, and, through your stories, on the memories of a generation that will come later. A generation that might, for all they know, never see anything like what you are seeing now. They will see in this not only a vision of hope, of pride, but a reminder: it happened here once. It can happen again.
It could be any year now.
Joe Carter steps into the box.
The Blue Jays are going to win the World Series.
The crowd is willing it into existence. Everyone is on their feet, hoping. Hoping that the next pitch is the one.
Carter turns on the 2-2 pitch from Williams, and everyone knows.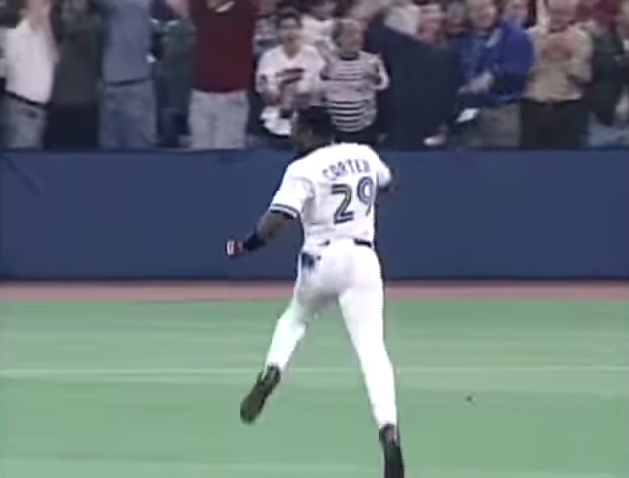 Lead Photo: Nick Turchiaro-USA TODAY Sports