The Vancouver Canadians have rebounded nicely after finishing with a franchise-worst 29-45 record in 2016. The C's clinched a playoff berth with a first-half pennant and are rolling along thanks to an influx of fresh young talent. A key part of that influx is 28th overall pick in the 2017 Draft, Nate Pearson, who may just have the highest upside of any arm in the Jays farm system.
Pearson fired two perfect innings in his Vancouver debut against Salem-Keizer last weekend. Somehow, though, perfect might be underselling this outing. Let's look at the 1st inning to get a sense of just how dominant Pearson was.
Batter #1 – Malique Ziegler: Swinging strikeout on four pitches, but catcher Owen Spiwak can't handle the last pitch and Ziegler reaches base. It's scored as a wild pitch, but Game Day shows it catching the bottom of the zone.
Batter #2 – Bryce Johnson: Line out to third baseman.
Batter #3 – Orlando Garcia: Called strikeout on five pitches.
Batter #4 – Ryan Kirby: Swinging strikeout on five pitches.
That's devastating. Officially, that's 12 strikes on 18 pitches. According to Game Day, it's closer to 15 strikes on 18 pitches. This is a guy who can pound the zone.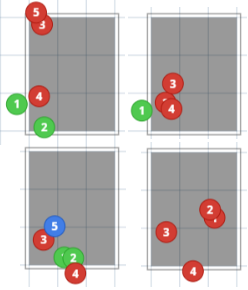 Yes this is the lower minors, but each of those batters has an OPS over .800. The second inning was more of the same. The young righty finished with 22 strikes on 31 pitches, and according to Canadians' Communications Director Rob Fai he flashed his 100 MPH fastball.
The report on Pearson is pretty simple, but it's why many scouts think he could be an impact bullpen arm very soon. Think Roberto Osuna. Let's not forget that this guy is only 20 years old, which means he still has some projection left. According to Keith Law he hit 101 MPH in front of a bunch of scouts on Memorial Day. It's not out of the question that he adds some velocity on top of that as he fills out his frame.
We'll be keeping a close eye on Pearson going into next year. In my mind, the floor for Pearson is something like Joe Kelly. But if he can develop better feel and command of his secondary offerings the upside is something like Michael Kopech.
Lead Photo: Kevin Sousa-USA TODAY Sports