Hey Sorry – I broke my own Stuff report – but it's all fixed now and we're ready to rock again. I think it might even be new, and improved. Let's get to it.
Starting Pitchers
The usual suspects are all here; and the numbers don't look a whole lot different than they did in 2016. Stroman's Stuff is much better in 2017, driven by a bit more fastball velocity but significantly (nearly 4″) more separation between his pitches. That's a lot more room to miss bats. In 2017, Stroman is giving up contact on 76.9% of his pitches, compared to 80.2% of his pitches in 2016.
Obviously though – the Jays starting rotation is struggling in 2017 compared to their banner year of 2016. If the Stuff looks like it is still there, what's going on with these guys? I took a look at Baseball Prospectus' command and control statistics to see what's happening. For a quick refresher, command refers to a pitcher's ability to hit his spots – measured in the % of called strikes above average a pitcher receives. Control refers to the ability for a pitcher to put their pitch in the strike zone – measured as the called strike probability of their pitches.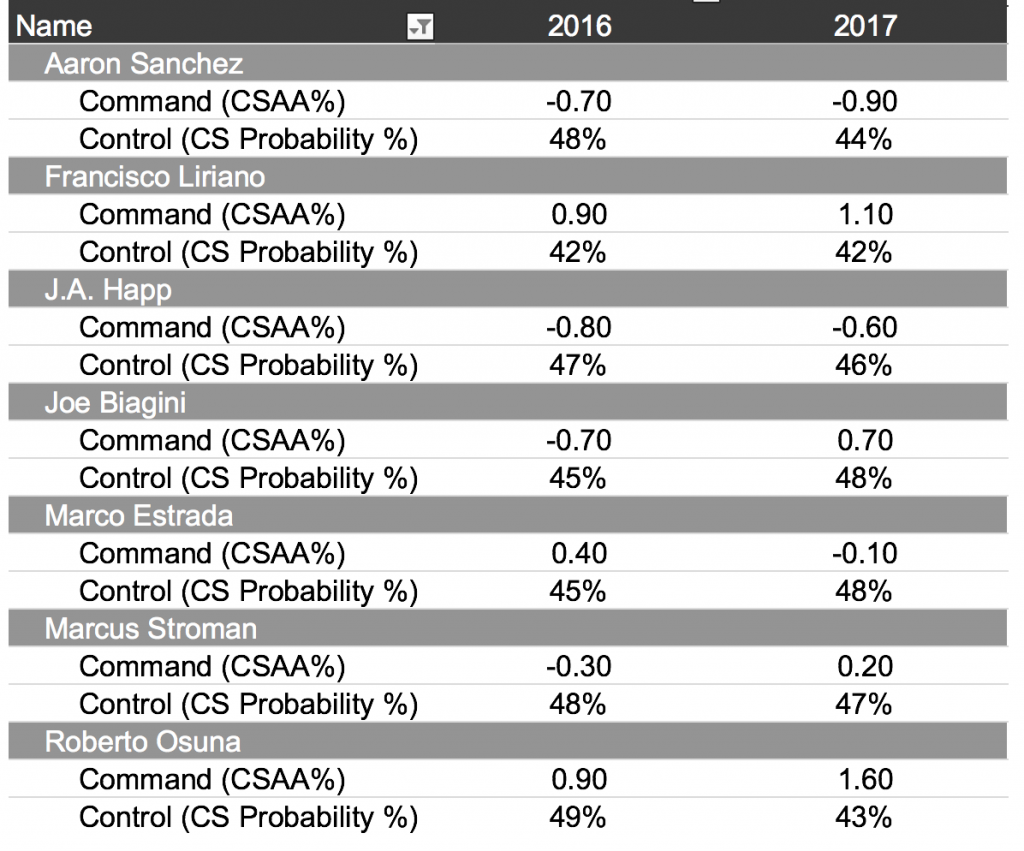 Remember if the Stuff stays the same – which, it has for the most part, something else is happening to make the pitches more hittable. For the brief time we've seen Aaron Sanchez this season – he has gotten rocked, or his hand has fallen off. He's getting fewer called strikes on the edges of the zone and then he's putting the ball in the zone less frequently. The blister issues that he's had relate directly to this; if the finger tip is hurt, there's less sensation. He will struggle with release point, and his fine control. Hopefully he gets the rust off and has a great second half.
Marco Estrada is likely the biggest example of the command/control/stuff interaction. His Stuff has remained relatively the same, but his command is way down, and his control is up. That means his easily hittable, lower velocity and movement pitches are staying in the zone – and they're getting hammered.
Relief Pitchers
The only elite Stuff guy in the Jays Bullpen remains Joe Biagini, and that has been a bit of a mixed bag with his entrance and exit to the starting rotation. If you're looking for a light at the end of the tunnel for Biagini, his "Deserved Runs Average" is actually lower in 2017 than it was in 2016. His Stuff is there, and his command/control numbers look consistent. The evidence points to him breaking out of his funk and being a great pitcher once again.
Osuna's Stuff is down in 2017 when compared to his 2016 numbers, but with this comes refined command and control. There is no doubt that Roberto Osuna is one of the best pitchers in the world right now. His fastball velocity is well above average, though the separation between his pitches is much less than it was in 2016 (13.8″ in 2016, compared to 8.1″ in 2017). Where he's totally dominating is in the command/control segment. He has more than doubled the amount of command he has on the edges, while leaving fewer pitches in the zone to hit. This has resulted in staggering changes in swinging strike profiles – batters are making contact on nearly 6% fewer pitches, while swinging at nearly 8% more of his pitches that are out of the zone. In general, he's getting 4% more swinging strikes in 2017 than in 2016. Roberto, never leave us. You are a king.
Conclusions
In general, what we're seeing out of this Blue Jays team is a ton of injuries, which have a significant effect on the pitcher's ability to throw strikes where they want them. Last year, the Blue Jays pitchers got more called strikes than the average team – this year, they're under that average mark. While I'm sure to attract the "But Greg Maddux" crowd with this statement, velocity is king. It trumps command and control and is a huge predictor of MLB success. You can see this in the evaluation of the Stuff metric as well – it's easier to succeed with great stuff than it is with mediocre, or bad stuff. That doesn't mean you can't succeed, though. Think of Stuff and Velocity as an insurance policy against bad command – missing your spot at 97 has way more margin for error than missing your spot at 89. The Jays are not a pitching staff with a whole lot of insurance policies, and now that they aren't threading the needle like they did last year, they're paying for it.
Well, welcome back to the Stuff report! I promise I won't leave you again.
Lead Photo © Nick Turchiaro-USA TODAY Sports