Coming into this season, the Blue Jays had some openings in their bullpen. This was continuing in a philosophy the team has been following for a few years in not spending money on relievers. Picking up Joe Smith and J.P. Howell on the cheap filled a couple of open spots, but there were still questions as to who would bridge the gap from the starters to Roberto Osuna.
Among the bullpen candidates was Ryan Tepera. At 29, he wasn't young and didn't really have a lot of potential to unlock. He'd gotten pretty familiar with the trip from Buffalo to Toronto over the past two seasons, though. He was in limbo: never quite good enough to stick, but useful enough that they could call him whenever an injury struck to fill the open seat in the relief core. Looking at his stuff, you could see why the team kept him around. A 95 mph fastball, a high 80s cutter, mixing in a sinker and a slider- that's stuff you can appreciate in the bullpen. This is especially true with the acquisitions of Howell and Smith, guys who don't throw overly fast. The Jays wanted some gas in front of Osuna and had someone that could conceivably provide it.
Tepera has had a very good season so far. With Howell and Jason Grilli struggling, and Joe Biagini moving to the rotation because of injuries, there have been more opportunities for a middle reliever to step up and Tepera has. Before allowing a run last night, he hadn't allowed an opposing player to cross home plate since April 27th. it was sad to see it come to and end, but it's a nice streak for a guy who hasn't been quite good enough to stick with the big club so far.
Here's the surprise when you look at Tepera's overall numbers: he actually has been solid for a while. His stellar 2017 ERA is only a little lower than it ended up in 2016. The biggest difference between last year's number and this year's (with the usual small sample size caveat attached) is a drop in his BABIP, suggesting a correction might be due at some point.
Last year (and early this season), Tepera had some high profile blowups. Some of that is the nature of being a reliever: your bad outings tend to get a bigger spotlight, especially when they directly lead to a loss. Most fans remember Tepera from his infamous May 11th outing against the Giants last season, where he walked in the winning run with the bases loaded in extra innings. Or maybe you remember his part in the May 27th loss this year against the Cardinals, allowing a leadoff triple to Kolten Wong, who was eventually brought home on a grand slam.
Tepera has made some changes in his pitch mix though, so let's review those.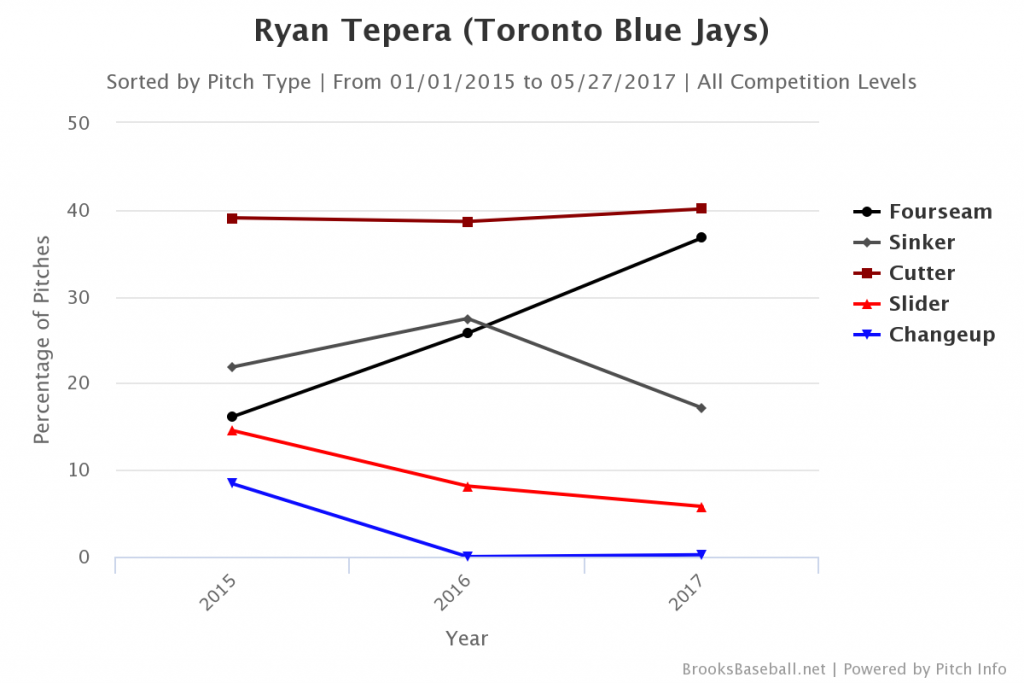 Brooks Baseball has Tepera throwing more four-seamers and fewer sinkers in 2017. His strikeout rate has been steadily increasing from 2015, though again, we haven't seen a full season of Tepera in the majors to get a good sample. His ground ball rate has gone down, which might be something to keep an eye on – if his home run rate (0.3 HR/9) goes up, he may want to reverse that trend a little.
But this is less to praise Tepera (deservedly) for any perceived improvement this season and more to say he's actually been fine for a while. Some improved batted ball luck has helped this season as much as some bad luck hurt him previously. He's not an elite reliever by any stretch, but the Jays only needed good enough, and Ryan Tepera has been that. The team being forced to use him in high leverage spots has worked out as well as they could have hoped, but maybe he should have had that chance before. Between his high-profile losses and bouncing between the big club and AAA, it's possible that the Jays have been missing a pretty solid bullpen piece laying right in their midst. In a season that has had a lot go wrong, Tepera's solid middle relief getting some airtime has been a pleasant surprise.
Lead Photo © Jeff Curry-USA TODAY Sports