Thank you for tuning into the 2-4 Stuff report. It's a week late for celebrating the real 2-4, but that doesn't mean you can't grab a 2-4 with your buds and enjoy some statistical bliss. And that doesn't mean beer! There's a great sale on Blue Label sparking water at Fortino's right now. Have you tried it? Delicious. What was I talking about?
Starting Pitchers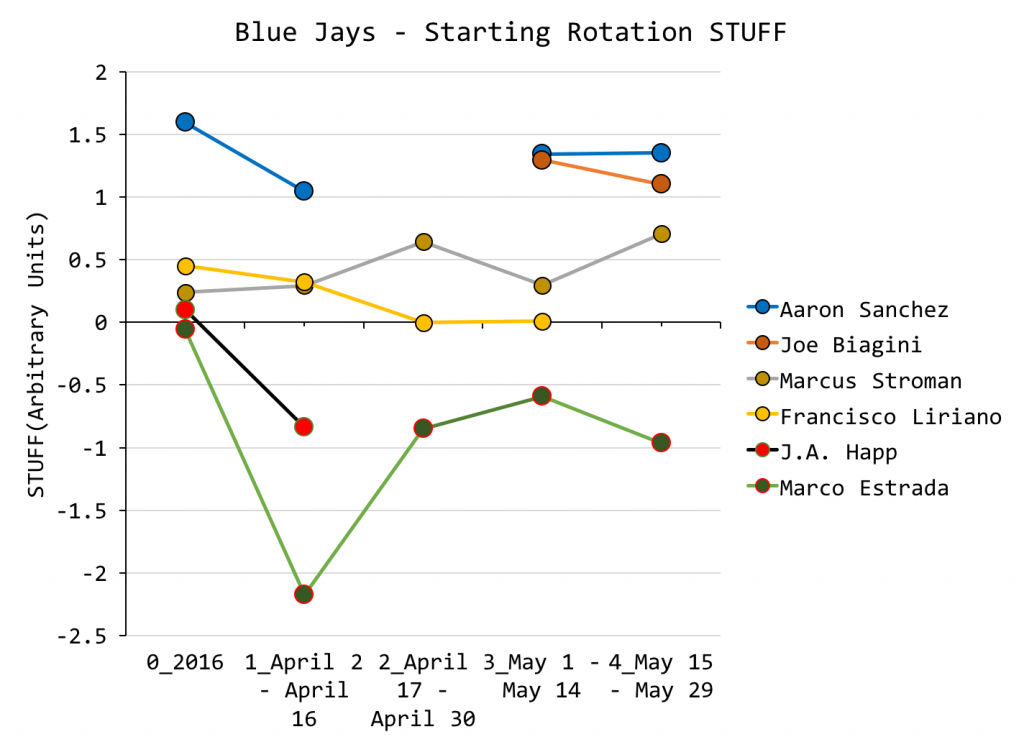 My favourite pitcher to watch on the Stuff report has been Marcus Stroman. Stro has better stuff in 2017 than he did in 2016 – actually, his Stuff has increased by double, from 0.24 to 0.58. Last season, Kyle Matte wrote about how Stroman's pitches looked too similar. It's great that you can throw 6 different pitches, but if the hitter can't tell the difference between them – they might as well all be fastballs to him.  This year – Stro is doing something different.

Take a look at how he is changing speeds in 2017 – and how he is gaining separation between his pitches. The change in velocity is slight, but the 16.6″ separation between his fastball and breaking stuff in the past two weeks is excellent. This separation actually ranks in the top 25 percent of all pitchers in the MLB in the 2017 this season. The 10.2″ he had in 2016? 75 percent of pitchers were better. The current numbers mean a lot more space to induce swings and misses. This is reflected in his increased strikeout rate as well: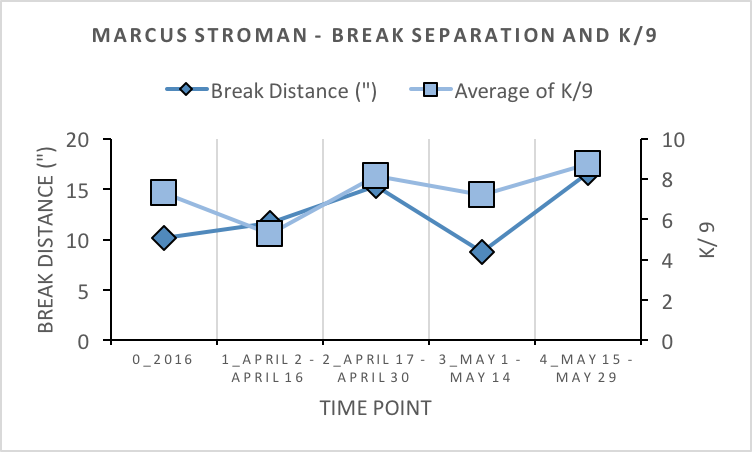 \
You obviously can't infer that much from this graph – it is too small of a sample to say that this is a sustainable trend – but the relationship sure is interesting. We can look back at the end of the season and see how Stro's pitch separation leads to punching more tickets.
Relief Pitchers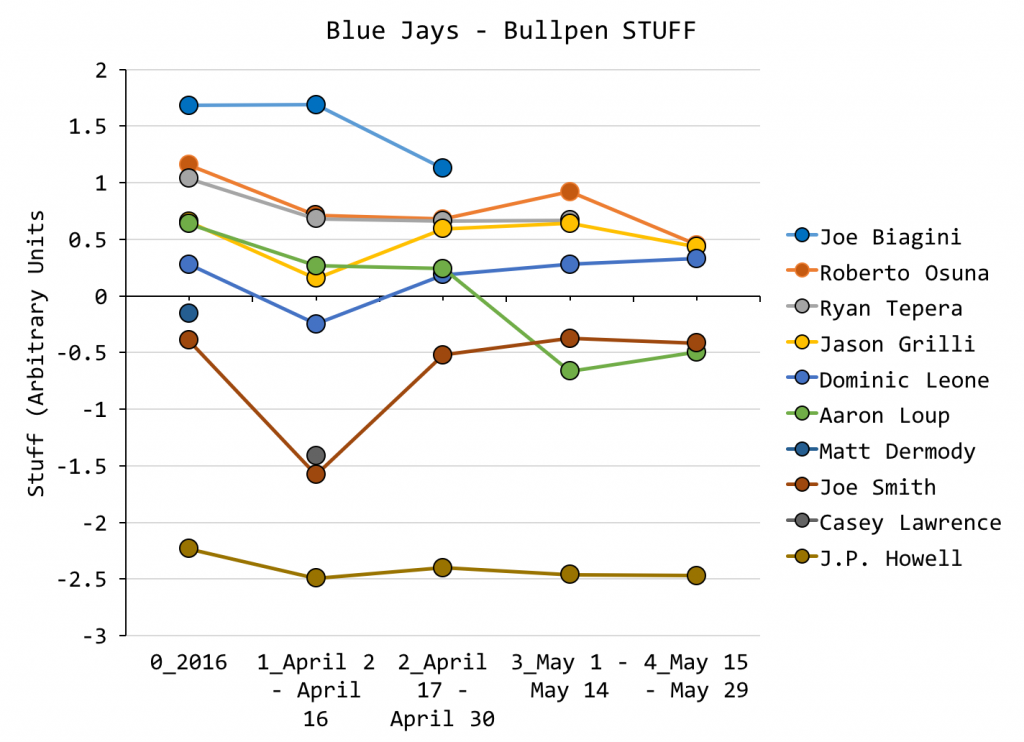 The Blue Jays Bullpen Stuff resembles a lot of their season in general – a rocky start, followed by a lot of stability. In fact, this graph is boring as hell. Here class, may I show you a bunch of straight lines? The exciting thing is about how straight they are. Do you like Molson Canadian and White Wonderbread? I also enjoy going to bed at 10pm and having Swiss Chalet at 4:30 on Wednesdays.
There are two guys that I have some concerns with though – Roberto Osuna and Aaron Loup. Right now, Osuna's stuff is 33 of what it was in 2016. As for Aaron Loup, his stuff has fallen completely off the map. While the culprit with Osuna looks like it's a lot of velocity loss, Loup is not separating between his pitches at all in 2017. The Loup concern is something that is a bit more strategic – if he's really feeling that fastball, there's no need to throw the slider – especially if it's getting guys out. Osuna's leaking velocity is a bit more insidious – this could be a sign of fatigue and worse, a chance he's injured.

Stuff will continue to educate us all on the miracles of pitching.
Ok, back to my quarter chicken dinner.