Sunday's spot starter Joe Biagini was unquestionably one of the best acquisitions for the 2016 Toronto Blue Jays. After making the club as a Rule Five pick, Biagini quickly became a piece in the Blue Jays bullpen for manager John Gibbons to call on in high leverage situations. This included 7.1 innings of scoreless relief in the postseason against Baltimore, Texas and Cleveland. With his temporary insertion into the starting rotation and the struggle of veterans in the bullpen, the Jays are looking to find another reliever to do the same this season. The Jays may have that reliever already in Danny Barnes.
The 27-year-old right-hander has been very effective in his limited opportunities with the Blue Jays. In 19 games in 2016-17, Barnes has struck out a batter per inning and has a WHIP of 1.06. Understandably this is a small sample size and most of his opportunities have come in low leverage situations (19 innings of 22), but that was a similar situation for Biagini last season; he started him in low leverage and then gradually was entrusted with medium and eventually high leverage situations in the game.
So why Danny Barnes? For one thing he has swing and miss stuff that has translated at every level that he has pitched, regularly recording double digit K/9 inning in the minors. Also, since coming back from injury in 2014, Barnes has seen a constant improvement in his command. Last season in AA-AAA he combined to have an impressive stat line of a 0.33 ERA, 11.3 K/9, 0.9 BB/9, and a minuscule WHIP of 0.473.
Barnes' pitching repertoire consists of a fourseam fastball that generates a lot of swing and misses and a change up that he uses to get ground balls as it dives out of the zone. The change is also an effective tool against left-handed hitters (.114 average and .342 OPS against left-handed hitters in 2016)
This season, though, Barnes used his third pitch, the slider, more frequently to induce swings and misses and complement his fastball.
As can be seen in his spray charts, the increased use of the slider has also resulted in more ground balls. This is very effective given the Blue Jays strong infield defense.
The exit velocities, as seen in his pitching chart for 2017, clearly indicate hitters making weak contact with his pitches. He has only surrendered two runs over ten innings with three walks, seven strike outs and four hits.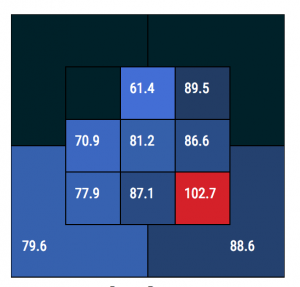 Comparing the exit velocity with struggling reliever, Jason Grilli, we can see the dramatic difference, albeit with a smaller sample size.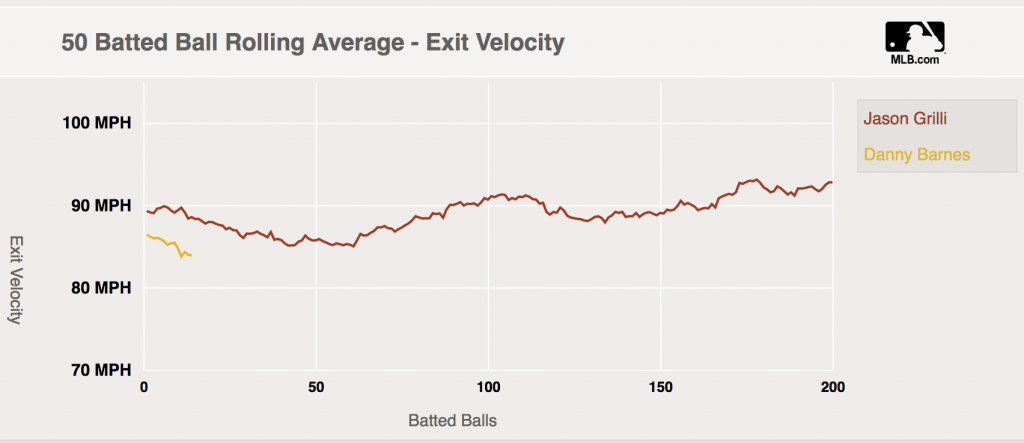 Perhaps it is time to provide Barnes more of an opportunity to pitch in medium leverage situations. He has performed well in the minors, has had some success in his limited time in the majors, and the Jays have holes and weaknesses to fill in their bullpen, especially with Biagini temporarily in the rotation.
The Toronto Blue Jays are going to have to make some roster decisions as players begin to return from the disabled list. The first domino came Tuesday, as Neil Ramirez was designated for assignment to make room for Mike Bolsinger to start against the Cleveland Indians at the Rogers Centre. Based on the team carrying eight relievers it is most likely that the corresponding move will come from there when Aaron Sanchez returns this weekend unless perhaps the team decides to cut ties with a position player such as Chris Coghlan, or Kendrys Morales could be headed to the disabled list.
But whatever the Blue Jays management decides, they should keep Danny Barnes with big club and on the mound in key spots. That could be one thing that helps this club salvage the 2017 season.
Lead Photo: © John E. Sokolowski-USA TODAY Sports
Charts and grids via Statcast