Despite the tendency for people to dump on the World Baseball Classic, the tournament has served up its share of fun underdog stories and been a tremendous reprieve from the doldrums of spring training. If nothing else, it's just great to have competitive baseball back in our lives. With the only non-specific injury updates coming out of Dunedin these days, the WBC has been a welcome sight for the baseball community.
As for the Blue Jays who are actually playing in the event, it's been mostly positive.
Jose Bautista, despite some questionable defense, has looked rejuvenated at the plate and also managed to set up another Steve Simmons tweet that we'll be able to laugh at until the end of days. Marcus Stroman was excellent in his start against the mighty Dominican squad and Dalton Pompey showed off his defensive acumen in center field for Team Canada before injuring himself on a headfirst slide.
The lone Blue Jay to struggle in the tournament, and perhaps the least-discussed to this point, is Mexico's Roberto Osuna. Mexico is already out of the tournament and can point to their shocking loss to Italy as the main culprit. Unfortunately Osuna was a central character in that affair, surrendering five runs without recording an out.
Results this time of year aren't worth fretting about, as they typically come when pitchers are ramping back up to speed and may be trying to tinker with their mechanics, repertoire or both. That being said, most of those laissez faire outings come in the Grapefruit League- not in the midst of an actual competitive affair. So I decided to go back and watch that terrible, no good, very bad inning and see what happened.
Note: the video quality I had available wasn't exactly perfect, so I've used the velocities outlined by our own Kyle Matte to help differentiate between sliders and cutters. Kyle's work is great, and gives you a much broader view of Osuna's pitch usage than this one game sample.
First Batter: Francisco Cervelli, Six-Pitch Double to Left Centre
Interestingly, Osuna went to his hesitation delivery twice in this at bat (once on the first pitch) and missed up and in with fastballs both times. After two fastballs resulted in a 1-1 count Osuna dropped in a cutter for a strike. He missed his location on this one- you'll hear that again soon- it was supposed to be low and away and settled belt-high. After that second hesitation fastball evened the count at two, the next pitch might have swung the entire inning, as Osuna froze when the umpire declined to call strike three on a fairly close fastball. The full count offering was not a good one- a fastball that was supposed to be down in the zone sailed middle-middle and Cervelli dropped it into left center: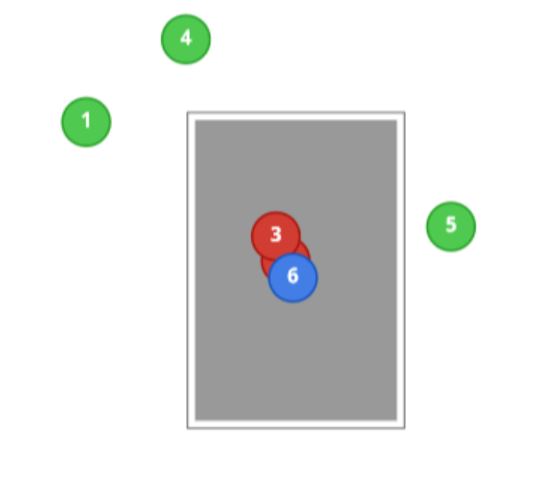 Osuna was hurt by a few things once the ball left the bat— the outfielders were playing deep and didn't bother getting to the ball all that quickly. The No Doubles defense probably cost him an out and definitely cost him an extra base, as Cervelli hustled into second just ahead of the throw.
Second Batter: Chris Colabello; First-Pitch Double to Left
Our old friend Colabello pumped a first-pitch fastball over the head of the left fielder for a double; it probably wasn't the location that Osuna wanted to hit. The runner at second held up to make sure the ball would actually drop and wound up only advancing to third.
Third Batter: Alex Liddi; Five-Pitch Double Down the Left Field Line
Liddi steps in next and whiffs on a first pitch cutter. The rest of the at-bat plays out curiously, with Osuna throwing exclusively sliders. He gets another whiff on a 2-1 pitch but again misses his location pretty badly on his fifth pitch, which Liddi slaps just fair down the line.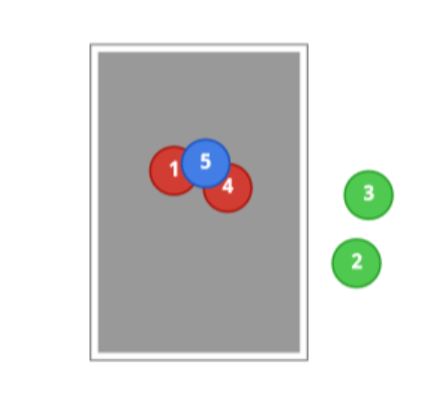 Fourth Batter: Drew Butera; Four-Pitch E6
Drew Butera bats fourth and is quickly in an 0-2 hole after watching a slider for strike one and whiffing on a high fastball for strike two. Osuna goes back to the high fastball on the next pitch but Butera fouls it off. Again, Osuna goes to the slider with two strikes and actually gets Butera gearing up for another fastball- he's out in front and grounds one to short, where it's promptly booted by Luis Cruz.
You could question the approach considering Butera couldn't handle the heat, but Osuna's plan worked here. He also used that little hitch in his delivery on the last two pitches here—it may have prevented Butera from timing him up properly, considering two of the first three batters made some solid contact. Just some bad luck and worse defense.
Fifth Batter: Drew Maggi; Ten-Pitch Walk
Osuna's final batter of the evening would be Drew Maggi, who put together a pretty strong showing against a legitimate big league pitcher. Osuna, looking for just his second first-pitch strike, calls on the same slider that earned him strike one on Butera. It doesn't work—neither does his second pitch fastball. Osuna gets a pretty favorable call on strike one, as his slider looks to be off the plate, but at this point he'll take it. He catches Maggi looking on a fastball for strike two. Maggi fouls off two fastballs and a slider, as Osuna finally goes back to the heat with two strikes before trying again with his breaking pitch.
Pitch number eight is a fastball up and out of the zone that clocks in at 92 MPH- he's slowing now, as he's seen his velocity drop steadily since hitting 96 against Cervelli. With that perhaps in mind, Osuna throws another slider, down at 83 MPH, that gets fouled off. Pitch ten is another slider, this time at 82 MPH, that misses the zone. Ball four and Osuna is mercifully pulled. Oliver Perez allowed those inherited runners to score, capping off the evening's damage.
Some Bad Luck, Some Good Stuff, and a Change in Approach
Osuna threw 26 pitches and recorded zero outs…though he didn't get a ton of help. Cervelli dodged a called third strike to start the inning and his hit could've been an out- it definitely should've been a single. Colabello's double may have been caught by a better outfielder, but it was a bad pitch in a bad spot. Liddi hugged the line and snuck a double past the third baseman, and Cruz obviously cost Osuna an out. It was certainly one of Those Days.
As for what he could control, Osuna looked fine. His fastball averaged out at 94 MPH which seems about right considering this is essentially spring training. His cutters were both 90 MPH while his sliders sat just under 85 MPH on average.
Pitch selection was a bit notable, with Osuna calling on the heater just 50% of the time. For comparison's sake, last season fastballs comprised nearly 60% of all his pitches. Five of his first eight pitches were fastballs but it looks like he (or his catcher) got gun shy after the two doubles. From that point on, Osuna threw one cutter, seven fastballs and 11 sliders.
He went to the slider more frequently than usual, particularly with two strikes. He threw five two-strike sliders and seven fastballs, which doesn't jive with what we know about his work in Toronto. Working with Russell Martin last season, his most common two-strike offering is the fastball- particularly in deep counts like he saw with Liddi and Maggi. The 0-2 slider he gave to Butera fits with his profile but it seemed like Osuna was really relying on his breaking stuff to get him out of lengthy at-bats after getting burned on heaters early.
Osuna only generated three whiffs on his 26 pitches, with only one for each pitch type. If doing away with the cutter can help his slider substantially, as Kyle noted above, maybe it's time to rethink that pitch a little bit. While location was the main culprit against Italy, the slider didn't look to be fooling anybody.
So in summary, it was a really rough day. It's not worth worrying about, even if he was punched around by two (let's be generous) major league caliber hitters. His velocity wasn't quite there and his pitch usage was a bit abnormal, but those should correct themselves with time and Russell Martin calling the shots.
Screenshots via MLB Gameday
Lead Photo: © Reinhold Matay-USA TODAY Sports