I won't hold your disdain for Brett Lawrie against you, but in light of John Gibbons' comments on Tuesday morning it's hard not to be more than a little concerned about the Toronto Blue Jays middle infield depth. "I expected him, to be honest, to be a little further along," the manager said regarding starting second baseman Devon Travis. The disabled list hasn't been ruled out, which is an unsettling possibility for a player that has been hounded by injuries.
On the field, Devon Travis has been one of the best second baseman in baseball over the last two seasons. He's totalled 670 plate appearances over his 163 career games, and produced a .301/.342/.469 slash line. Baseball Prospectus values his worth at 3.5 WARP, while FanGraphs and Baseball Reference view his career performance at All Star levels; 4.8 and 5.4 wins above replacement, respectively.
As spectacular as those 163 games have been, it's the 161 games that Travis has missed that's arguably the greater of the two stories. Whether it be an ailing shoulder, knee, or whatever else, his inability to consistently stay on the field since early 2015 has put both the front office and coaching staff behind the barrel on a daily basis, forcing them to scramble to draw up a competent lineup card.
It certainly doesn't help that Travis' double play partners – Jose Reyes and Troy Tulowitzki – haven't exactly been iron men in their own right; over the past two seasons the Blue Jays have handed 1,708 plate appearances to their starting middle infielders, 956 plate appearances to backup middle infielders, and another 187 plate appearances to depth players that really had no business play being on the 25-man roster for a team in contention.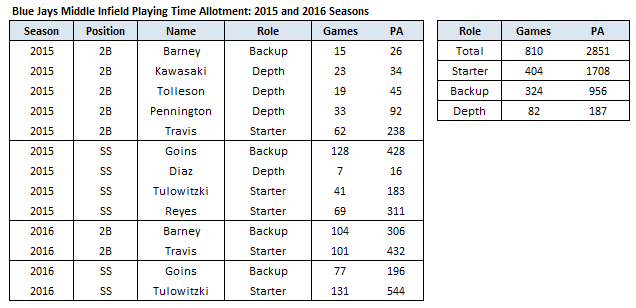 No organization enters a season expecting their starters to play one hundred percent of the time, particularly in the bumped and bruised middle infield. They're probably hoping for between 80 and 90 percent, with their established bench players picking up the remaining slack. That the Blue Jays have given just 56 percent (1,708 of 2,851) of their middle infield plate appearances to their starters over the past two seasons is alarming, and certainly not a recipe for success moving forward.
The invaluable projected depth charts over at FanGraphs currently forecast Travis and Tulowitzki to receive 70 percent (980 of 1,400) of the middle infield plate appearances in 2017, with the remaining going to Darwin Barney (210), Ryan Goins (161), Steve Pearce (35), and Richard Urena (14). While still a bit lower than one would hope – Dustin Pedroia and Xander Bogaerts come in at an enviable 90 percent for the damnable Red Sox – this would represent a considerable improvement over the past two seasons.
Still, that 70 percent projection could disappear in a hurry if Travis is already experiencing setbacks on his recovery from November knee surgery, and a roster with Ryan "Replacement Level" Goins in line to receive more than a handful of plate appearances is not the most desirable scenario for a team with playoff aspirations. Mark Shapiro, Ross Atkins, and John Gibbons won't be able to turn to the system to help them through this bind, either. The top traditional middle infield prospect the Blue Jays have is Richard Urena, but the 21-year old Dominican has yet to master Double-A and should be firmly held in the "September call-up, maybe" category.
In the non-traditional sense, Lourdes Gurriel is the far more intriguing option. The 23-year old defected from Cuba and signed a seven year deal with the Blue Jays back in November, a tale that was masterfully documented and shared by John Lott at The Athletic. The general consensus at this very early stage is that Gurriel will begin his stateside career playing shortstop for one of the Blue Jays' minor league affiliates, but it's not out of the question that he sees time in Toronto before the year is out. Yet again, like Urena, if that debut is to happen at all this season it will be later rather than sooner, and it doesn't shield the roster from what ails Devon Travis today.
If Ryan Goins is the best replacement that the 40-man roster and minor league affiliates can offer as protection from (and insurance for) another season of Devon Travis frequently drawing in-and-out of the lineup, then the front office needs to begin searching outside the organization. Brett Lawrie might not be the answer; in fact he's probably not the answer given that he's presently injured himself. But the fact that the question even needs to be asked less than two weeks into March highlights how little attention was paid to the middle infield while we all fretted about first base, the corner outfield, and the bullpen over the winter.
Having Devon Travis play 140 or more games at second base this season is an outstanding Plan A. For Plan B, the team needs to put the offseason of logistical oversight behind itself and find something a whole heck of a lot better than Ryan Goins. Because when you're dipping into an already shaky Plan B in March, an untenable Plan C of career minor leaguers getting important plate appearances is only a bad hop, a misfired fastball, or a caught spike away.
Lead Photo: © David Richard-USA TODAY Sports