Even with players reporting to Dunedin for Spring Training this week, the Blue Jays front office didn't decide to slow down their work, agreeing to a deal with RHP Mat Latos according to David Bules, a friend of the pitcher. The deal is a minor league contract with an invite to Spring Training, and would have a base salary of $1.5M if he makes the team plus $500K worth of incentives.
Mat Latos on the way to Dunedin to sign a minor league deal with the Blue Jays. Invite to camp, $1.5M if he makes the team, worth up to $2M.

— David Bules (@DavidBules) February 15, 2017
The 29-year-old Latos was roughed up in 2016, finishing the year with a 4.89 ERA in 70 innings pitched split between the rotation and bullpen. He spent time with the both the Chicago White Sox and Washington Nationals last year, struggling with both teams. He posted the worst peripherals of his career since his rookie season in 2016, with a 9.7% BB%, a 13.6% K%, and a 1.41 HR/9. Even worse than those numbers which suggest a lack of command is this chart, showing the velocity on his fastballs over his career.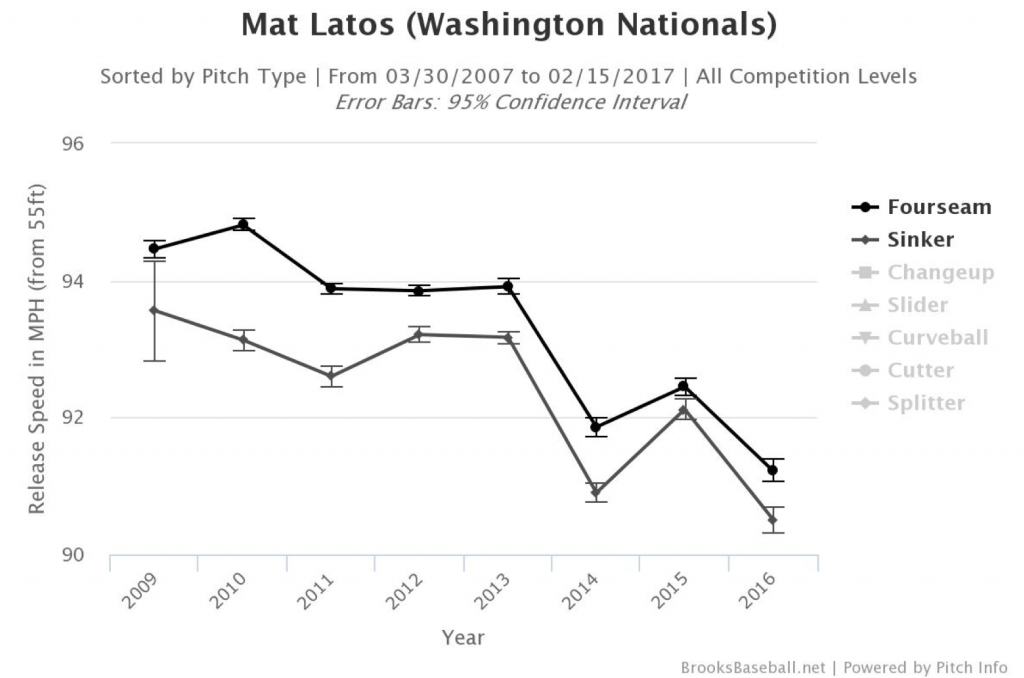 Since the start of his career, Latos' velocity has consistently fallen, to a point where he is now pushing 90 mph compared to the 95 mph he was hitting six years ago. What this suggests is a deterioration of talent, not just a flukey season or two impacted by bad luck or something of the like. However, as mentioned earlier, Latos is just 29-years-old, meaning there is still some chance that he can regain some of his lost velocity and become the pitcher he used to be once again. From 2010-2014, Latos threw over 900 innings combined with an ERA of just 3.27, accumulating 16 WARP in the process.
Latos' pathway to the big leagues is pretty complicated with the Blue Jays. The major league rotation is set with Aaron Sanchez, J.A. Happ, Marco Estrada, Francisco Liriano, and Marcus Stroman. In the bullpen, most of the spots are tied up with Roberto Osuna, Jason Grilli, Joe Biagini, J.P. Howell, Joe Smith, and Aaron Loup. The last spot is available and will be a fight between Glenn Sparkman, Ryan Tepera, Mike Bolsinger, and Gavin Floyd. Latos' easiest path would likely be for that last bullpen spot, or an injury to one of the starters. Either way, he will need to show in Spring Training that the velocity and command issues are behind him, and that he can return to a form that resembles the Latos of old.
At this point, we are unsure if Latos' deal has an opt out date, something found often in deals like this for veteran players. According to a team source, the Blue Jays sent two different scouts to watch Latos in back to back throwing sessions this past week, and obviously things progressed since then to the point where Latos and the club were able to agree to a deal.
UPDATE:
Ben Nicholson-Smith of Sporstnet is now also reporting that the deal is done.
#BlueJays have agreed to sign RHP Mat Latos per sources

— Ben Nicholson-Smith (@bnicholsonsmith) February 16, 2017
UPDATE #2:
It looks like Latos will have two opt outs in the deal, which is indeed $1.5M with $500K in incentives:
Mat Latos/Jays: Minor-lg deal with ST invite. $1.5M base in majors, $500k incentives and can max at $2M. 2 opt-outs: end of ST, in-season.

— Chris Cotillo (@ChrisCotillo) February 16, 2017
Lead Photo: Steve Mitchell-USA TODAY Sports