The most frequent target of a defensive shift is a slow-footed, pull-happy slugger. Think David Ortiz, Albert Pujols, and Prince Fielder. Since his power breakout in 2012, Edwin Encarnacion has faced more shifts every season. Encarnacion was shifted in 36 percent of his plate appearances in 2016 compared to just eight percent back in 2012. Part of that increase is a reflection of the general trendiness of shifting, but the greater conclusion is that if you demonstrate a repeated unwillingness to beat the shift, teams are just going to shift you more. Kendrys Morales, who was signed this offseason as an Encarnacion-lite to replace the parrot's production, has seen a similar progression since 2013.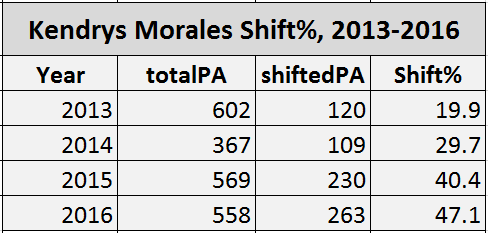 There's almost an unspoken deal in place with sluggers of this kind: "I'll give you a few yanked grounders, but I'm still getting my moonshots." Of course, we're talking about the best baseball players in the world. Many of these guys can and will try to beat the shift if it's put on. That's why slow, pull-happy sluggers are the safest bet to shift on. They're not out there to poke the ball the other way; even if they could, it's not what they're being paid to do.
Here's a leaderboard of players who faced the shift (traditional and/or non-traditional) most often in 2016. Note that by "most often", I mean the highest proportion of shifted plate appearances.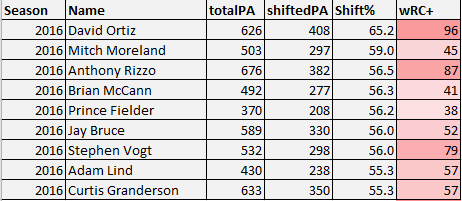 Boy, the league really figured out David Ortiz in 2016, no wonder he retired. On the whole, that leaderboard is pretty sound evidence that the shift works.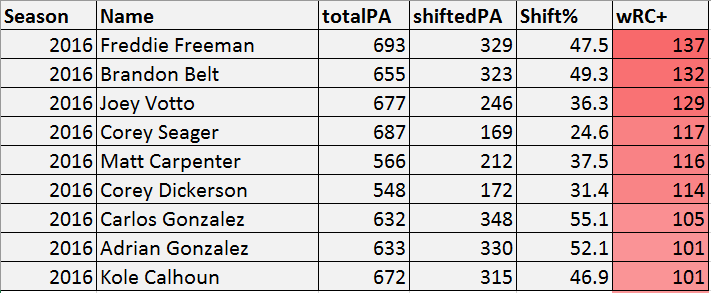 By wRC+, only ten hitters who faced a shift in >150 PA managed to do better than league average against the shift. I'd guess that Freddie Freeman (137 wRC+ against shift), Brandon Belt (132 wRC+), and Joey Votto (129 wRC+) are going to see fewer shifts next season. With the exception of Adrian Gonzalez, every player who outperformed the league average against the shift had some speed.
On the other end of the spectrum, we get some truly abysmal performances, including Kendrys Morales' 38 wRC+ over 263 shifted plate appearances.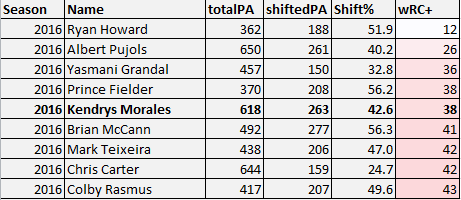 In all likelihood, Howard will retire after this season, assuming someone signs him, and I see no reason why teams shouldn't be shifting Howard in 100 percent of his remaining PA.
Back to Morales. He was shifted in some way in almost half his plate appearances last season. It worked pretty well for the other teams. Back in May of last season, before he got red-hot down the stretch, the Kansas City Star's Rustin Todd looked at his struggles.
"The simplest reason for Morales' struggles, according to rival scouts and advanced metrics, stems from the way opposing teams are defending him with extreme shifts and attacking him with offspeed pitches.
When Morales hits from the left side, opposing teams have almost exclusively put three defenders on the right field side of second base. The defensive alignments are not altogether new for Morales, but they have confounded him. In 114 plate appearances from the left side, he has just eight singles."
Part of the reason Toronto acquired Morales was for his switch hitting abilities. To be able to insert lefty power bat against righties. The problem with that, though, is that he hit .231/.307/.423 from the left side in 2016 versus .330/.369/.560 from the right. Trying to pull the ball between three defenders will do that.
There's also good news. For his career, Morales has actually been substantially better from the left side. Just last season, he was 36 percent better as a lefty by wRC+. Maybe shifting doesn't explain that entire swing, but it's part of the answer. The seven percent increase in shifts from 2015 to 2016 wasn't just a jump in volume, it was also a jump of intensity. Watching game footage from last season makes that clear. Here's a picture of Morales circling the bases after homering from the left side. Look how deep the second baseman is playing on the right field grass.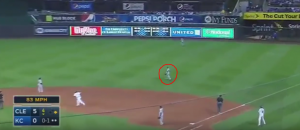 Teams have committed to putting on more extreme shifts against Morales, and it has limited his value as a switch hitter. But there are some signs that Morales is making a counter-adjustment. As Morales saw more and more shifts, he responded by going up the middle more often and pulling the ball less. Last September, Jeff Zimmerman looked at how Freddie Freemen used the centre of the field to beat the shift and key a second half surge. Looking at the stats, it appears that Morales adopted the same tactic as Freeman. Here are his Cent% and wRC+ by month, from July to September last season:
July: 30.2%, 76
Aug.: 38.3%, 115
Sept.: 47.8%, 154
It is a bit of a misleading comparison to make. Freeman finished the season with the best wRC+ against the shift in all of baseball. Meanwhile Morales, in the midst of his torrid September, was still averaging just .190 against the shift. Correlation does not imply causation, but the correlation is there nonetheless, so I'll put forth a theory concerning a psychological aspect of the shift. When a hitter is committed to pulling the ball no matter how extreme the shift, he's focused on one thing: not grounding out. That can lead to a spike in pop ups as the hitter tries extra hard to get under the ball. Here are Morales' Cent% and IFFB% by month, from July to September last season:
July: 30.2%, 19%
Aug.: 38.3%, 13.3%
Sept.: 47.8%, 0%
By going up the middle more often, Morales took some of the pressure off. Faced with the monumental task of replacing Encarnacion's production, Morales will be no stranger to pressure in Toronto. But if he can maintain his anti-shift approach from last September, he'll have a much better shot at filling Edwin's shoes while also providing much-needed value as a lefty bat.
Lead Photo: © John Rieger-USA TODAY Sports