One of the main knocks on last year's Blue Jays lineup was its lack of balance. Plenty of power, but no speed, no versatility, and little situational ability. This was sharply contrasted in the ALCS against a Cleveland team that was one of the more balanced squads in recent memory. The Blue Jays epitomized this moment during Game 5. Dioner Navarro led off the bottom of the 8th with a single against Andrew Miller, but then watched as Ezequeiel Carrera, Kevin Pillar and Darwin Barney made three consecutive outs while Navarro remained rooted to first.
Balance is a major weakness the front office needs to address this winter, and if we judge the Kendrys Morales signing by that criteria, it doesn't look great. Yes, his career .808 OPS from the left side will add some balance to the lineup, but he can't run and he can't play defence.
Ross Atkins, today, on EE/Morales: "Two guys that do similar things is less than ideal for a team, and money has been spent." https://t.co/gH1ayoQXkE

— John Lott (@LottOnBaseball) December 1, 2016
But, if we assume the front office will address the balance issue down the road (Dexter Fowler, please) and judge Morales based on his hitting alone, it looks like the Jays may have gotten a slugger who's primed to take a leap forward in a great offensive environment.
---
Morales crushed 30 homers last year; his highest total since his breakout 2009 season. He didn't do it by lifting more fly balls or by pulling the ball more often. He just flat out hit the ball harder.

Morales has always scalded the ball, but in 2016 he vaulted into the elite tier, posting the fifth-best average exit velocity and bumping his average exit velocity on line drives and fly balls by a full mile per hour. His career-high 41.1% was the sixth-highest in baseball – on par with Jose Bautista and Miguel Cabrera.
By any metric, Morales hit the ball in 2016 harder than he ever has before, but let's look at where he made his gains.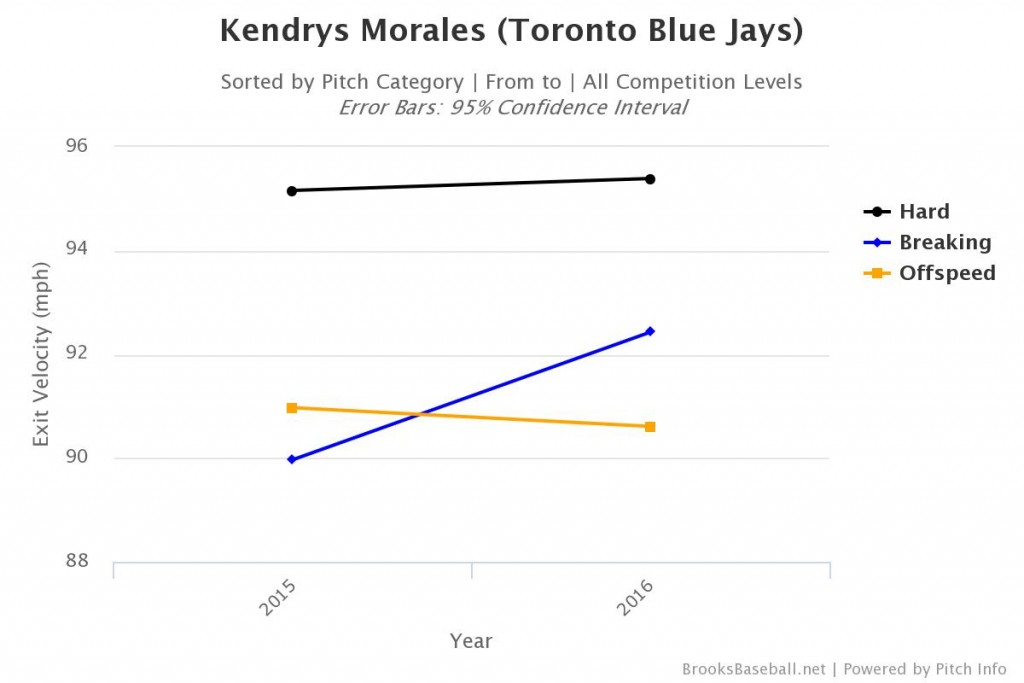 It should be obvious from the graph, but that's an average gain of 2.5 MPH on breaking ball exit velocity (Brooks Baseball defines breaking balls as sliders and curveballs). Here's how the gain in exit velocity translated into on-field results.

Massive improvements across the board. Part of handling breaking balls is hitting them harder, but the more important part is making sure you lift them in the air. In 2015, 39% of the sliders and 37% of the curveballs Morales put in play were lifted in the air. Last year, 48% of the sliders and 57% of the curveballs he put in play were lifted in the air. That explains the huge jump in SLG and ISO on breaking balls.

His batted ball profile across is trending back towards his 2009-2011 peak, which is good news if the Jays aren't bringing back Edwin Encarnacion. Morales averaged a .299 TAv over that peak, which is right around what Encarnacion produced last year (.291 TAv).
Of course, it's not as simple as that. There are some red flags that suggest we won't necessarily be getting peak Morales in Toronto. He may be hitting the crap out of breaking balls like 2009-2011 Morales, but 2016 Morales struck out 15% more often on those breaking balls. That might be a product of Morales trying to sell out for power on breaking balls, or just deteriorating plate discipline. He also saw a career-high proportion of sliders last seasons, and based on how he feasted off the pitch I'd expect pitchers to make an adjustment for 2017.
While age is working against Morales, he does have one thing working for him: the Rogers Centre. The home run factor at Angel Stadium is 92. At Kauffman it's 95. At the Rogers Center it's 109. That means if he maintains his elite exit velocity and batted ball profile he should get a 14% power boost relative to Kansas City. Steamer obviously recognizes that, and is projecting him to replicate his 2016 ISO (.205) and post slightly better offensive totals. Steamer also recognizes that besides his bat Morales has little to offer, and is projecting him 0.9 WAR.
Even in the best case scenario — where Morales effectively replaces Encarnacion's production in the lineup — the Jays will still need to address their balance problem with other moves if they want to take a step forward in 2017.
Lead Photo: Rick Osentoski-USA TODAY Sports