With the qualifying offer scenario out of the way, and the departures of Jose Bautista and Edwin Encarnacion one step closer to completion, the public focus of the offseason has justifiably been aimed heavily at the offense. That being said, there are still other holes on this team that need to be filled. A backup catcher is certainly a necessity, though steps have been taken to fill that role and rotation depth is needed, but the biggest non-lineup area of concern is easily the bullpen.
Returning from last year's up and down relief corps (more down than up) are ace closer Roberto Osuna, firey setup man Jason Grilli, and rookie standout Joe Biagini. There are other options still around, like Ryan Tepera, Aaron Loup, Bo Schultz, and Mike Bolsinger, but the team doesn't want to have to be counting on those arms for big outs with the game on the line. They need to get better.
There are certainly lots of ways to go about building a bullpen, but with the news of a recent three year offer to retain Brett Cecil, let's take a look at some other free agent relievers.
For the purposes of this list, I'm going to be focusing on the guys who aren't expected to get big multi-year deals. You won't see names like Chapman, Jansen, and Melancon here simply because they are such unlikely fits. Instead, I'm going to go diving to see who could come cheap but still provide useful help to a team at or near the end of its budget.
*Note: I won't be writing about Jays players like Cecil and Joaquin Benoit, because we all know their value. This is to help see who else might be on the market.
Righthanded Pitchers
Neftali Feliz
Remember him? The former fireballing Rangers closer has had his injury issues, and most recently found himself pitching in the middle innings for the Pittsburgh Pirates. Coming off a 6.38 ERA season split between Texas and Detroit, things weren't looking so good for Feliz in the early goings last year, as he was carrying a 5.06 ERA over his first 22 appearances (all in April). But then a funny thing happened: he found his fastball.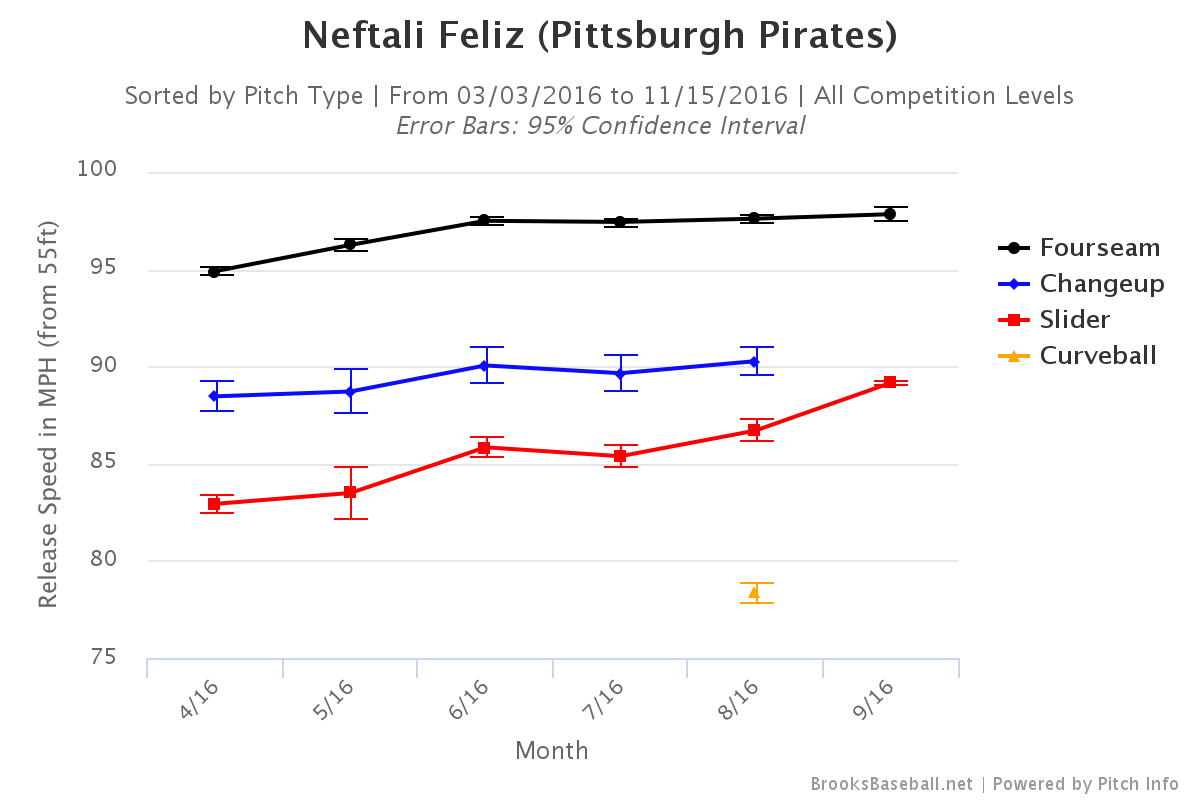 After sitting in the 94-95 mph range at the outset, Feliz once again started pumping heaters in the upper mid 90s, averaging over 97 mph from May to the end of the season and hitting 100 mph on multiple occasions. His increased velocity showed up in his results as well, posting a 3.16 ERA from May 1 until the end of the season with 46 K in 42 2/3 IP.
He wasn't a perfect reliever, as he still gave up eight home runs in those final five months, but Feliz would make a very nice addition to the middle innings for Toronto.
Greg Holland
This one is cheating a bit as Holland may command a higher one year salary, but the Jays did have someone at his workout and he could be an incredible fit.
From 2011-2014, Holland was in the conversation for the best relief pitcher in all of baseball. During that stretch he posted a 1.86 ERA with 358 strikeouts and 91 walks in 256 1/3 innings. His slider was particularly deadly, getting misses on over 50 percent of swings in that stretch.
In 2015, his workload finally seemed to catch up to him. His average fastball was down to 94 mph from 96+, and his slider lost some bite. He posted a 3.83 ERA with 49 K in 44 IP before it was found out that he actually needed Tommy John surgery. Holland missed the entire 2016 season, and is now a free agent.
He was apparently sitting around 88-91 mph in his workout for clubs, but he is still building up arm strength. The idea was to show teams that he's healthy, and he apparently accomplished that. If Holland can be anything close to what he was, he's going to be a bargain for whichever team eventually signs him.
Joe Blanton
It's still difficult to look at the failed starting pitcher and see anything else, but Blanton has turned himself into a very viable reliever. Over he past two years he has allowed a batting line of .207/.265/.325 out of the bullpen, with 142 strikeouts in 137 1/3 innings. He showed the ability to get both righties and lefties out, and also to go multiple innings at a time.
He's certainly not young (he'll be 36 next season) and he doesn't throw very hard (averaged just over 91 mph on his fastball), but he has developed an array swing and miss breaking pitches; Blanton's curve, change, and slider all had miss rates over 35 percent last year. To make the most of that, he only throws the fastball 29 percent of the time.
Blanton had a career low BABIP last year, so there could be some regression, but he has definitely become a viable major league reliever.
Brad Ziegler
Ziegler seems like the pitcher on this list most likely to receive a decent multi-year contract, but the overall dollars should still be palatable. His career ERA of 2.44 and 2.05 over the last two years will be sought after for sure, but he's not young (he'll be 37), and he is something of a novelty act.
Not a lot needs to be said about the submariner other than 'he's really good at getting people out'. In fact, he's so good at it that he often gets more than one at a time. Thanks to his 67 percent career groundball rate, Ziegler has induced 114 double play grounders in his career. In fact, his 16 last year would have placed ahead of Aaron Sanchez (14), a starter. The highest GIDP total among Blue Jays relievers was four.
He was slightly miscast as a closer in Arizona the last couple of years, where he was starting with clean innings. His ability to limit baserunners combined with his ability to get out of jams with double plays makes him an ideal fit in a setup role.
Daniel Hudson
It's tough to look at a player who had a 5.22 ERA and think, "this guy would be a good fit," but Hudson is a slightly special case. Up until June 21, he had a 1.55 ERA in 30 appearances. From August 2 until the end of the season, he had a 1.66 ERA in 25 appearances. He had 49 K in 50 1/3 IP during those two stretches.
Something when bizarrely wrong in the middle, however. From June 22 to Aug 1, Hudson was about as bad as a reliever can be, allowing 31 runs (26 earned) on 33 hits in 9 2/3 innings across 15 appearances. In case you're curious, that's a 24.21 ERA. During that stretch, his fastball was "rising" about a 3/4 of an inch less than normal, and his release point was at its lowest all season (though it it worth noting that it was not consistent even when he was going well).
It's pretty likely that something was just completely off with Hudson during that stretch, and working with Pete Walker will likely help him with his consistency. He's not elite, but he has a big fastball and misses some bats, which can help a lot in those middle innings.
Sergio Romo
Back in 2014, Romo lost his job as the Giants closer to Santiago Casilla, and he hasn't really been in the public eye since (except for his part in the Giants' NLDS Game 4 meltdown). All he has done in that time is post a 2.86 ERA with 104 strikeouts in 88 innings over the last two years.
Those innings totals are low for two reasons. The first is that Romo missed 77 games last year with a right flexor strain. Injuries are tough, but Romo seems to have recovered fine. The second is that those 88 innings came across 110 appearances; Sergio Romo has become something of a righty specialist.
He never threw hard (averaging around 88 mph), but his fastball has fallen now to approximately 87mph on average. Thankfully, Romo throws about 60 percent sliders. The nasty breaker has heldped hold righties to a line of .191/.213/.326 over the last couple of years, with a 38 percent strikeout rate.
As long as he is kept mostly away from lefties, Romo could have a ton of value for not a lot of money.
Lefthanded Pitchers
Boone Logan
It's amazing that Logan wasn't moved at last year's trade deadline. Colorado wasn't going anywhere, and lots of teams (the Blue Jays chief among them) could have used some left-handed help.
Logan absolutely owns lefties. Over the last two years pitching in Coors field he has held lefthanded batters to a line of .172/.276/.254, with with a 34 percent strikeout rate. That's elite. He get lefties out using a ton of sliders (55 percent) that he mixes with a solid fastball that sits at approximately 94 mph. As a specialist, he will occasionally hit lefties (seven in the last two years), but that overall line is still excellent.
Logan was actually somewhat serviceable against righties last year as well, but his history suggests that they hit him pretty hard. He's a specialist, but he's a great one.
Travis Wood
Because he is capable of starting, Wood might command more money than the Jays would be willing to pay, but he'd be a great fit.
Over the last two years as a reliever (he made nine starts in 2015), Wood has posted a 2.95 ERA with 118 K in 119 IP. During that time, lefthanded hitters must have dreaded coming to the plate against the 5'11" southpaw. They managed a measly line of .183/.257/.252. He actually also held righties somewhat in check with a .238/.317/.435 line, which would bode well if he were forced into a situation where he doesn't have the platoon advantage.
The downside to Wood is that he doesn't get a ton of strikeouts, and is a heavy flyball pitcher. Still, his overall mastery of lefties and his ability to start in an emergency make him a viable addition.
Mike Dunn
I would wager that a lot of Jays fans have never heard of Dunn. Pitching in Miami and not racking up saves tends to lead to someone being ignored. He dealt with some injuries last year (missed time with a forearm strain), but he throws quite hard (averages around 95 mph) and gets a lot of strikeouts (10 k/9 for his career).
He's not as much of a lefty destroyer as the previous entries on this list, but he has still held them to a .228/.309/.330 line for his career with a 26.3 percent strikeout rate. What makes him especially useful is that he is viable against RHBs as well (.239/.339/.408) and can get big strikeouts of both hitters in a key spot.
He had some command issues earlier in his career, but has gotten his walk rate under 10 percent in each of the last three seasons.
Javier Lopez
Lopez has been a standout lefty reliever for the Giants for a numbers of years, but he may be reaching the end of his rope. At 39 years of age (and turning 40 in July), Lopez saw his season ERA rise from 1.60 in 2015 (and 2.36 since 2010) to 4.05 in 2016. This was probably due to a was a career low velocity on his fastball (84.9 mph) and slider (78.3 mph).
So why is he on the list?
He can still get lefties out. He's no longer the best lefty specialist in baseball, as he has been for the last few years, but he can still hold them down. Even in his poor year with the lost velocity, Lopez still held lefthanded hitters to a line of .208/.315/.312.
If the Jays use him properly, that has value. He just can't face righties the way he used to. They absolutely torched Lopez last year (.348/.464/.522). Because he is completely exposed when facing an opposite sided hitter (far worse than anybody else on this list), he is a last resort. He's really only useful against guys like Chris Davis, Robinson Cano, and other lefties for whom their managers will never pinch hit.
That concludes the RP buyer's guide Is there anybody who you think should've been on this list that wasn't? Let me know in the comments.
Lead Photo: Jeff Curry-USA TODAY Sports