Welcome back to the Stuffies! Now that we've covered the Rookies of the Year, let's take a look at what teams brought the best Stuff on the season.
Best Starting Rotation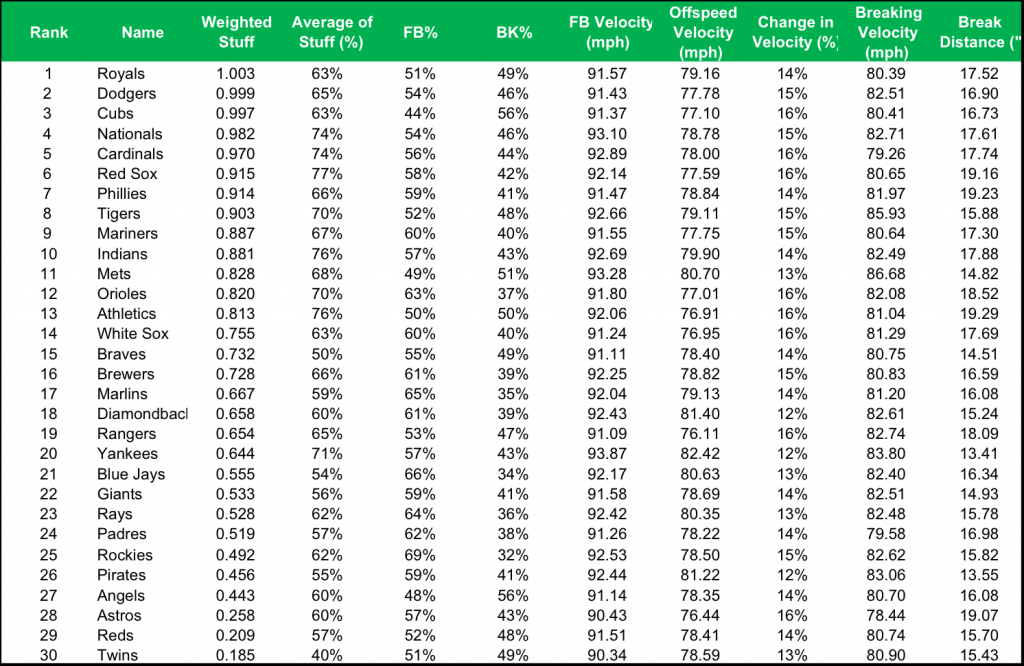 Chicago Cubs
In third place, we saw the Chicago Cubs – a team with an overpowering starting rotation that destroyed their competition. They were lead by the league leader in Stuff – Jake Arrieta. Jason Hammel also utilized a huge separation of 22" between his pitches, and 17% change in speed to help propel the Cubs into the Stuffy finals.
Los Angeles Dodgers
Had the Dodgers managed to stay healthy in 2016, there is a very good chance they would have taken home the Stuffy title. Kershaw, and Maeda have Stuff that is in the 96%+ range – something that is truly elite. This was bolstered by a lot of above average Stuff starters (Urias, Anderson, McCarthy, and Kazmir), who just couldn't put together enough innings to catch up to first place.
Kansas City Royals
And, in an extremely tight battle, it's the Kansas City Royals who emerge as the 2016 Stuff Champions! Who needs to follow up a World Series win with another title run, when you have the honour of hoisting the very first Team Rotation Stuffy award, right?? The Royals were lead by the four horsemen of the AStuffcolypse – Ventura, Volquez, Kennedy, and Danny Duffy. These Stuff monsters all had Stuff values of greater than 1.0 – or better than 80% of all MLB pitchers. A worthy achievement, for sure. Congrats to the Royals on their Stuff title. The prospect of having to watch the Royals dominate again based on their starting pitching truly is vomit-inducing.
Best Bullpen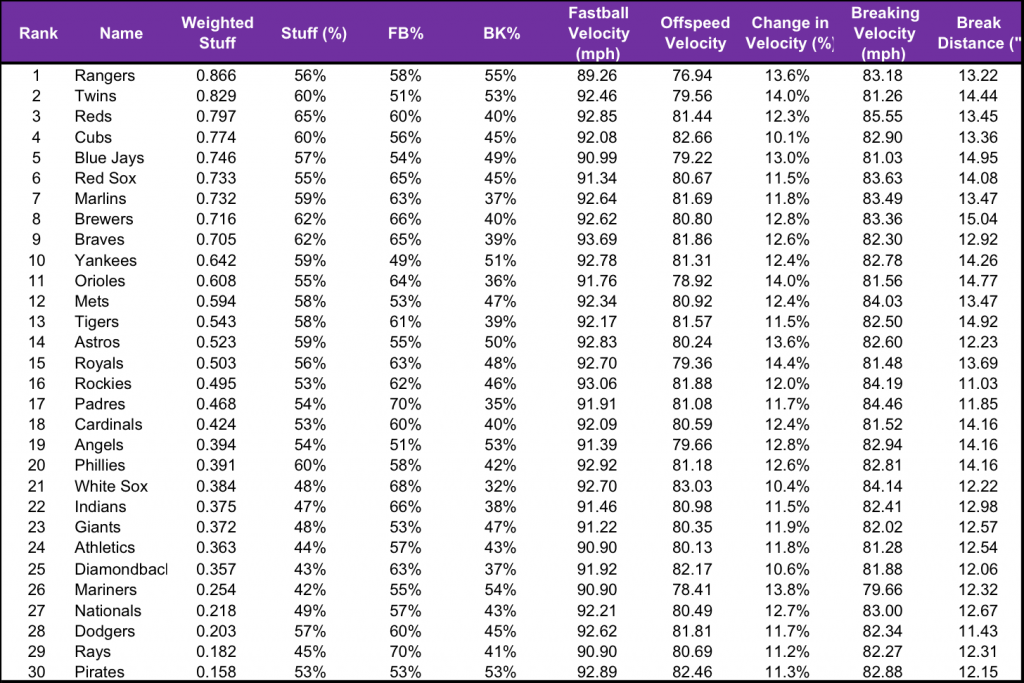 The top 3 teams for Bullpen Stuff really distanced themselves from the pack in 2016.
Cincinatti Reds
The third best Stuff belongs to a team that didn't have a lot go well for them this season. The Cincinnati Reds wind up with a Bronze Stuffy, led by the power arm of Michael Lorenzen. Lorenzen had an elite fastball at 96mph, and paired that with a 90+ mph breaking ball.
Minnesota Twins
Another team that will take solace in a Stuffy medal is the Minnesota Twins. The Twins take home the silver Stuffy for bullpens – with huge Stuff performances by Ryan Pressly, Trevor May, and Taylor Rogers leading the way. All of these power arms featured strong pitch mixes, and elite Stuff. I guess this just goes to show you – success is more about location, than it is about lighting up the radar gun!
Texas Rangers
That brings us to our 2016 Bullpen Stuff champions – the Texas Rangers! When the Rangers aren't pumping fastballs into the lower backs of hitters who hurt their poor little feelings, they're usually locking down one run games on the backs of Matt Bush, Cesar Ramos, and Sam Dyson – all pitchers who had stuff better than 97% of all pitchers in the MLB. When looking at every relief pitcher on the Rangers, and turning off any sort of innings cut-off, their reliever with the 8th best numbers (Keone Kela) has Stuff at 1.02 – that's still better than 81% of all other relievers. They are without a doubt, the undisputed Stuff champions of Major League Baseball Bullpens.
Not So Stuffies
With our strict selection criteria for the Stuffies, there were a total of 77 eligible starting pitchers included in the analysis. We didn't include knuckleballers, or relief pitchers (too many guys that only throw one pitch – thus hurting them in the Stuff metric).
Bartolo Colon
DYK: Bartolo takes 50 BP swings a day. His first home run wasn't entirely an accident: https://t.co/yzfOND2FYH #Mets pic.twitter.com/OGhk7IKSi3

— Anthony DiComo (@AnthonyDiComo) May 8, 2016
It's hard to argue with the results Bartolo Colon put up this year. 2016's most memorable home run, and some hot nasty fastball action out of the bullpen and rotation. Bartolo looks like the type of guy that you'd make on the create-a-player in the show, when you're trying to make your friends laugh at your create a team. I don't want to be on big sexy's bad side – Bartolo might not get love from the Stuff Metric, but let it be known I think he's the man.
This GIF gets me PUMPED UP. Get'm, @CC_Sabathia. Let's see this every start. @Yankees #Yankees pic.twitter.com/oCtaNCLaWK

— Mushin (@MetalMushin) August 7, 2015
CC Sabathia
CC Sabathia once ruled the roost (and, he still can generate some nasty stuff now and then). He pushed for Cy Youngs, put in 220+ inning seasons, and was the most highly sought after prize in all of free agency. However, his Stuff has fallen off completely, dropping to a very low level in 2016 – That is not an encouraging trend. Now in 2016, he sits near the bottom of the Stuff list.
#GottaSeeIt: Jose Bautista hits his second home run of spring training, a three-run rocket off Doug Fister. https://t.co/YMYhY2ELtu

— Sportsnet (@Sportsnet) March 18, 2016
Doug Fister
Doug "Twisted" Fister – Doug Fister owns the honour of being the only starter on the Non-Stuffies list that weighs under 300 lbs. Is there a direct correlation between body mass and pitching effectiveness? David Wells sure doesn't think so. Doug Fister now has a unique title – the least amount of Stuff in the MLB.
The appetizers are done! Next time, we finish things off with the big awards. The best Stuff of the year.