The Blue Jays Stuff Report will be appearing in this space every two weeks. The metric was created by Dr. Mike Sonne, who has a PhD in biomechanics from McMaster University. For his work on pitcher fatigue, injury, and other baseball related research, please visit his website over at www.mikesonne.ca.
We're in the home stretch for the Stuff report now!  If my calculations are right (and sometimes, they are), there will be 3 more stuff reports after this one. The next project – analytics for Jays players' shoes featured in Stroman's snapchat.
Starting Pitchers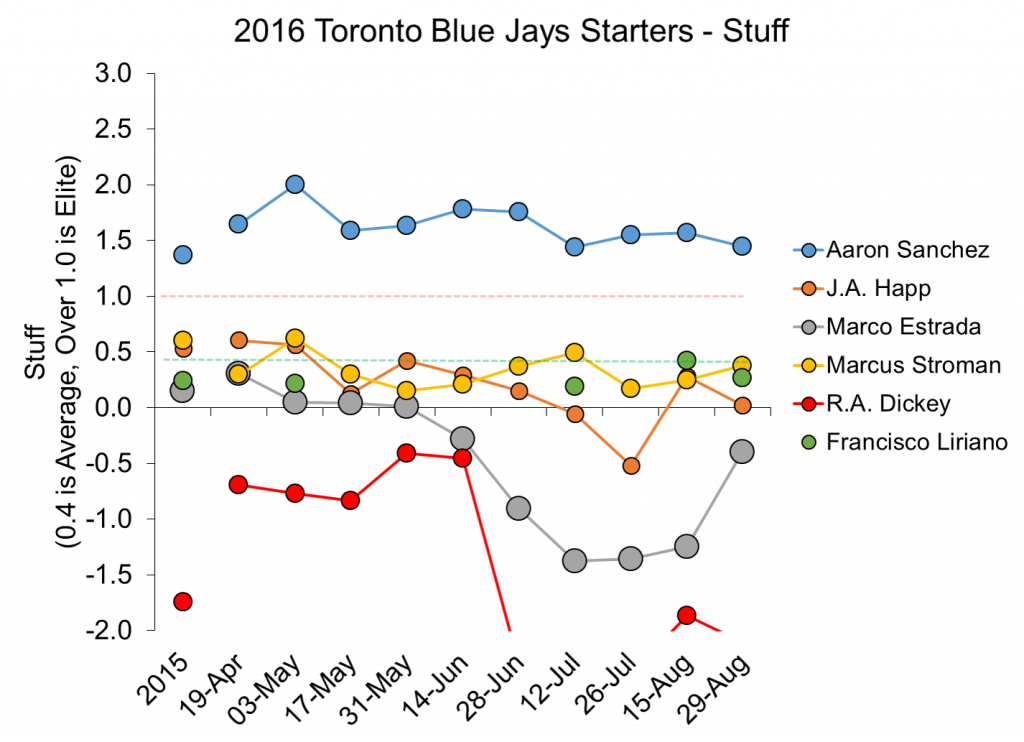 Looking at the Stuff numbers for the Jays starters, I think Aaron Sanchez's mini vacation came at the right time. His Stuff declined around the All Star break, and it hasn't really gone up to the lofty standards he set earlier in the season. It'll be interesting to see if this time off has refreshed him, and he'll be back to throwing smoke. All of that being said, his stuff values are still in the stratosphere; he's currently sitting ninth overall among MLB starters when it comes to Stuff. With the command he has shown this season, and his ridiculous Stuff – it would be pretty dumb to trade him for a 32 year old first baseman – as awesome as that tight pant wearing, weirdo Canadian might be:
The rumoured ask for Votto is Sanchez. Just think about that.

— Joanna (@HumandChuck) August 29, 2016
One final note on the Jays starters – Stroman has consistently been trending in the right direction. Compared to where he was at the lowest point in the season (0.15), Stroman's fastball is currently a full mile per hour faster, and he's using his various fastballs (sinker, fourseasm, cutter) more frequently (74.7% in Volume 4, and 88% in Volume 10). However, he oftne isn't getting as much distance between his pitches – which can result in more contact (like we saw in his last start against the Twins, where he was BABIP'd to death). When Stroman is spotting his pitches, and his sequencing results in strike outs – I think he's at his absolute best.
Relief Pitchers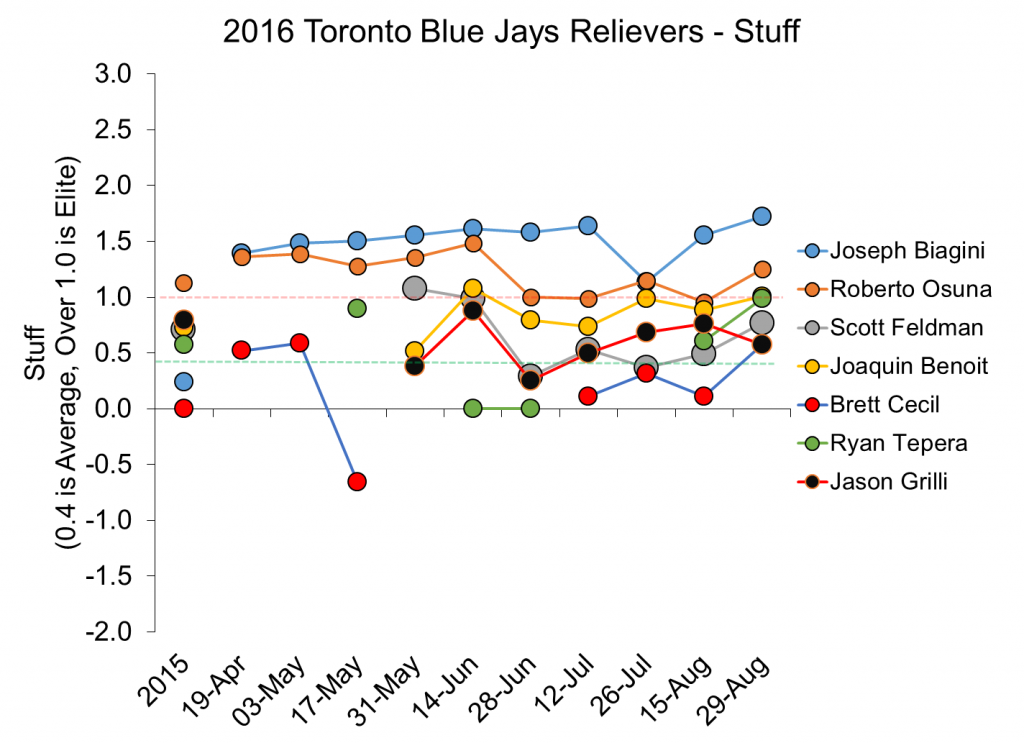 After a brief lull in Volume 8 of the Stuff report, Joe Biagini has come back to life, and once again has some of the game's best Stuff out of the bullpen. Compared to when his Stuff was at its lowest on the season, Biagini has altered his change in speed from a 13% difference, to a 14.1% difference. He has a small change in his break distance as well – going from 19.6″ back in Volume 8, to 19.9″ in this report. In Volume 10, we have also seen Roberto Osuna's Stuff return to his earlier season dominance. Compared to the same time frame as Biagini, Osuna's Stuff boost has come from an increase in fastball velocity (95.5 in volume 8, to 96.2 in volume 10). As a whole, the Jays bullpen is actually looking pretty good – Every single one of their pen members right how has stuff that is better than the league average. In fact, using weighted Stuff (essentially Stuff/Inning pitched), the Jays have the 8th best stuff out of the pen in all of the MLB.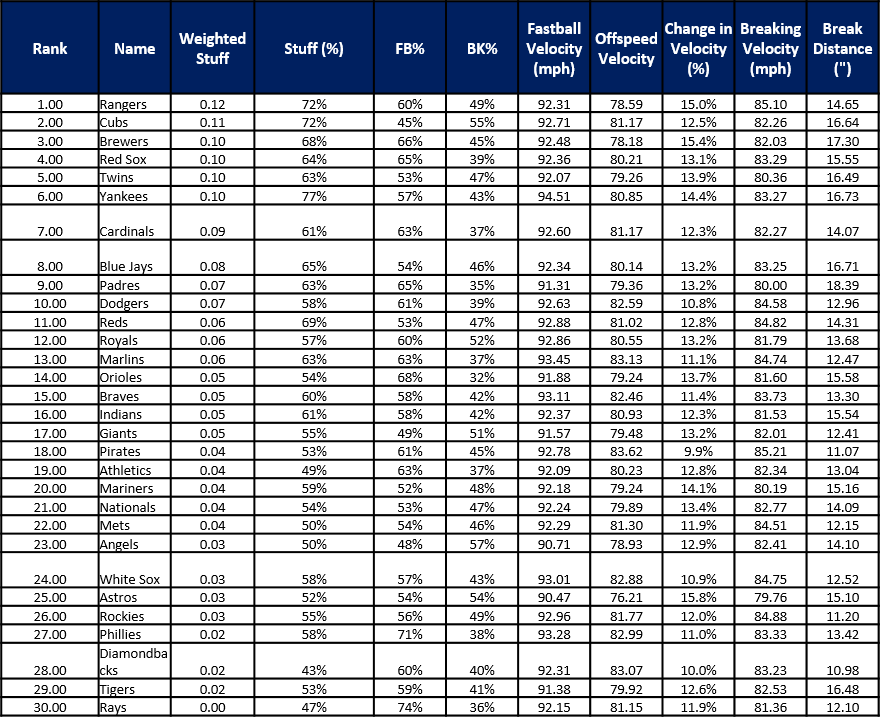 That's is for this week. Look for more Stuff soon!